Tackling corruption in the world's favourite sport, The Net is an ambitious football drama spanning multiple series across Europe.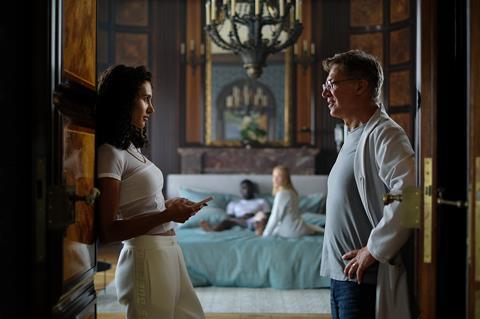 "I suffer from a certain sickness — I always have ideas," the ebullient German opera and theatre director Matthias Hartmann explains when asked just how he came up with the concept for his latest project.
The Net is an epic "series-cycle" — three standalone but connected European co-productions about the global football business, with interlinking stories and characters. The dramas are partly in English, partly in local languages: The Net —
Prometheus, produced in Austria, is now in post-production; The Net — Promised Land has just finished shooting in Germany; and The Net — Power Play is about to start rolling in Florence, Italy (see box, below, for production credits).
The intention is for the Austrian, German and Italian series to be ready ahead of the FIFA World Cup, which starts in Qatar in November. Talks are underway for a Portuguese series with a Brazilian story strand, while Scandinavian and French-produced iterations are under consideration.
Hartmann confides that he feared he would spend a decade or more clawing together the financing for such an ambitious endeavour. Instead, all it took was a couple of meetings. When he first mentioned The Net to Christopher Reindl, managing director of Red Bull Media House, he was told, "We don't do film series." But the producer persevered and Reindl relented, informing Hartmann that if he found a "competent partner", Red Bull was prepared to board the project.
The next stop was Munich-based Beta Film, the company behind Downfall, The Lives Of Others and Babylon Berlin. Beta's CEO Jan Mojto is a big opera fan and was familiar with Hartmann's work. He took the meeting.
"We were sitting around a table and I talked for some time," Hartmann recalls. "Then I had the feeling that if I kept on talking, they would think I'm a lunatic who is pitching some bullshit." Mojto took his time to respond. Eventually, he told Hartmann that it was indeed a crazy idea, but "I think we should do it".
"We didn't know what to expect when Matthias called for a meeting," Beta's managing director Moritz von Kruedener notes of any initial scepticism. "We said, 'Oh, it's one of those theatre guys again — they all want to end up on television.' [So] we thought it was one of those." Like Mojto, though, von Kruedener was won over by Hartmann's passion — and the fact Red Bull Media House was already on board.
Game plan
To make the series, Beta and Red Bull set up joint venture Das Netz, with Hartmann and von Kruedener as CEOs. Hartmann's role is "looking after the projects" — making sure the relevant connections are made between the different series and that consistency is maintained. Plinio Bachmann, a drama­turge known to Hartmann from his days running the Vienna Burg­theater, helped to refine the ideas. "He's very intellectual, very clever, a very informed man with a lot of research [experience]," says Hartmann. "We have all these problems we have to solve because nobody has done it before."
The other executives across Europe all realised that, as Hartmann puts it, "football connects more people than anything — any religion, any movement or any politics in the whole world." The Net, though, is not about football specifically — it is about the often murky world behind the game. "It's like [when] you shape a diamond," suggests Thomas Schreiber, CEO of ARD Degeto, producer of The Net — Promised Land and co-producer of The Net — Prometheus. "You have different stories, [which] altogether will draw a bigger picture of a criminal structure. In the end, it's kind of a Mafia story."
Volfango De Biasi, director of the Italian series, observes that "every country gives its touch. It's interesting to see the general idea of the project but also the signature of every culture."
Hartmann himself references novels by 19th-century authors such as Leo Tolstoy and Charles Dickens, with their gallery of characters and hugely complex plots. A TV project like The Net, he believes, can go even further, portraying its protagonists from multiple points of view, and as they are seen in different cultures — sympathetic one moment, ruthless and villainous the next.
Oliver Auspitz, managing director of Austria-based MR Film (majority owned by Beta Film), which is the producer of The Net — Prometheus, was determined his series would shoot first. "As the first, it's easier for the writer and director because then every other [series] has to follow our cast, our story," he says.
The series is being financed through the local broadcast partners, Das Netz (which acts as co‑producer and controls international rights) and through soft money and tax incentives. The individual series will be aired initially by the local broadcasters, for example ARD Degeto in Germany. However, Das Netz is also in discussions with several "non-linear" partners locally and globally, among them major streamers who could take rights to all the series.
It is clear many of the producers and directors involved are fervent football enthusiasts. Ferdinand Dohna, Beta Film's EVP, content, is a fan of Italy's AS Roma, while Schreiber is a follower of Germany's Bayern Munich. They all know The Net exposes the darker, seamier side of the game, with the various series dealing with human trafficking, financial skulduggery, rogue investors, doping and genetic manipulation. The producers, however, are optimistic the dramas will appeal to a broad audience.
"For me, the female audience is as important as the male, maybe more important," says MR Film's Auspitz, whose credits include Vienna Blood. "Football is the kick-off but for me, our show is a little bit like a James Bond movie. It's about billionaires, cars, private jets, soccer. It's about eternal life."
"We are not doing a series for the football-interested audience," agrees Schreiber. "We are doing a series for our audience — and that's the whole of society. That's why it's important for me to stress it's a series about corruption and Mafia-like structures that are working together."
Net assets
Red Bull is known for its chutzpah and marketing ingenuity but the filmmakers say the Austrian firm (involved through Red Bull Media House rather than the Red Bull energy drinks company) has been discreet in its approach. They insist audiences will not see players drinking cans of the energy drink before matches.
Auspitz offers intriguing insights into Red Bull the collaborator. "Everything in which Red Bull is involved, they want to do it 150%. They want the best partners, always doing their best," he says. "They always want to push the limit… they don't care about money, they don't care about problems."
The Austrian producer recalls that, at one stage, when Covid-19 restrictions meant one UK-based actress could not travel directly to Vienna, Red Bull sent its private jet to collect her in Sweden. But the nothing-is-impossible Red Bull ethos comes with its downsides — it does not countenance failure even if circumstances are beyond a producer's control. "If you can't deliver, they can't cope with it," Auspitz notes.
Von Kruedener says Red Bull's expertise in football — the brand owns teams in Austria, Germany and the US — was an obvious boost. The filmmakers were able to canvas representatives at clubs including RB Leipzig and RB Salzburg about whether certain plot ideas were plausible. "And it was good that the first financing partner was Red Bull with their broadcasting partner ServusTV," Auspitz says of the confidence the company's involvement gave to other financiers. "Other partners were very reassured to see them."
The Net is just the latest example of an ambitious TV drama that aspires to have a strong local identity while also working globally. As Dohna, producer of The Net — Power Play, explains, the parallel series offer something different to the conventional pilot used to attract viewers. "We have the advantage that we have different entry points for the same brand," he says. If you like one series, there is a better chance you will become a fan of them all.
Production breakdown: The Net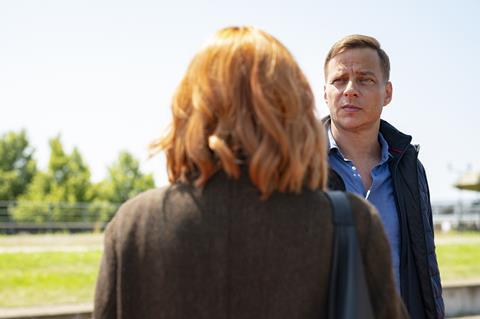 The Net — Prometheus (Austria)
Set in the UK and the Alps, Prometheus touches on corruption and conspiracy. Now in post, it is produced by MR Film in co-production with ServusTV, ARD Degeto and Das Netz (a joint venture between Red Bull Media House and Beta Film). Directed by Andreas Prochaska, the cast features Tobias Moretti and Amanda Abbington.
The Net — Promised Land (Germany)
Themes include the proposed formation of a world league and human trafficking. The shoot wrapped in February, and was produced by Sommerhaus Serien in co-production with Das Netz, and commissioned by ARD Degeto for ARD. The series is directed by Rick Ostermann and features Tom Wlaschiha and Birgit Minichmayr.
The Net — Power Play (Italy)
The Power Play instalment follows what happens when a Florentine football club is sold to Chinese owners. The series is produced by Cross Productions in co-production with Das Netz; Volfango De Biasi and Lorenzo Sportiello direct.