Series Mania co-founder Laurence Herszberg tells Screen about her efforts to keep the event's industry activities alive in the face of the coronavirus outbreak.
French TV festival and industry event Series Mania, which was due to take place in the northern French city of Lille from March 20-28, was among scores of global events stopped in their tracks due to the ongoing coronavirus pandemic. Its cancellation on March 11 came hot on the heels of conference organiser Reed Midem's announcement it was abandoning the 2020 edition of MipTV in Cannes (March 30-April 2), and that the accompanying Canneseries TV festival would now take place in October during Mipcom.
Undeterred, Series Mania director general and co-founder Laurence Herszberg is aiming to carry on some of the work of the industry-focused Series Mania Forum through a new online initiative called the Digital Forum. "As soon as it became clear we might not be able to go ahead, we started to ask ourselves what could we save. I tried to see what we were going through as an opportunity to try something new," she explains. "Lots of professionals were asking if we could do something online, saying, 'We need new projects and talent and Series Mania is an essential source for that.'"
Herszberg also looked at the possibility of moving some elements of the public festival online. It usually attracts some 80,000 spectators. She decided it did not make sense. "The festival hinges on the excitement of the big-screen premieres and meetings with the talent. The human element is important," she says. "If we put the series online, it simply becomes a VoD platform and that's not our aim."
Priced at $100 (€90) and available from March 25-April 7, the Digital Forum will unveil around 35 projects in development and also showcase some 60 completed new TV dramas. It will feature video pitches for the 16 projects selected for its flagship Co-Pro Pitching sessions as well as short presentations by emerging screenwriters participating in the UGC Writers Campus of themselves and their upcoming work. Five projects being developed under the auspices of the Israel-France Drama Series Co-Writing Residency will also be pitched via video.
Herszberg refers to the Co-Pro Pitching sessions as the "beating heart" of the Digital Forum. Highlights of the selection include Italian writer and creator Giacomo Bendotti's A Marriage, which follows a once-devoted couple's break-up and fight to gain sole custody of their child. It is produced by Indigo Film, the Rome-based company that produced Paolo Sorrentino's Oscar-winning The Great Beauty.
Further projects include the French and Arabic-language comedy drama Casa Girls, about four young women striving for a healthy sex life while navigating the conservative social mores of their home city Casablanca. It is created by Laïla Marrakchi, who recently moved into TV by directing episodes of Netflix's The Eddy after five feature credits including Marock and Rock The Casbah.
Israeli Homeland creator Ran Tellem and Spanish collaborator Mariano Baselga will presentSubmarine. Dubbed as Brazil's first nuclear submarine drama, it is a joint production between the Mediapro Studio and Estudios Globo.
Herszberg says this year's 400 or so submissions gave her and the rest of the selection team a strong sense of the state of TV series development and creation. She suggests the looming platform war has taken the edge off US drama creation.
"We felt the submissions out of the US were less edgy than in previous years and didn't really differentiate themselves as much," she says. "But there is an explosion of strong content coming out of other countries, both in the festival and the Forum. Last year, 19 countries were represented in the festival line-up. This year, there would have been 25."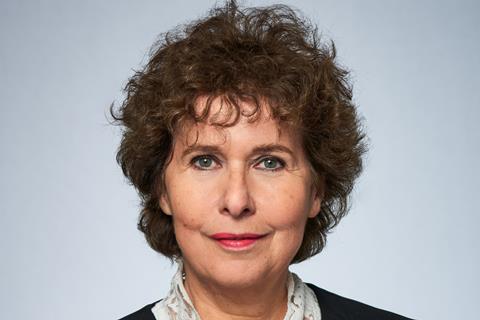 Connecting global talent
Initiated by France's National Cinema Centre (CNC) and Israel's Gesher Multicultural Film Fund, the Israel-France Drama Series Co-Writing Residency brings together 12 writers, six from France and six from Israel. It has led to five TV drama projects this year, which are being developed under the guidance of writers Stefano Sardo (1994, The Invisible Boy: Second Generation) and Yoram Mandel. They include spy thriller The Loyalists, which combines the talents of French screenwriter Alix Deniger (The Tunnel) and Israeli writer/director Eran B.Y. (If And When).
Up-and-coming French screenwriter Nathanael Guedj and A French Case co-creator Alexandre Smia — who worked on the fourth season of The Bureau — are teaming with Israel's Maayan Oz on the psychological mystery-thriller Karma Cases.
"There is a shortage of screen­writers," says Herszberg. "We can see the market needs these sorts of initiatives. We are trying to contribute by supporting projects from their early stages of development as well as nurturing writers and creators."
Episodes from 60 new series, many of which were selected for the Series Mania programme, will be made available for professionals to screen in a curated sidebar called the Buyers Showcase. This is an extension of an initiative Series Mania first experimented with last year on industry platform Cinando after the festival had ended.
New series out of France, Québec and Germany will also be showcased in another initiative entitled Coming Next From. A number of companies — including France TV, Nippon TV and Globo — were also due to make announcements and premiere trailers on the site.
At least 2,700 professionals had been expected to attend the Series Mania Forum, running March 25-27. Herszberg says it remains to be seen how many people will sign up for the virtual version. She is proud of the speed at which she and her team have managed to pull the Digital Forum together. "We have turned it around in just 10 days," she says. "The important thing for us is to foster connections that would have taken place in Lille and to ensure these projects don't fall behind."
Prime location
Herszberg is used to navigating change. In 2017, she oversaw the transfer of Series Mania to Lille from its original nine-year home of the Forum des Images cultural centre in central Paris, as part of an ambitious government initiative to create a standalone TV festival with international appeal.
Lille offers a very different setting after the compact, subterranean premises of the Forum des Images. It is a bustling, regional hub with an unpretentious charm. It is also home to one of the largest universities in the French-speaking world, with some 67,000 students, which usually makes for a youthful audience at festival screenings in the city's Nouveau Siecle concert hall and other local cinemas.
Starting out as a niche event focused on independent TV drama in 2009, just as the high-end drama boom was taking off, Series Mania is now a key date on the TV industry market and festival circuit, with a special accent on writing and project development.
Another key element of the industry programme was to have been the third edition of the one-day Lille Dialogues on March 26, aimed at generating conversations between European and US professionals around key issues affecting the audiovisual sector on both sides of the Atlantic. Topics on the table were to have included Brexit, public funding for TV series in Europe,
climate change, the opportunities and risks for the circulation of European works online and the implementation of the European Union's Audiovisual Media Services directive.
Executive vice president of the European Commission Margrethe Vestager, Fremantle chief operating officer Andrea Scrosati and WarnerMedia Entertainment Networks president Giorgio Stock were among those due to attend. Past attendees have included Netflix CEO Reed Hastings and CCO Ted Sarandos.
"Without sounding too arrogant or pretentious, what we are trying to do is a mini-micro Davos summit," says Herszberg. "It is about bringing people together for an exchange on the important issues impacting the audiovisual industry in the spirit of, 'We know we don't agree, but let's talk.'"
Herszberg says that although it has proven to be interesting to have the opportunity to try out a new way of working, she does not think this virtual version of Series Mania Forum will replace the physical event in years to come.
"There might be a few professionals who prefer to access the new projects and shows in this way, but I think most will see the platform as complementary to the work they do on the ground," she says. "It remains to be seen what kind of uptake we get and the response."