Steven Spielberg ended up assembling Pentagon Papers drama — one of nine best picture Oscar nominees — "faster than I'd ever experienced in my entire career".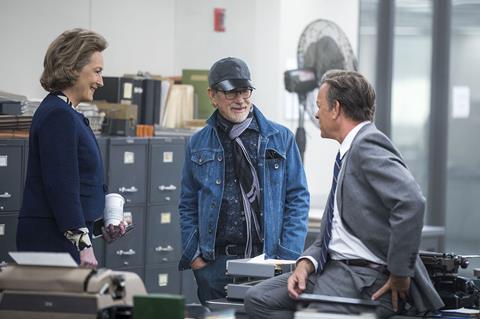 One of the more positive notes of a high-quality yet combustible awards season has been the lightning-fast professionalism of two of Hollywood's most august directors.
Ridley Scott famously refused to buckle when scandal threatened to derail All The Money In The World, recasting Christopher Plummer as John Paul Getty in place of the disgraced Kevin Spacey and pulling off an 11th-hour reshoot to deliver the film pretty much on time (and an Oscar nod for Plummer).
Then there is Steven Spielberg, renowned for the speed with which he shoots, who faced a quandary of his own and ended up assembling The Post — his true-life political drama starring Tom Hanks and Meryl Streep - "faster than I'd ever experienced in my entire career".
It was late February last year and Spielberg was about to shoot The Kidnapping Of Edgardo Mortara, the story of the Catholic Inquisition in 19th century Italy, which he had wanted to make for six years. As the start date in Italy drew closer, the best director Oscar-winner of Saving Private Ryan and Schindler's List was fretting. One critical element had not fallen into place.
"I had my crew in Italy and was starting to build sets and had scouted all the locations and I was unable to find this boy upon whose shoulders this entire story rests," Spielberg says speaking to Screen International in December. "Mark Rylance was cast as the Pope [Pius IX] and Oscar Isaac was cast as the father, and I'd spent almost 10 months looking for this six-year-old kid. It's much easier to find a 10-year-old child than a six-year-old child to carry an entire movie. I was looking at over 3,000 young applicants for the role."
Then he received a message from Stacey Snider, chairman of 20th Century Fox, who used to run DreamWorks for Spielberg. She said: "I have a script you need to read."
"Anything she gives me I read because I trust her taste," Spielberg says. "She gave it to me through Amy Pascal, the producer who had purchased the script [to The Post] with Fox. I didn't read it right away because I was trying to get my other movie off the ground and thought, 'Well, I'll read 20 pages, maybe, and read the rest tomorrow.'"
That resolution dissolved almost immediately as he opened the script by first-timer and American Film Institute Conservatory graduate Liz Hannah. As Spielberg turned the pages, he became engrossed in the thriller-like account of The Washington Post publisher Katharine Graham and her decision in 1971 to publish excerpts from the Pentagon Papers, leaked by military analyst Daniel Ellsberg, that outlined the US administration's lack of confidence in the course of the Vietnam War.
"I wound up reading the whole thing," continues Spielberg. "There was an undeniable relevance to what happened in 1971 with the Nixon administration trying to stop the free press from printing a story which was not flattering to him or his administration, and all the obvious parallels with today.
"I gave myself one more week to find this boy and said if I don't find [him] I want to direct this immediately and I want Meryl Streep to play Katharine Graham and Tom Hanks to play Ben Bradlee — there are no people better for these parts in the world today.
"I made one last attempt to find this young child. I actually went through — it took me a week to do it — 3,000 readings, 3,000 auditions. Sometimes I only watched 30 seconds of one, maybe a minute of another, but I went through all 3,000. At the end of the week I called up Amy Pascal and said, 'I'm ready to go to work. Let's do it.'"
The Post production
That was early March 2017, when Spielberg and his associates were deep in post-production on Ready Player One, the Warner Bros tentpole that opens globally this March. He told his longtime production partner Kristie Macosko Krieger that he wanted The Post (which had been known briefly as The Papers) out by the end of 2017.
They summoned the key people from Italy and strategised about how to switch projects. "I transferred [heads of department] on to The Post so they didn't lose any time," he says, adding wistfully: "We just lost about 27 brilliant Italian locations for what I was about to do, and I had to make some hard calls to tell Mark Rylance and Oscar Isaac it wasn't going to happen this year, although I still intend to make that movie with Mark and with Oscar.
"Then everything happened faster than I'd ever experienced in my entire career. I've never cast a movie this quickly. Luckily I had Ellen Lewis, the brilliant casting director, who with the kind permission of Marty Scorsese was able to jump off Marty's movie [The Irishman] on to mine, and then every one of my first choices was available.
"That was the other miracle," Spielberg adds. "Usually first choices are not available, or only 50% are and the other half aren't, or of the 50% who are available, some of them don't say yes, even to me. So everybody was available and everybody who'd read the script that Liz had written and Josh Singer [who shared the 2016 best original screenplay Oscar with Tom McCarthy] was in the process of rewriting and they all committed. I cast the principal roles of the movie — 50 important roles — in about two weeks."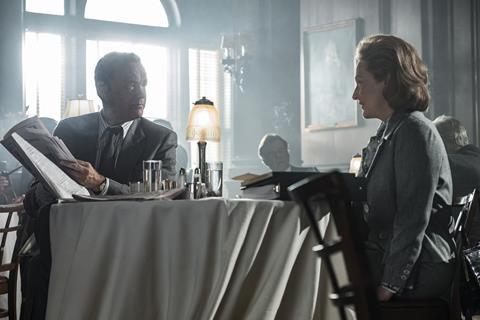 Hanks and Streep — who with Spielberg and the film itself would earn Golden Globe nominations while Oscar nods came for Streep and the film — attached quickly.
Hanks imbues the role of The Washington Post executive editor Ben Bradlee with an irascibility not often seen in his work. It does not surprise Spielberg, who previously directed him in Saving Private Ryan, Bridge Of Spies, Catch Me If You Can and The Terminal. "Tom can do anything and become anyone," Spielberg says. "He has a moral centre that radiates through every character he's ever played. There's a kind of natural American morality that even infuses characters that are not meant to be heroes.
"He's won two Oscars back-to-back, which certainly qualifies [him] as a great leading man, but he is also a great character actor because he won his Oscars for characters that couldn't be further apart from each other. Such was the case with Ben Bradlee — he's never played anyone like Ben even though Tom and I knew him quite well in real life.
"It's the first time I ever directed a movie about somebody I actually knew. I knew Ben in the 1980s and 1990s. We lived across the street from each other for 15 years."
Spielberg cast Streep as Graham, although surprisingly they were not too familiar with each other. "I knew her a little bit socially because we were both very close to Carrie Fisher. I didn't know Meryl very well and had nothing but admiration, awe and respect for her, and got along great when we would see each other at a social event or awards ceremony.
"But we hadn't spent much quality time together. She spent half an hour with me in 1990 when we made A.I. as she was the voice of Blue [Mecha] and she recorded her voice with me in the room. I had always wanted to make a movie with her and this turned out to be something we could build a whole new relationship on."
Fox committed to finance the $50m project alongside Spielberg's Amblin Partners. There were a couple of months of pre-production, before principal photography started on May 30 in White Plains, New York. It moved on to Brooklyn and then Manhattan, and wrapped on July 28 in time for its US release on December 22.
For Spielberg, this was not simply about his natural inclination to move quickly. He is one of Hollywood's renowned liberal grandees — and recently declared his support for an Oprah Winfrey run at the White House in 2020, telling the UK's The Guardian newspaper she would make an "absolutely brilliant president" (Winfrey has distanced herself from the possibility) — and he knew The Post was too timely not to open as soon as possible during Trump's term. "The story was so dramatically relevant to our times," he explains. "And it's interesting because sometimes the lens is the best way to mirror history and compare history from one mirror to the next."
Spielberg's career has embraced an uncanny ability to tap into the zeitgeist and entertain, be it on Close Encounters Of The Third Kind, Jaws, the Indiana Jones series or Jurassic Park. Yet as Schindler's List, Amistad, The Color Purple, Saving Private Ryan, Munich and more recently, Bridge Of Spies and Lincoln show, there is a serious side to his work. With The Post, which was also nominated for the Producers Guild of America's top award and was named best film of 2017 by the National Board of Review, among other accolades, Spielberg has perhaps never unearthed such a vein of urgency that taps into the current climate.
He is not alone in feeling deeply troubled by the Trump administration. "We got to this point because the pendulum of history swings in long arcs. This was certainly a perfect storm that I could almost see coming, although I completely thought like everyone else that we were going to have our first woman president in 2016."
Perfect timing
When Spielberg spoke to Screen International, The Post had not yet opened in North America through Fox. At the time of going to press — five weeks into release — it was two weekends into its wide release and had reached an encouraging $47m. The UK, France, Spain and Brazil were at the vanguard of the international rollout through Fox, Universal and independent distributors, and were poised to open the drama in late January.
After the interview, Lebanon censors would ban The Post over Spielberg's associations with Israel, although this was overruled by the country's prime minister. Censorship endures, yet the director expresses the most earnest wish that audiences in the US and further afield recognise what his latest film represents about his country. "I hope that when people see the movie, they understand that Ben Bradlee and Katharine Graham were true American patriots because they put their country and the truth first at great personal and professional risk.
"And so I hope they realise that journalists, investigative reporters, publishers, editors are truth-tellers, and therefore they're heroes.
"In today's world, some would have us believe there is no difference between beliefs and facts, and Katharine Graham and Ben Bradlee's actions and The Washington Post and The New York Times remind us facts are the foundation of truth. I hope that's what they take from the movie."
Now the indefatigable director is moving on to pastures new. He has said he does intend to shoot The Kidnapping Of Edgardo Mortara, and Apple has picked up his 1980s anthology reboot Amazing Stories. He plans to direct an as-yet-untitled Indiana Jones project — although there is no date set — and there is that small matter of author Ernest Cline's pop culture mash-up adaptation arriving on March 30 in North America.
"Ready Player One is coming up," he says of the adventure sci-fi. You can almost hear him grin at the other end of the line. "We're just finishing it now. We're in the final mix and the final stages of completing thousands of visual-effects shots and I cannot wait to unleash it on the world."