The airline rights industry is down but not out, thanks to the pandemic. But now carriers are pickier than ever due to the shortening of the exclusive theatrical window.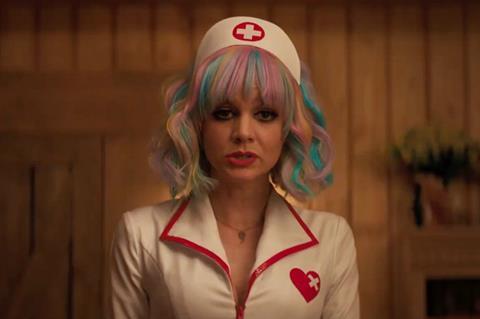 The pandemic has decimated the airline industry and a little over one year since the first lockdowns went into effect, airline rights buyers re-engaged cautiously at the virtual EFM and expect to do so at future markets.
As international air travel plunged from roughly 4.5 billion passengers in 2019 to 1.8 billion last year, according to research by the International Civil Aviation Organization, airlines have lost billions of dollars, forcing some to go out of business or restructure. Flights across the US and around the world dwindled and by extension the level of transactions involving airline-rights buyers has declined.
Entertainment In Motion parent company Global Eagle filed for Chapter 11 bankruptcy protection last year, while Jaguar Distribution wound down operations and its library was acquired by Ricochet Media.
Cinesky, whose current roster includes Oscar contenders The Father and The United States vs. Billie Holiday as well as I Care A Lot and Our Friend, Terry Steiner International and Captive Entertainment are three of the major independent buyers that remain active, alongside emerging players such as Horizon Distribution, which late last year benefited from a strategic investment by Vertical Entertainment.
As the global vaccine rollout brings hope that pre-Covid behaviour will resume, airline-rights buyers have had to temper their activity as stricken carriers slashed their entertainment budgets. In some cases buyers have not paid minimum guarantees and accepted (lower) straight distribution fees instead, or scaled back monthly acquisitions, or simply kept a low profile as they wait for things to pick up.
Some sellers, meanwhile, have been holding onto airline rights until the situation improves.
Although it could be a couple of years before the rights-buying business returns to pre-Covid levels, when deals on coveted independent titles could get close to $1m, recovery is in sight. There is hope that when vaccine rollouts gather speed across the globe, air travel will pick up.
James MacLean of Los Angeles-based Horizon Distribution says he is "optimistic about the airline business long term".
Horizon picked up the pace in the third quarter of 2020 and while insiders say few new deals have concluded across the sector since last April, Vertical partner Peter Jarowey has been satisfied with early progress.
"We hit the ground running with Vertical movies and some third-party titles and we've certainly exceeded expectations in the first quarter of this year," says Jarowey. "The airlines business is slowly recovering from the initial elements of the pandemic and almost a complete stoppage in travel."
On the horizon
So far Horizon has been offering airlines a broad slate that includes Channing Godfrey Peoples' awards contender Miss Juneteenth, John Leguizamo high-school chess drama Critical Thinking, Robin Williams documentary Robin's Wish, Drew Barrymore comedy The Stand In, Matteo Garrone's Pinocchio, Toronto International Film Festival genre hit Shadow In The Cloud and Sia's Music, which has two Golden Globe nominations.
Like all buyers, Horizon is working hard to gather the best content for its airline clients despite one challenge after another. As the number of flights has shrivelled and airlines have either stopped or drastically cut back on buying films, what the carriers have been prepared to pay on independent titles has plummeted by 75%-80%, according to buyers and sales agents.
However, studios are unlikely to accept such a discount, which puts even more pressure on independents. Not only has it become harder to sell to an airline with fewer monthly slots, but now carriers could be spending a disproportionate amount of their allocation on studio fare.
"Twelve months ago there were about 125 to 150 global airlines that were pretty active in the market," notes MacLean. "Some would buy three to five new releases each cycle, while others would select 10 to 15 and most would refresh every month. That has been dramatically reduced of late."
Paul Poste co-founded Captive Entertainment in 2000 and primarily acquires international rights. He released Bombshell, The Outpost and After We Collided prior to the lockdown but has not bought aggressively since the 2020 EFM.
"Although we didn't make any acquisitions for EFM we are confident the airline industry will be coming back in the very near future and allow us to become more aggressive on the acquisitions-front," says Poste.
"We have just been in idle mode waiting for things to go back online. A lot of sales agents want minimum guarantees, and we cannot pay minimum guarantees right now when there's no revenue to recoup those minimum guarantees. Even on the expenses side, we have to be very careful, because we have expense caps that we must abide by as well."
Poste points out that prior to the pandemic, US air travel accounted for roughly 2.3 million passengers a day and is currently fluctuating between 600,000 to 800,000.
"We are slowly making a recovery," he says. "But it's still a long road ahead. Our business has been decimated. And right now we're seeing business picking up primarily in Asia and the Middle East. European and domestic carriers are either using old content, or they're licensing content from the major studios where they have output deals they have to fulfil."
As the slow recovery continues, other factors have complicated the sector. Internet connectivity on planes enabling passengers to bring their own entertainment has made airlines choosier about bookings, while the accelerated shrinking of the exclusive theatrical window brought on by the pandemic has posed another challenge.
Typically a rights buyer might release a film to its airline clients between 60 to 90 days after playing theatres. Increasingly, airlines have been asking for shorter windows; however, if a producer or sales agent is unwilling to be flexible about windowing for whatever reason, a rights buyer could lose a booking to another film where the creators are less rigid. There is much to consider as the sector waits for the airline industry to bounce back.
While MacLean says most people he has spoken to do not expect a full recovery for another 24 months, he remains optimistic. "There are signs that demand will improve slightly come summer."
A glance at the website of Terry Steiner International reveals that Sean Durkin's Sundance 2020 selection The Nest is available from March, while awards contender Promising Young Woman starring Carey Mulligan is lined up for April, and May's selection includes Gerard Butler in Greenland.
Captive Entertainment is confident it will ride out the pandemic and Poste expects to re-engage as a buyer in the summer when, it is hoped, the biggest festival and market on the calendar will take place in some physical form. "I envision probably this Cannes we'll start looking at slowly becoming more aggressive again," he says.
Despite the torrid time endured by the airline industry, others too are hopeful. "I am confident there will be a demand for product for the airline marketplace," says one seller. "Some buyers have gone out of business, but others remain bullish about being in the airline business."