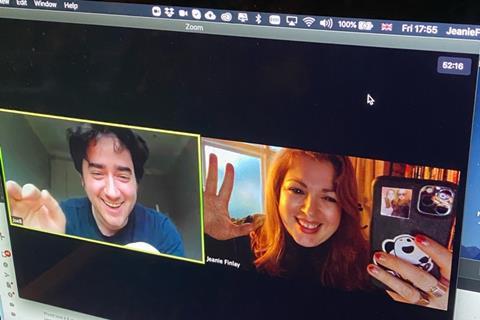 Prolific UK documentary filmmaker Jeanie Finlay should have been in Portland, Oregon and Los Angeles this month finishing the shoot for her ninth feature film. Obviously that is not possible, so Finlay (based in Nottingham, England) decided to do something positive with the time she suddenly had on her hands: offer free online mentoring sessions to other filmmakers.
"I'm a big believer in peer-to-peer mentoring, at any point of a filmmaker's career," says Finlay, who herself was mentored by Marshall Curry while editing her sixth feature Orion: The Man Who Would Be King. She is already a mentor to Sian Mcilwaine, a filmmaker in Northern Ireland, via a Northern Ireland Screen initiative.
"I am regularly approached by filmmakers and organisations to extend this by sharing professional practice but I don't usually have capacity. With my latest shoot postponed, instinctively it felt like exactly the right way to spend my unexpected free time - something positive to come out of this period of discombobulation."
She had hundreds of responses from filmmakers around the world after sharing the offer on social media. For relevant requests, she pulled names out of a hat to decide who got the slots. She used Calendly for scheduling the 45-minute slots and Zoom for the video calls, talking to filmmakers in the UK, US, France, Germany, Spain, Ireland, Sweden, Denmark, Algeria, Lebanon, and Luxembourg.
Finlay's advice includes helping filmmakers figure out "what story are you trying to tell and is it translating for an audience? As well as more practical considerations – how best to keep a project alive in this shifting landscape – whether that is researching, editing, delving into archive or just pausing for a moment."
The mentees have received the rare gift of undivided attention from an expert filmmaker. And Finlay found a benefit to herself too – "Directing can be a very lonely job so it's been so good to connect with people." She hopes to keep offering mentoring slots while her schedule allows (she's able to continue work on her new film remotely from next week).
Sessions were free, with no strings attached, although she accepted digital donations to her local food bank if anyone was able to donate.
Documentary organisation Field of Vision, which is working with Finlay on her new film, heard about her mentoring efforts and agreed it was great idea.
"Filmmakers can feel very isolated when making films as it is," said Charlotte Cook, co-creator and executive producer at Field of Vision. "We thought that this feeling must be exacerbated for those who've had shoots cancelled and found their projects in a state of limbo, and especially so for those who were just about to have their premieres and no longer could due to festival postponements and cancellations. We knew going in that we wouldn't be able to give concrete solutions to the situation, but if we could remove some of that feeling of isolation it would be worth doing."
Field of Vision's team have started offering free 30-minute meetings, requested by an online form, that will run until May 1 (that date may be extended). In all, they are offering 200 meeting slots.
"Hopefully we've offered some connection, encouragement and useful advice to the filmmakers," said Cook. " It's been incredibly beneficial for our team too. It's keeping us connected and feeling like we're being useful. We're also taking meetings that are both within, and outside, our areas of expertise and so we're learning a lot from the filmmakers too."
Casting help
Sophie Holland and Faye Timby, UK-based casting directors who recently worked on Netflix's The Witcher, started the #CastingCrushesCorona initiative on March 17. So far they have offered online casting sessions for dozens of actors. Other casting directors such as Nicole Hilliard-Ford, Rob Kelly and Ceri Bedingfield have now joined in the initiative and WeAudition.com is hosting them for free. The one-on-one sessions have sometimes been targeted at different groups, such as recent graduates and actors over 45.
Holland and Timby each do sessions for at least an hour every weekday "and will continue until productions get back up and running."
Holland said, "It was such a shock to have all our productions halt in 24 hours and we both know lots of actors who were effected financially by it. It seemed like maybe we could facilitate something good coming out of it. Create some hope and a sense of community."
London-based independent producer Farah Abushwesha, whose credits include Irreplaceable You and the forthcoming ITV series The Singapore Grip, also runs writers' organisation Rocliffe. While the Bafta Rocliffe New Writing Competition applications are open as normal through April 15, Abushwesha has started #creativecrushedcorona for people wanting to talk about any topic covered in the two Rocliffe Notes books she has authored: A Guide to Low-Budget Filmmaking and A Professional Approach For Screenwriters and Writer-Directors. Topics can include crewing, casting, budgeting,
She did the first batch of 15-minute mentoring sessions yesterday (March 24) on platform Whereby. "It's just giving people the space to talk," she says. "Also to say you're okay, the industry doors haven't closed to you. It's making sure that people keep motivating themselves, we need these voices to be able to come through. That's the ethos of the open door of Rocliffe," she adds of the organisation's usual physical events."
She adds it's also beneficial to her as a producer to meet new talents. "We as producers need to be meeting these voices, we need to connect with each other."
"Caremongering not scaremongering"
Those online mentoring sessions are just some of a few ways the industry is showing that it is "caremongering" instead of "scaremongering" during this time of global crisis. Companies are also getting involved in a larger scale: Netflix has started a $100m crisis fund to help the creative community impacted by the COVID-19 crisis, including crew members who had been working on Netflix productions that are now halted; $15m will be given out to third parties and non-profit emergency industry relief bodies.
The US streamer has also donated £1m to an emergency relief fund for creative workers in the UK, partnering with The Film & TV Charity and the BFI.
The Charity has also bolstered resources at its helpline – which covers anything from financial advice to mental health issues. It's free, confidential and open 24/7 for the UK's film and TV workers.
Also in the UK, The ScreenSkills Indie Training Fund (ITF) has a slate of online training and support initiatives (some paid, some free) including Daily Cuppa sessions with mental health first aid trainer Jude Spencer; Spot Coaching with development specialist Wendy Wilson; camera training with director of photography Jeremy Humphries; and online pilates and yoga classes. From March 30, ScreenSkills will offer seven sessions a day including storytelling, pitching and development workshops, industry masterclasses and writers' rooms.
Some people are getting even more hands-on: in the US, IATSE's Theatre Wardrobe Locals, the Hollywood Costumers Local and Costume Designers Guild Members are sewing protective masks to distribute to health care facilities
Also in the US, TV medical drama The Resident(Fox) donated boxes of the production's masks, gloves, and gowns to Atlanta's Grady Memorial Hospital. ABC's The Good Doctor donated some of its protective gear to health care providers in Vancouver, and Grey's Anatomy (also ABC) has donated it stock of gowns and gloves to health care workers as well.
Many actors have been working on Covid-related videos. Just a few to mention include Matt Lucas, Reese Witherspoon, Kevin Bacon, Simon Pegg and Nick Frost, Judi Dench and Anthony Hopkins. Irish director Aisling Walsh is hosting a virtual dinner every Friday night, for a filmmaker to discuss their projects and get one-on-one advice.
Others are responding to social isolation with new online community building. For instance, London-based filmmaker Carol Morley has started a new online film club, Friday Film Club, which kicks off each Friday at 8 pm GMT. The series kicked off on March 20 with Ida Lupino's 1953 film noir The Bigamist.
"I felt a sudden urge to do something that could create a sense of connection between us in these difficult times, where the words social isolation are written large," said Morley."There is something so special about all being in the cinema together, strangers connected by the story that unfolds – and I wanted to have this as the spirit."
Of the first event, Morley said: "The reactions to the chosen film and to the experience itself were really positive and interesting. It reminded me just how important films are to bringing people together, in sharing in the stories that unfold on screen, and sharing with each other the experience of watching them."
She aims to select films each Friday that are in the public domain and available to watch for free globally.
Also, Riz Ahmed started his new series of Live Watch Parties with an online screening and discussion on March 23 of his film Four Lions, which is celebrating its 10th anniversary this year.