The UK film and high-end TV industry already has a voluntary apprenticeship levy in place. Nikki Baughan looks at how it works and talks to three recent beneficiaries.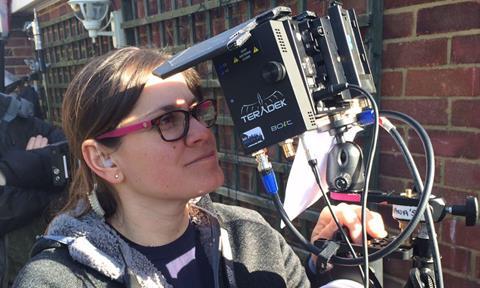 Click here to read more of Screen's European training focus
The UK's Skills Investment Fund production levy has been funding industry training for almost two decades. A direct industry-facing response to the need to safeguard its future workforce, the groundbreaking initiative was originally led by PACT, the Motion Picture Association (MPA), the Federation of Entertainment Unions and the UK Film Council, in partnership with Creative Skillset, with the BFI later joining the board that oversees its collection and investment.
"The film industry came together and realised that, as a largely freelance workforce, there was a need for a collective approach in developing the skills of its workforce," says Dan Simmons, head of partnerships at Creative Skillset. "When the creative sector tax credits were introduced in 2013, employers in high-end TV and animation and, subsequently, children's TV, games and VFX all opted to follow the same model that had been in place in film, and introduce their own levies."
As it now stands, the levy is voluntary, with each individual production choosing whether or not to contribute. It is calculated at half a percent of a production's qualifying UK spend, and is capped at $49,750 (£40,860) — a cap which increases year-on-year in line with RPI. (Projects that receive public funding are required to pay the levy.)
"In film, we have collected over $14.6m (£12m) since the levy was introduced, with the average being around $913,000 (£750,000) per year," says Simmons, who asserts a very high percentage of productions do contribute. "Productions recognise there's a need for a collective approach to investing in the future of the industry's workforce, whether they are directly taking on trainees or not."
Warner Bros UK is the largest contributor to the Skills Investment Fund, with more than $1.2m (£1m) invested to date. "In partnership with Creative Skillset, this commitment has seen us place trainees on all of our film productions in the UK, including, most recently, Fantastic Beasts And Where To Find Them and the upcoming Wonder Woman," says Josh Berger, president and managing director, Warner Bros UK, Ireland & Spain.
"These trainee placements have resulted in talented people returning to further Warner Bros features, building their skills, forging lasting relationships with fellow crew members and going on to work on other productions and franchises filmed in the UK. Now, more than ever, it is crucial for us all to support and invest in the pipeline of new and diverse talent," Berger adds.
Investment pool
Levies are paid into the Creative Skillset-managed Skills Investment Fund (SIF) and then invested in a range of initiatives. These include the funding of new trainees coming into the industry in priority grades and specialist training for professionals to help them progress their careers, such as the high-end TV initiative Make A Move, which helps productions to support those moving into more senior posts. At entry level, it funds a dedicated trainee induction programme, while matching service Trainee Finder helps connect those productions that have paid the levy with trainees who best meet their needs.
As Simmons explains, SIF investment strategy is constantly evolving. "We work with industry, productions, the guilds and representative organisations to track where the skills gaps and shortages are. On the film side, we have recently supported training for production accountants and camera department, and there's a director mentoring programme that we have supported recently on the high-end TV side through Directors UK."
And for the attendees themselves, such as camera operator Mike Carling, who has attended lighting and Steadicam training courses, SIF funding ensures such skills learning remains accessible to those who need it. "The fact the courses are part-funded means that, as a freelancer paying for my own training and effectively taking time out of the workplace, the fees are brought within reach," Carling says.
Flexibility is key
As the industry gears up for the implementation of the mandatory apprenticeship levy, which comes into effect on April 6, those involved in skills training are working hard to ensure that it enhances the industry through a flexible approach, rather than implementing potentially restrictive legislation. Of particular concern is the government's determination that any unused 'digital vouchers' — currency that a production receives to spend on training — can only be transferred to another employer in the second year of their 24-month validity, and only at 10% of their total value. Creative Skillset believes this will be detrimental to the creative industry's highly mobile freelance workforce.
"Apprenticeships provide a great opportunity for our industry in terms of introducing a more diverse talent base, and to provide new talent with an opportunity to earn while they learn and get straight into the workplace," says Simmons. "But what we have been saying to government is that while apprenticeships work well in parts of the economy with fixed employment, in areas that are freelance-heavy it can be more challenging. We need to ensure trainees are supported during placements and after, and give them a wide range of skills that will help them move forward.
"It's a constant process of talking," Simmons says of the way in which knowledge gained from the voluntary scheme is shaping negotiations about the future of skills training. "It's a mix of longer-term forecasting — looking at how the industry is evolving, tracking what productions are being green-lit and learning where the crunch areas may be and how we can respond in a very agile way.
"We are set on a course for continued levels of high production and growth, and we need to make sure there is an increasing homegrown supply of talent across the board."
Rana Darwish, Assistant Camera (The Goob, Miss You Already)
"I attended the 3D training and focus puller courses supported by the Skills Investment Fund, after finding out about them from a member of the Guild of British Camera Technicians. The 3D course was an intensive four-day course, and was aimed at training focus pullers to become stereographers and loaders to become technicians. Both courses were very hands-on; you need to understand the theory but you also need to actually use the equipment. The training has given me the confidence to make the transition to focus puller.
"As we move more into a freelance world, there are few traditional work schemes and, if you're busy working, it's harder to learn the skills needed to progress above your grade. The training schemes have a lot of the right support, but more could be done. If you are starting out in camera, for example, there are a number of options to help you learn and progress as a trainee but, as you go further up the ladder, the training is minimal and the jump between job skills is larger. Running the courses more frequently would be one solution, and also making more people aware of the training available."
Richard Henry, Production Payroll Assistant (Miss Peregrine's Home For Peculiar Children)
"I have attended several Skills Investment Fund-supported courses including the APATS course, which taught the basics of film accounting; and the Moving Up to Production Accountant Course and Production Accounting Mentoring Scheme, which both supported assistant accountants hoping to progress to become production accountants.
"The biggest benefit was that the course introduced me to industry colleagues and mentors who could offer help, support — and work — after the course was over. After taking my first course, I moved from Belfast to London and have been working consistently for the last six years. I now feel I have the knowledge and confidence needed to step up and become a production accountant.
"The more support that can be given to these training schemes, the better. It's a good opportunity to touch base with industry colleagues and learn from their experiences."
Lisa Clarke, High-End TV Director (Call The Midwife)
"I applied to the inaugural High-End Drama Mentoring Scheme after seeing it advertised in the Directors UK newsletter. I was attached to Dickensian and mentored by lead director Harry Bradbeer, and I was able to be present at many of the design, script, tone and budget meetings, as well as attending castings. I shadowed him on a number of days throughout the shoot and directed the second unit for his block.
"Directors and freelancers know that work can often be sporadic, and making the transition from one genre to another is not easy as it often means turning down work so that you're open and available for new opportunities.
"Being attached to Dickensian meant that not only was I paid for my work on the show, and was also learning every day, but I was also able to develop relationships with more experienced crew than I had previously worked with. I also gained a proper working knowledge of VFX, something I had not used before but needed for Call The Midwife — a job I got after attending the course.
"Making the step up from one genre to another can be very difficult. The industry is made up of a lot of freelancers and there isn't a ready-made structure for career development, which adds to the challenge for those looking to progress. Schemes such as these can offer a much-needed stepping stone."