Ukrainian film crew and facilities companies have mobilised in response to the Russian invasion, adapting their skills to the new reality of war, writes filmmaker Robbie Fraser who recently returned from the country.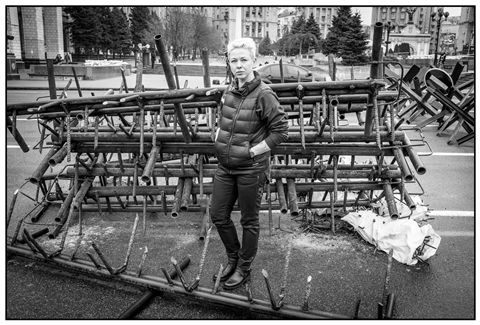 Lviv railway station, late March. The air-raid sirens have been wailing, on and off, for an hour. Hundreds of refugees are gathered outside the station, new arrivals from the east milling in a shanty town of aid tents. Inside, hundreds more are waiting for a train to the west.
I'm in Ukraine filming with the war photographer David Pratt, with whom I have made several films for BBC Scotland. I'm taking some shots on the platform when a soldier approaches. The train which is about to arrive is "a strategic object", he tells me, before asking to examine my footage.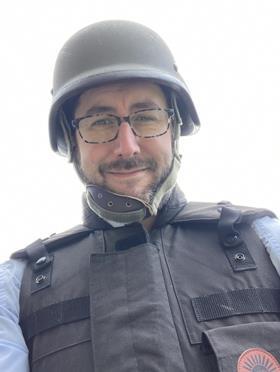 We have permission to film here from the police, and the correct Ukrainian military press accreditation. But the soldier is twitchy, and has an ugly look in his eye. It's hard to hold this against him. Who knows what horrors he has experienced. But at the same time, I don't want him anywhere near my camera cards. So I play the trump card of any documentary maker: I summon our fixer.
Olya Danyukova, 38, looks like a character from The Matrix. Short blonde hair, steel blue eyes. Before the war she was a music video and commercials producer, in what was a thriving industry both for international service productions and indigenous filmmakers. She squares up calmly to the soldier, her head coming up to his chin, and sorts things out in a brisk exchange of Ukrainian.
"He told me where we could stick our accreditation," she tells me, as the soldier stalks off. But at least we have our footage.
Film people the world over are tough, savvy, imaginative, hard-working and dependable. These, as it turns out, are useful qualities in wartime.
Like so many in her industry, Olya's career has taken an unexpected diversion since the Russian invasion. She, along with her partner Mikhail Khoroshykh (37, also a commercials producer), relocated from Kyiv to Lviv at the beginning of March. Since then they have been working as fixers: driving, interpreting and opening their Rolodexes for international journalists and documentary makers including, so far, teams from Scotland, Italy, Japan and Sweden.
Olya and Mikhail are not exceptions. The Ukrainian film community has mobilised in full. Crew members from all branches of production have each found a way to make their contribution, calmly adapting their skills to the new reality.
Production designer Danil Dubrovsky also works with us for a day, when we need an extra driver. Danil has worked on music videos for acts including Stormzy, Muse, Paloma Faith and Nothing But Thieves.
There are many more. Stylist Helga Dubrovskaya has set up several workshops around Lviv where she and her colleagues sew army uniforms. Another production designer who prefers not to be named has converted his workshop for the production of Czech hedgehogs – the steel tank traps which are visible at every roadblock and intersection.
A third group of designers operating out of Kyiv, who again prefer not to be named, have turned their hands to the production of Molotov cocktails and camouflage netting. And there are rumours of a pair of SFX guys who have turned their pyro expertise to deadlier use.
There are also, of course, those who have joined the military directly. Among the friends and colleagues of the film professionals whom I met, there are two gaffers who are serving on the frontline. But also a DoP who joined the 36th Marine Division and has taken part in the defence of Mariupol; and a director who has become a drone pilot for the Special Forces UAV unit which has had so much success against Russian armoured units.
None can be named, for obvious reasons. All are alive and well, for the moment, but they are undoubtedly at the sharp end of the industry response.
When we head out for Kyiv, it is in a small convoy of vehicles led by Eugene 'Zhenya' Shklyarevich, 37, a 1st AD. Zhenya has made it his business to ferry supplies from the west to the beleaguered capital, co-ordinating runs two or three times a week. He drives a VW estate whose customised licence plate reads simply: Кохай – Ukrainian for 'Love'. Zhenya has driven, by his own estimate, over 10,000 kilometres since the start of the war. Today his car is stacked with cat food, and also a live cat, given to him by a tearful soldier who is leaving for the front.
This is not a unit move for the faint-hearted: we drive east via the frontline city of Zhytomyr. As we travel along the highway there are columns of smoke in the distance, and the constant rumble of artillery and anti-aircraft fire. The road is eerie, deserted. There are shellholes in the tarmac. But Zhenya is a live wire, exuding happy energy as he sips coffee at a service station. It is easy to imagine him on a big shoot with walkie in hand, herding extras and juggling all the scheduling surprises that are thrown at him.
"I have never been to army, know nothing about how to shoot," he says. "But I know how to drive and how to calm people down. I'm a 1st AD. But I also worked as line producer of a travel show. So I have the skill to pack all I need in a small backpack in 15 minutes, drive long distances, organise comfortable trip for small crew with low resources, sleep in car."
He decided to become what is, in effect, a one-man aid agency, during the two-day drive to evacuate his sister and her family from Kyiv: "All the way to the west I was feeling so bad, like I was running away," he says. "So my sister found a task for me. To bring fuel to Kyiv. I bought 120 litres and some other stuff like walkie talkies and knee protectors. And I realised that this is the way I can be useful. I started to evacuate people from Kyiv and nearby to the west. And bring whatever I can in the other direction."
There were, according to Zhenya, "Women, kids, men, also dogs, cats, hamsters. Some with luggage, some [without anything but] a small backpack. Scared people who felt better after two or three hours' driving. I understand that I have to make their escape become a trip, travelling around Ukraine. And it works!"
In the capital, we visit Maidan Square, where the protests of 2014 took place. There, the brutal repression of the Russia-backing regime – including deadly sniper fire from the overlooking buildings – was resisted, and failed. This led to a blossoming of Ukrainian national identity, but also gave Putin the excuse he needed to occupy Crimea and to light the powder keg of the Donbas region. Olya was on Maidan Square, as a protester.
"The people who came to Maidan, they had no weapons," she says. "They were fighting just with their hands, with their smiles, their words and with the truth. We didn't fight with [the] Russians. But now, Russia invades Ukraine. They can kill, they can ruin everything. But it's not possible to make [the] Ukrainians change their mind."
Olya and I begin to discuss ways in which the international film community can help. I tell her about Reporters without Borders, and the fantastic programme they have to deliver body armour and helmets to Ukrainian journalists and fixers.
We talk about the idea of delivering a condensed form of hostile environment and first-aid training to film crew who are newly employed as fixers. Olya swiftly comes up with a detailed list of deserving candidates. On it are seven producers, nine DoPs, three directors, a stylist, an editor, an entertainment lawyer and a film marketing person. Another 30, she estimates, will follow, from all parts of the industry.
On the way out of Kyiv we are stopped at a checkpoint. The soldier examines our press passes then checks the trunk, and clocks our body armour and helmets.
"Do you have any weapons?" he asks. "No, but I'd like one," replies Olya.
He laughs and waves us on with a parting shot: "This woman is a weapon."
Robbie Fraser (@Robbie_Fraser) is an independent filmmaker based in Glasgow. His cinema documentaries include Final Ascent (2019) and Hamish (2016). Most recently he has produced and directed the broadcast films Pictures From Afghanistan (2020), Pictures From The Balkans (2022) and Pictures From Iraq (2022), which were financed by BBC Scotland and Screen Scotland, and are represented by international sales agency Terranoa.