Catholic-raised Anthony McCarten had fallen out of love with the Church when he set about writing The Two Popes.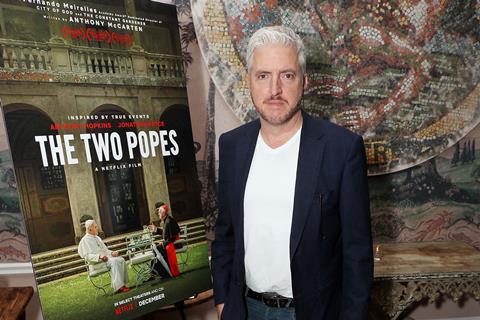 "In the classic dialectic, you have to equip both sides of the argument with equal power." This is how screenwriter Anthony McCarten describes balancing his feature-length Netflix drama The Two Popes. Directed by Brazilian film­maker Fernando Meirelles (City Of God), the film depicts a series of fictionalised conversations in 2013 between the then Cardinal Bergoglio and Pope Benedict XVI, when the latter became the first pope in more than 600 years to abdicate, and attempted to persuade Bergoglio to succeed him.
Having worked as a journalist and then a playwright in the 1980s, it follows that New Zealand-born McCar­ten is one of film's foremost biopic scribes. Winston Churchill feature Darkest Hour brought a 2018 best picture Oscar nomination (as producer), while Stephen Hawking feature The Theory Of Everything achieved the same in 2015 plus for best adapted screenplay — a category McCarten won at that year's Bafta Film Awards. Last year's Freddie Mercury biopic Bohemian Rhapsody, which he co-wrote with The Crown's Peter Morgan and has sole screenplay credit for, won four Oscars in total.
With The Two Popes, McCar­ten had to depict living protagonists who hold contrasting worldviews. "I had to deeply research the positions of both men on various subjects," says McCarten. "I also had to love both men equally." He freely admits starting the project with a higher regard for Bergoglio (now Pope Francis).
McCarten was raised a Catholic, but no longer practises the religion. "Being a Catholic was like living in an airless room," he says. "Nothing happened in that Church. It was so frustrating; it increasingly seemed irrelevant to my life." The arrival of the Argentinian Francis, however, has given him a new perspective. "It was like a window was opened and a breeze finally came in."
That's not to say he still has a favourite Father, however: "I grew to appreciate [Benedict] more, which was something of a discovery for me." While Francis represents a progressive, modernising viewpoint in the film, it is Benedict who stands up for conservatism and the old ways. "There is something to be said for unchanging monolithic structures, because for a large part of the Church, they look to unchanging truths," says McCarten. "If a church represents that 'This is the rule today,' and it changes tomorrow, what are you believing in?"
McCarten first told the story via a stage play called The Pope, which debuted in the UK at Northampton's Royal & Derngate theatre in June 2017. Even at that early point, discussions were underway for a screen version. "I took it round to various studios," says McCarten. "They were all interested but said, 'We need to sleep on it.'" It was Netflix who picked up the project in late summer 2017, via a memorable pitch meeting. "Three young women were in a room, heads down over notepads, and said, 'Begin.' I told them the story of these two living popes, and at the end of it they raised their heads from their notebooks and said, 'We'll make it.' I said, 'Do your parents know that you're doing this?'" recalls 58-year-old McCarten.
Going global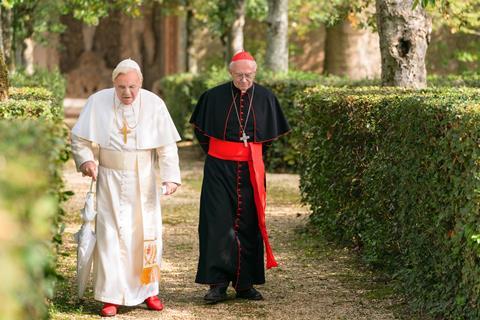 The Two Popes shot in Italy and South America in spring 2018, before a premiere at Telluride in August 2019 and subsequent festival appearances at Toronto, Busan and London. McCarten's work has been box-office gold: The Theory Of Everything pulled in $124m at cinemas worldwide, while Darkest Hour surpassed that with $151m. Bohemian Rhapsody notched up a colossal $904m across the globe.
Missing that theatrical opportunity due to a Netflix deal was an initial concern. "Shortly after [Netflix] said, 'We'll make this,' I went out to the elevator with the producers Dan Lin and Jonathan Eirich. We looked at each other and said, 'Could it be that simple? Do we want to make this? We know what we're giving up.' There was a little sense of loss," he says. But that was quickly overtaken by the sense of opportunity. "We're going into 150 million homes, and three times that number of people could see it. You're going to hit that many eyeballs and maybe touch that many hearts. That outweighs the other considerations."
Release strategy aside, the veteran Welsh actors leading the cast mark The Two Popes out as a prestige title. Back to that Netflix pitch. "I had two images with me — Anthony Hopkins and Jonathan Pryce," says McCarten. "I had not asked permission from either actor, but I presented that as a perfect-world situation if we could get them."
Thankfully, both were keen, although McCarten wryly remembers a request from Hopkins. "About six months out [from shooting], Tony said, 'Don't change the script at all. I'm learning it, and at my age you better not give me any new lines.'"
The narrative largely swerves the Church's scandal of endemic child abuse, giving it just a passing mention in the two men's opening discussions. McCarten says that was not the focus of his story — instead, he "wanted to explore the degree to which these men are flawed. And the degree to which they admit that they're flawed." He did, however, attempt to make space for wider issues. "When it comes time for Benedict to confess his sins, I wanted the volume to go down on his words. The idea was you fill that space with whatever you're angry about. Instead of going into a tirade or laundry list of people's grievances, I created a space in the film that you could fill with your own concerns."
As with McCarten's previous work, for every moment of solemnity there is one of fun. Among all the affluence and ancient assets of the Vatican, Benedict is seen drinking the fruit-flavoured carbonated drink Fanta, a detail with historical context from his upbringing in Nazi Germany. "I met a gentleman who said he'd had dinner with [Benedict] and heard that he only drinks Fanta. He asked why — apparently during the Second World War, Coca-Cola was banned in Germany. Fanta was [invented as a result of this ban], so he developed a childhood love of it." The laugh is as important as the tear, he believes. "If you leave humour out, it stops being realistic. Every social interaction usually involves at least an attempt at humour."
Elements of both comedy and drama look set to pepper McCar­ten's long list of announced future projects — which include a feature adapted from Tim Wardle's documentary Three Identical Strangers; National Anthem, adapted from his own 2002 novel The English Harem; and a biopic of pop group the Bee Gees for Paramount with producers Graham King, Stacey Snider and Steven Spielberg. The latter now looks to be top of his to-do list, and he reveals he has already had two long meetings in Florida with the group's surviving brother Barry Gibb.
In contrast, no input from the Church was provided or even requested for The Two Popes — a "pointless" endeavour, McCarten states. "It was more a case of a certain degree of presumption — you go away and do your research, then you try to do justice to the portrait that you're drawing." He does not anticipate Benedict will see the film and, while Francis is something of a cinephile, "if he ever sees it, my guess is we will never hear what he thinks about it", says McCarten.
However, that initial stage run in Northampton back in 2017 had priests in attendance, "sneaking in at the back, we found out later". On occasions, they approached McCarten afterwards with their praise. "Not only did they enjoy it, but they thought it was an important document in terms of opening up the debate that's happening within the Church." It is all a question of perspective, he says. "The movie is more concerned with the future of the Church than its past."