Hugh Grant managed to orchestrate a graceful retreat from show business but Florence Foster Jenkins proved too compelling to stay away for good.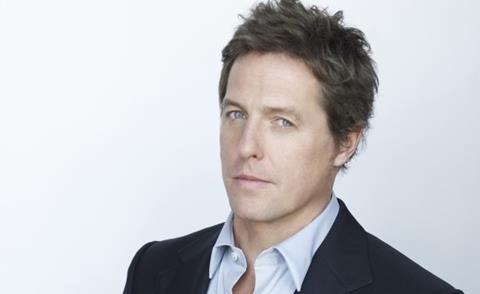 Hugh Grant, at this month's Zurich Film Festival to collect the Golden Icon Award on Tuesday (September 27) and present Pathé's Florence Foster Jenkins, has the air of a man about to undergo root canal treatment during a recent press day at the Beverly Hills Four Seasons.
Dressed in dark jeans and open-neck shirt, Grant stoops, makes brief eye contact and slopes off rapidly towards the sofas when we meet — more, it seems, out of a desire to get on with it than out of allegiance to the beloved, awkward on-screen persona he fashioned a couple of decades ago.
Grant seldom gives interviews but has agreed to play ball in support of his latest film, a New York-set true story from the first half of the 20th century about the calculated but ultimately devoted marriage between the tone-deaf opera singer of the title and a jobbing actor/manager. The BBC Films/Pathé production is currently on release in the US via Paramount, where it earned $27m to date (the film reached $4.2m in the UK earlier this year).
This is not the first time Grant has strayed off the rom-com path, the foundation of a fabulously successful career ever since Four Weddings And A Funeral propelled him to numerous on-screen pairings with Hollywood leading ladies, most notably Julia Roberts in Notting Hill, and a couple of Bridget Jones films, where he swapped innocent charm for rakish allure.
About A Boy showed deeper acting chops, and there was broader comedy in Small Times Crooks and retro swagger in The Man From U.N.C.L.E. Yet Bayfield, his layered character in Florence Foster Jenkins, slots neatly into director Stephen Frears' recent gallery of male protagonists: capable yet conflicted men of ambition who are not entirely beyond reproach.
The film has garnered some of the best notices of Grant's career and, these things being relative, it turns out he is wildly fond of the role too, "I would put it up there with About A Boy as one of the performances that makes me the least miserable."
Grant had never worked with Frears when the director sent him the script. "It was funny and sad, which is always a promising cocktail," he says. "It had this brilliant part: complex and nuanced and [it had the] potential for comedy and potential for sadness and it had him — Stephen Frears — a classy, award-winning director, and the small matter of Meryl Streep.
"Although I wasn't particularly involved in show business at that time, I would never have been able to look myself in the mirror if I'd declined it."
Grant researched Bayfield, reading his letters at Lincoln Center in New York.
"I found him incredibly touching," he says. "I loved the disparity between his outward suave, in-control sort of gentleman-in-waiting demeanour. But inside — this is what the letters show you — he was a rather desperate bit-part actor who'd never had any success, didn't have enormous talent.
"As soon as she died, there are his letters: writing to the top actors and theatre directors of the time, begging for a part, saying, 'I don't know if you remember me but I was the third spear carrier in Chichester in 1924 and I wondered if you had any work now.'"
All the world's a stage
Playing opposite Meryl Streep was another new experience. "It was largely as I expected it would be," says Grant. "She was intense emotionally and brought a method actor approach to the work I've found with other New York actors."
Theirs is a poignant chemistry on screen. "I'm sure there was an element of opportunism there when they first met, as there was for [Jenkins] too, but by the end of their 30 years together they were thick as blood.
Grant is judicious about his roles. Asked why he skipped current release Bridget Jones's Baby, he pauses before answering, "That's a long story. They spent a lot of time developing it but I could never quite feel comfortable with how Daniel [Cleaver] would have behaved in the second half of the film."
These days he devotes much of his time to Hacked Off, the campaign for a free and accountable press, which he championed after his phone was intercepted by the News Of The World. "I'm not an acting junkie," he says. "I have been open to doing anything good that comes my way. I don't particularly view myself as a fan of rom-coms: it's just that they have been some of the best scripts to come my way."