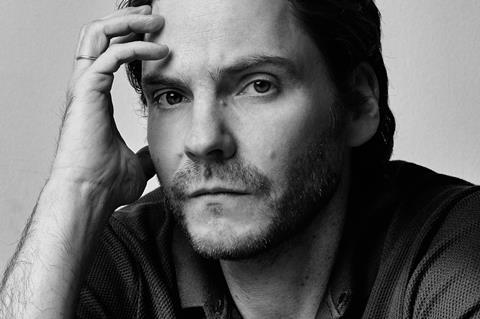 In his directorial debut Next Door, sold by Beta Cinema and screening in Competition at the Berlinale, Daniel Brühl plays 'Daniel', a German film star very similar to himself.
In an early scene, Daniel goes to a Berlin bar where he's a regular. Also there is thick-set east Berliner Bruno (Peter Kurth) who lives opposite him. They belong to different worlds. Daniel is handsome, affluent, narcissistic and part of the elite. Bruno is eking out an existence. But there's a strange and sinister link between the men.
The question audiences will ask is just how much of Brühl is in Daniel. "I don't want to give away exactly what is true and what is not," says Brühl. "I deliberately wanted to play with my persona."
The character in the film, he says, is "cocky and vain and arrogant… a heightened version of myself". Brühl's wife, who is a psychologist, found it difficult to watch the film because she found the character so repellent.
"I wanted to drop my pants, as they say in Germany, and to be as honest as possible without it becoming an autobiographical, embarrassing story about coping with my past," explains Brühl, whose roles on screen stretch from Marvel superhero movies and Inglourious Basterds to Rush and Good Bye, Lenin!.
It is also not a flattering portrait of the star or the fans who pester him for selfies one moment and tell him his performances suck the next.
"I witnessed that increasingly, people's manners have changed," he says. "There is a lack of distance, politeness and of respect. Like people who won't go away even if you're on the phone or with your child - all these little encounters, these moments that I've experienced quite a lot."
Brühl used the role to exorcise a few demons. "It was wonderful to play these outbursts because this is how I really feel very often in my life without having the permission to react in such a cruel way as I wished," he admits.
"The demons that you have inside you due to the job and due to the constant judgement, criticism and all that you are experiencing, obviously does something to you."
Satirical swipes at superheroes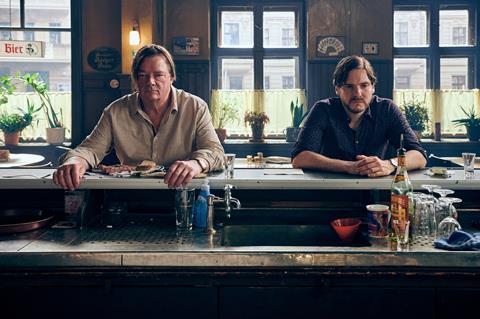 Along the way, the film takes some satirical jabs at the sometime pomposity of superhero films. Brühl, who starred in Captain America: Civil War and will be seen in upcoming Disney+ series The Falcon And The Winter Soldier, is convinced that Marvel Studios president Kevin Feige will get the joke.
"I hope and think that somebody like Kevin Feige, if he eventually watches the film, will understand," he says. "What is nice about Marvel is they have a sense of humour…also the fun I make about this superhero film is not 100% connected to Marvel but to other projects where you sometimes get sent a page where everything is blurred and watermarked.
"You are given five lines and you're supposed to tape yourself. You don't understand anything [about the role]. You're not given any context. It is sometimes so humiliating and terrible. It has become completely crazy because you're not given the chance to do your work properly."
Nor does Next Door show the actor's current home city in a positive light. "After 20 years in Berlin, I still feel sometimes like someone from the outside, an invader who is part of the gentrification (process)," says Brühl, who grew up in Cologne and has a second home in Barcelona, where he was born. "I always desperately tried to be accepted, to be liked, to try to mingle, to adapt."
Whatever Brühl does, there will always be someone like Bruno, ready to put him in his place. The Wall may have come down in 1989 but, in Next Door, Berlin is still a divided city.
The film was co-written by Brühl (who had the idea) and Daniel Kehlmann, and was made through Amusement Park Film, the outfit in which the actor is a partner.
"After almost 20 years working, I felt so limited in my possibilities so often that I eventually decided to join that company," he explains of his decision to sign up with Malte Grunert and Klaus Dohle at Amusement Park in 2015.
Upcoming roles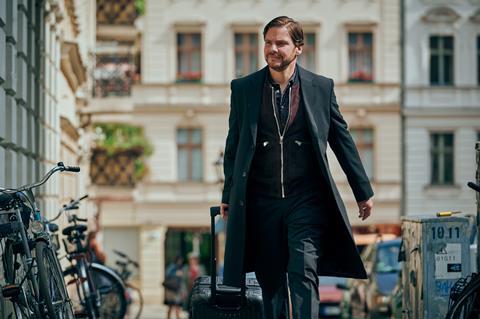 Brühl has various other projects in development through the company.
"I am developing a TV series based on an idea I have about German actors in Hollywood, something funny but also something very depressing and bitter," he says.
This is a contemporary drama, which will explore the way Germans are typecast in Hollywood, "the inevitable step to play a Nazi at least once…there is a very interesting complex that the Germans have in general. I can definitely see that in LA. Something feels odd when you hang around with Germans there. Something doesn't feel right."
The series, which is not yet titled, is being made through Sky in Germany. It will be around six episodes. Brühl is "participating" in the writing and will act in it. He suggests directing one of the episodes "would be interesting" and sees himself being "a bit of a show runner".
Also for TV, the prolific actor/producer/director is involved in a new mini-series version of Gunter Grass novel The Tin Drum, previously adapted for the screen by Volker Schlöndorff, which won the Oscar for best foreign language film and tied with Apocalypse Now to win the Palme d'Or at the Cannes Film Festival in 1979.
Meanwhile, he has a supporting role in Edward Berger's new version of All Quiet On The Western Front, which will be Amusement Park's biggest production to date.
"I was a very good decision [to join Amusement Park] because I have never felt as fulfilled as I do now - to be given the privilege of participating in every [part of the] process and not be excluded," he adds. "In these big projects, I so often experience not having any strength or power."