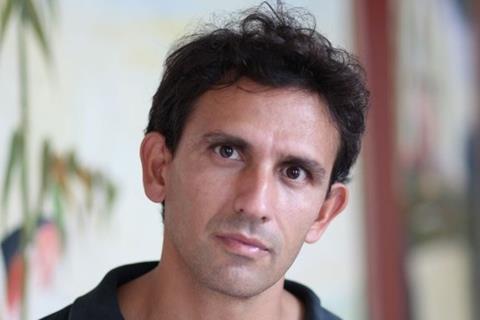 When Italian director Michelangelo Frammartino took cameras 700 meters below the surface of the Earth to film cave exploration drama Il Buco, it was an experience that nearly cost him his life.
While filming the drama, which screens this week at Busan International Film Festival, both Frammartino and co-writer Giovanna Giuliani were deep in Calabria's Bifurto Abyss when the cave flooded and they feared that they were trapped. Managing to escape, their ordeal made the local news.
It was one of several challenging moments experienced before, during and after production. There was a poignant moment at the film's world premiere in Venice, where the film played in competition and won the special jury prize.
One of the main characters in the film, elderly farmer Nicola Lanza, died in June of this year and his shepherd's crook was laid out in tribute on the red carpet.
"For a shepherd, the crook is the elongation of his own body," says Frammartino. "It was an honour for us to meet him and work with him. Nicola is like a piece of the mountain."
Although Frammartino did not know it when he started Il Buco, the shepherd from the remote Calabrian countryside was already a screen veteran. Many years before, he had featured in a documentary directed by the great Italian filmmaker Vittorio De Seta.
"It was an honour for us to work with someone who had already worked with a giant of documentary, but he (Lanza) didn't care about that," says Frammartino.
Set in 1961, shot in hyper-realistic documentary style with hardly a word of dialogue, Il Buco follows a group of speleologists (cave explorers) from the north of Italy as they venture through a tiny crack in the remote southern countryside and into a very deep cave. As they go deeper and deeper, the old shepherd is shown on his bed in a nearby village, suffering from a crippling illness.
The director and his 30-strong team ventured deep underground to shoot the film, sold by Coproduction Office.
"It was quite difficult because the cave is a vertical cave," says Frammartino. "The speleologists call it "a nail" because it is straight. You can't walk into it. You have to go down into it with a rope."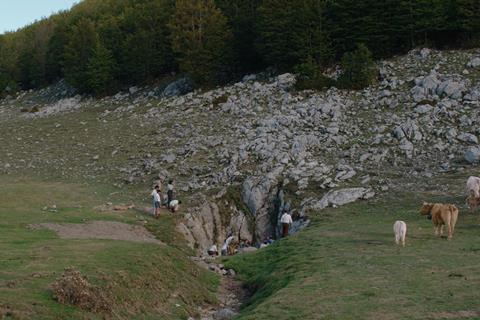 At times, they were spending up to 20 hours "continuously" in the cave. It was cold, humid and deeply uncomfortable.
The cast is largely made up of Italian speleologists who are among the best cave explorers in the world. Frammartino spent months training his technicians how to operate their equipment hundreds of metres below the earth.
The filmmakers remained connected to the outside world by huge lengths of optical fibre. The cinematographer Renato Berta stayed outside the cave. "He was always lucid, he was always able to say if we had reached our target or not. After a long time in the cave, we might have lost our own lucidity," says the director.
Before shooting began, Frammartino was determined to spend a night in a cave. He did this in Sicily and soon could not tell if it was day or night.
"When you are in the dark, you never know what time it is," he recalls. "I was sleeping in a hammock and, at a certain point, I woke up. I opened my eyes and nothing changed. I really felt as if I was buried within my own body. It was so beautiful and, at the same time, traumatic."
For a whole year, back home in Milan, he would suffer minor anxiety attacks as a result of the experience. However, once shooting began, the anxiety vanished. Even when he was spending many hours in the cave, Frammartino was able to stay calm. When other crew or cast became upset, he would stop shooting so everyone could return to ground level.
Some critics have wondered how to define Il Buco. Is it a documentary, fictional feature or hybrid? The director himself does not worry about such questions. For him, it is "cinema".
The film, which shot in 2019 but was delayed by Covid, is Frammartino's first since Le Quattro Volte in 2010, although the 10-year gap was also caused by another project failing to come to fruition. By his own admission he takes time to develop his projects and continues to teach film as well as making them – two activities he says complement one another.
There is not a new feature in the works yet. "Il Buco was a difficult process, a long process," Frammartino reflects. "It took many years. These years have been difficult for all of us. I work slowly because I need time to understand a project. I don't start on the first idea I have."