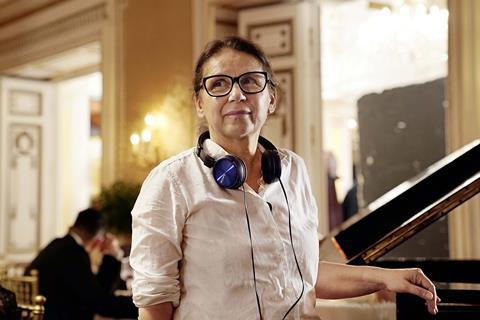 Last summer, Ildiko Enyedi resigned from her teaching position at the University of Theatre and Film Arts (SZFE) in Budapest. The Hungarian filmmaker and 2017 Berlinale Golden Bear winner for On Body And Soul did so in vehement protest against the decision by Viktor Orban's right-wing government to place its own supporters in senior administrative positions at the university.
The decision caused uproar, and students blockaded the university. In Venice, where he was presenting Pieces Of A Woman, Kornel Mundruczo attended a festival press conference wearing a 'Free SZFE' t-shirt.
Six months later, Enyedi is in Berlin as one of six Golden Bear winners who make up this year's Competition jury. She arrived five days before the start of the festival and will stay in a strict bubble with daily Covid tests. Enyedi is also a driving force behind the freeSZFE Foundation, a new and independent film school, all while preparing for the launch this year of her latest feature, The Story Of My Wife, starring Léa Seydoux and Louis Garrel (sold by Films Boutique).
"When I resigned, I thought it was the only way to signal that what is happening is simply not okay," says Enyedi. The government had been "cruelly underfunding" the university and attacking it in the media. It was time to fight back.
The filmmaker was "positively surprised" by the students' actions. Not only did they occupy the university, they drew attention to the cause with a series of art projects. Now, the freeSZFE Foundation, which will preserve the independent spirit of the old university, has been recognised as a legal entity. "It is a very poor association — we have nothing," Enyedi acknowledges. "We would just like to stay together, create together, teach together."
The new school has launched a crowdfunding campaign, in part because in February it secured a headquarters, an old school building in the 7th District of Budapest. "At the moment, everyone is working for free but we have to pay rent, electricity, heating etc," says Enyedi.
But the venture has the support of the top tier of the Hungarian film community, with Enyedi confident they will join its workshops. She and her colleagues are also in communication with their international contacts and supporters at other film schools. Revered Hungarian filmmaker Bela Tarr, who ran his own film school in Sarajevo, has promised support in any way he can.
Story teller
Enyedi may be one of the key figures behind the freeSZFE Foundation but she has her own directing career to consider as well. The filmmaker has just finished post-production on The Story Of My Wife, which is expected to surface at a major festival this year. "Because of Covid, it was much slower than normal," Enyedi acknowledges of her film's schedule. (She caught the virus herself last year: "I was one of the first.")
Based on a novel by Hungarian writer Milan Füst, The Story Of My Wife is told from the point of view of a middle-aged Dutch seaman convinced his wife (Seydoux) has been unfaithful. "It is about the so-called big questions in life, which you put to yourself when you're a teenager," says Enyedi. "After you're 25, it's embarrassing to think about them but I've always adored people who never stopped being interested in these ridiculously big questions."
The film is shot "80% in English" but that's down to the source material, rather than a concession to the international market. Every character speaks with an accent. "I am very curious how it will be taken by English-speaking audiences," says the director. "In those years, the naval language was English. International crews all just spoke their own very broken English."
As the alleged lovers, Garrel and Seydoux speak in French together. "That's somehow an insult for the poor husband, who doesn't [speak French]," she adds. "The language shows how they are not at home in their life as they are not at home in their language."
Enyedi rhapsodises about her actors, not just Garrel and Seydoux but also the film's Dutch co-star, Gijs Naber. "He is a newcomer on the international scene but he is well-known in the Netherlands," Enyedi says. "I can't wait for larger audiences to see him because I think he is really exceptional."
Next project
The Hungarian director's next project promises to be her most leftfield yet. It's a live-action drama in which the main protagonist is… a tree. It's an original screenplay ("quite tough to write") which has the working title Silent Friend, but Enyedi is thinking of changing it to Zarte Empirie, an expression used by Goethe which translates in English to Tender Empiricism.
No, the tree won't talk. The story is about a "foreigner", an alien tree in a European botanical garden that has been brought over from South America. "Trees have quite a different notion of time than us," she says. "They are in communication with each other and with the environment." Her challenge is to "to find interfaces which can transform their signals and changes of state to our human senses which are very limited".
As for Berlin jury duty, Enyedi is relishing the prospect. This may be a virtual festival for the press and industry but the jury will be in Berlin watching the films together on the big screen (apart from Mohammad Rasoulof, who will watch from Iran where he remains under house arrest). "To sit in a cinema will be a very exquisite pleasure after all these months," Enyedi says. "All of us on the jury are filmmakers. We know very well with how much blood and sweat and passion these films are made."