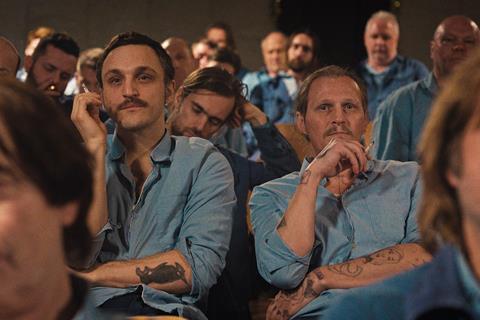 Since its premiere in Cannes, where it won the Un Certain Regard jury prize, Austrian director Sebastian Meise's Great Freedom has won plaudits everywhere it has shown. The prison drama — which is sold by The Match Factory — can be seen as both a love story and a polemic. In post-war Germany, Hans (Franz Rogowski) is imprisoned again and again for falling foul of Paragraph 175, a law that prohibits homosexual acts. Over the years, Hans strikes up an unlikely but tender and enduring friendship with Viktor (Georg Friedrich), a convicted murderer who, at first, despises him.
Rogowski (whose credits include Happy End for Michael Haneke, Transit for Christian Petzold and A Hidden Life for Terrence Malick) and Freidrich (who established his international reputation 20 years ago in Ulrich Seidl's Dog Days) give power­house performances. Meise once again co-writes with Thomas Reider, following their collaboration on 2011 feature Still Life.
During Cannes, Mubi picked up multiple territories including the UK and US on Great Freedom, which has now been chosen as Austria's Oscar contender. Following Screen International's conversation with Meise and Rogowski, the latter was nominated in the best actor category at the European Film Awards for his role.
Screen International: Sebastian, why Franz?
Sebastian Meise: Because he is the best. I had him in mind when we were writing the screenplay but I didn't know him so I couldn't just go and ask him. We wrote the part without knowing whether he would do it.
How aware were you both of Para­graph 175? Is it something you learned about at school?
Meise: My co-writer Thomas [Reider] came up with this fact that gay men were liberated from concentration camps by the Allies and put directly into prison again. This sounded so unbelievable to me. Then we started researching and found out the paragraph was only abolished in 1994 in Germany and Austria. We did many interviews with people with first-hand experience who were locked up or had experience with the law enforcement in the 1960s. They had never talked about it. This is something in our culture that was never discussed. Even nowadays, you don't learn about it in school. It's not in the public consciousness.
Franz Rogowski: It was new to me. But as a child, I experienced the para­graph in many ways. For example, I remember me and my mum going to a piercing studio when I was eight years old. I wanted to have an earring and I presented my ear. Unfortunately, it was the wrong ear. The piercer explained to us that if you do it in the wrong ear, it means you are gay — and you don't want your child to have a gay earring. These kinds of things seem small, but actually they are quite big. Also, the fear that your parents and grand­parents' generation had towards gay men. I grew up in a country where people subconsciously were taught and were aware that being gay was actually criminal.
Screen: Could you say something about the opening footage, the 8mm surveillance footage capturing the men having sex?
Meise: There was an artist who took this footage and made an assemblage. We looked at that and we immediately thought this has to be the opening of our film — the voyeuristic state. It establishes Hans as a character but also all the mechanisms behind the surveillance.
Franz, is it true you lost a lot of weight to play Hans?
Rogowski: Yes, I did the weight thing as many actors do. Unfortunately, I had to do it twice because of Covid and the lockdowns. We had a break in the middle of our shooting. I lost all those kilos — and then I gained them all. Then I had to lose them again because the day I was finally thin enough, Covid came around and we had to stop.
How did you lose the weight?
Rogowski: Cabbage and walnuts and water. It's very banal. You have to burn more than you eat — and you lose weight. But don't lose too much weight. It's not healthy and it's not worth it… unless you do a movie.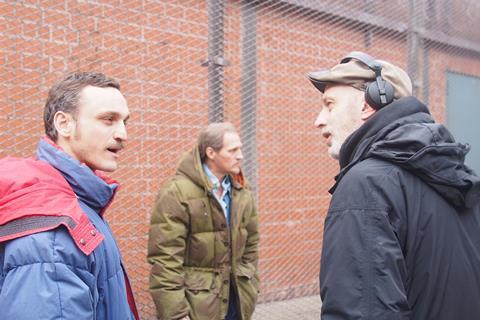 Sebastian, were you responsible for his diet?
Meise: We came up with the idea for two reasons. First of all, Hans at one point comes from a concentration camp and is put directly into prison to serve his remaining sentence. That was in the story. We immediately said, he has to be thinner. The second reason was that the film plays over 25 years. There is all the make-up, the ageing stuff. We thought it would be great to have something real also, so that when you go back to 1945, he really looks different, not only in terms of make-up but also of physical [appearance], so you think it is another time.
Rogowski: Also, it was how can I understand the reality of being in a concentration camp. I can never know. But I can at least put my body in some kind of a similar situation, so the physical reality you live in somehow takes over. That actually works. You sleep differently, you dream differently, you speak differently. You have a different way of being.
Did you shoot in chronology in order to help with the weight loss?
Meise: We shot chronologically… backwards. We started in the '60s and went backwards in time. It seemed the only possible way with the weight losing thing, the beard.
Was the Covid break a chance to rethink or was it a real blow? How much had you shot?
Rogowski: It was about 70% shot and we needed another 30%, which was two more weeks.
Meise: When we had to stop, we didn't know if we would ever finish the film, or when and how. Of course, this was scary. On the other hand, I started editing — and we improved. The break was good for me. Then we came back on the set and the energy was really good. Everybody came from a four-month break and everybody wanted to finish this film.
Rogowski: We felt we were part of a good project and had collected already a lot of strong material. We just needed to finish. It felt a bit like coming home.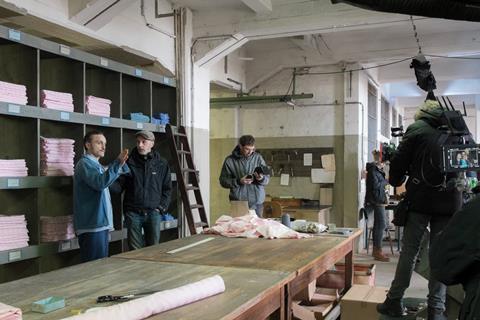 So you were shooting in an actual prison?
Meise: When we started scouting for locations, we found many empty prisons in eastern Germany where we could shoot. Actually, there were 12 possibilities. There was the question of whether we could rebuild the cells in the studio but I decided against [it] because for me, it is important to have a connection to reality somehow.
Franz, when you're sewing in the prison workshop, you look as if you know exactly what you're doing.
Rogowski: I took two of the machines home in preparation. They're here in my place and I think every day I should do something with them, maybe make a dress. This is a beautiful way of preparing a character — to get into a craft, to let your body experience something that you don't have to contextualise or intellectualise. It is something your hands, your sweat and eyes can embody. Learning a craft is a very hopeful tool to get close to fiction.
Were you influenced by earlier prison-set movies?
Meise: There is one prison film I had seen as a child, Escape From Alcatraz, and that stayed in my mind in a strong way. When we were writing the script, we were watching a lot of films, Jean Genet (Un Chant d'Amour), Kiss Of The Spider Woman and also more recent ones like A Prophet. But we also knew this film is in-between genres. It's a prison drama and a love story.