A documentary about the making of a Western by a group of filmmakers and actors living with disability has taken the US festival circuit by storm, winning numerous awards and acclaim.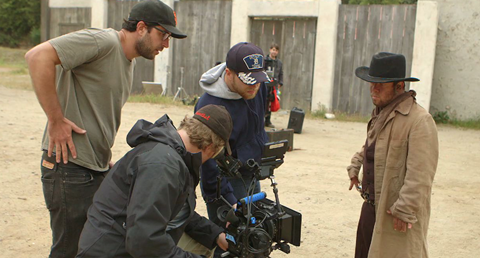 Director Michael Barnett (headshot pictured), who served as executive producer on recent Tribeca entry Gore Vidal: The United States Of Amnesia, and producer Theodore James talk about their documentary Becoming Bulletproof, which features a score by former Screen LA Star Of Tomorrow Ceiri Torjussen.
They are joined by Will Halby, the lead producer on Bulletproof, the actual feature-length Western profiled in the documentary, and co-founder of Zeno Mountain Farm, the non-profit behind Bulletproof that hosts camps for people with disability.
Becoming Bulletproof is blazing a trail in festival land and recently took home a trio of prizes from the Cleveland International Film Festival: the FilmSlam Student Choice Award for Best Feature Film, the Global Health Competition Best Film award and the Roxanne T Mueller Audience Choice Award.
When did you shoot and how was the doc funded?
Michael Barnett: We started principal photography in the spring of 2012 and wrapped photography in August of 2014. The film was funded through Kickstarter, foundations, private donors and a few investors.
What did you learn in making this doc from the cast, Zeno Mountain Farm and its collaborators?
MB: I had no experience in the disability community before this film. None. So, this process has been a revelation for me. Whether we know it or not, we carry preconceived notions about what it means to live with disability. This comes from how our society views and treats this community.
Shortly after we started this project, those preconceived notions I had were obliterated. I discovered something incredibly profound, yet simple – what a community can accomplish together by focusing on what people can do, instead of what they can't. By creating lifelong friendships and fostering creativity through radical inclusion and dignity and love, then the seemingly impossible becomes possible.
Will says in the film that Zeno Mountain Farm is not about education, yet audiences can learn so much from this movie. What progress is being made in getting actors with disabilities into 'mainstream' movies?
WH: From my point of view, I don't think much. There are statistics out there and I don't know what they are but I am certain that they do not represent a consistent correlation to the ratio of the world outside of Hollywood. I will say that so much of what we collectively call "disability" is really a gigantic population of our world (something like 20 percent); so the movement that we would like to see is actually one of truly radical inclusion at every level. The entertainment industry is a fantastic gateway to introduce a new paradigm but ironically, it is remarkably narrow in terms of who gets put in front of the camera. Our point is that Hollywood is missing out on a large community of talent and diversity.

Will, when did you shoot Bulletproof and were you the lead producer? What is your filmmaking experience? What else has the crew worked on?
WH: Safe to say I was the lead producer but Zeno is a very flavourful creative stew, with lots of ingredients. By the time we made Bulletproof, this group had been gathering for a decade to make films. So Bulletproof was our tenth film. Past films have included a pirate musical, a superhero adventure, a time travel film, a soap opera, a couple of fake documentaries, a horror film, a sports underdog story and one about the greatest rock song ever.

How long did it take to shoot Bulletproof and how was it funded? Did it get distribution or does it have a sales agent? Did it play festivals?
WH: We shot Bulletproof in two weeks of constant filmmaking, all the while living together 24/7. It's an independent film with no distribution. With the success of the doc, I can imagine there will be talk of distribution in conjunction with the doc or perhaps on its own. It did screen at 12 festivals and won several awards, including best short at Boston International Film Fest.
What movies has Zeno Mountain Farm made since Becoming Bulletproof? What's this year's movie project?
WH: We made a truly avant-garde film about the life of a dollar bill that is currently in the can till all the energy of the documentary dies down. It's shot by five different filmmakers using five different genres, over five different time periods… pretty out there, but fun. Our next project is going to be a camp where we produce a series of high quality spec commercials with the spirit of exactly how we would like to see our community portrayed on TV. Some will be fun to watch and others will be in your face and challenging.

Tell us briefly about the year-round activities of Zeno Mountain Farm
WH: We are up to nine camps now. The film camp is one of them. Most of the camps take place at our facility in Vermont, including our big five-week summer camp. Each year we are "in camp" 120 days and we are a growing community of 500-something people. The goal of camp is to facilitate lifelong friendships and the most important part is that everyone gets invited back year after year to the camp they attend.
What's the next festival for the doc?
Theodore James: The next one we are doing is the SoHo International Film Festival May 14-21 and after that we are scheduled for Cinetopia Film Festival June 5-14th.