Each year, the Shooting Stars initiative puts the spotlight on 10 rising acting talents at the Berlinale. Screen talks to the class of 2020.
For the 23rd consecutive year, the Shooting Stars initiative from European Film Promotion (EFP) is celebrating a cohort of promising actors from across the continent. And for casting director and Shooting Stars jury member Lucy Bevan, the programme's participatory nature is a vital element for the 10 recipients.
"In terms of the talent, it's unifying to be looking at everyone together in a group, particularly at this sad time for Britain," she says. "I really enjoyed thinking about all this talent together from every single country that was submitting. Anything that's unifying at the moment is a good thing."
The 10 chosen actors are attending the 70th Berlinale from February 21-24, for a busy schedule of one-on-one meetings with more than 80 international casting directors, producers and filmmakers. It's not all business, however — they will be celebrated at an awards ceremony at the Berlinale Palast on Monday.
Alongside Bevan on the judging panel this year are Finnish director Dome Karukoski (Tom Of Finland), Slovakian producer Katarina Krnacova, German journalist Rüdiger Sturm and Bulgarian actress/filmmaker Vesela Kazakova, herself an EFP Shooting Star in 2006.
They watched submissions from 28 of the 37 EFP member countries, before meeting in Hamburg to discuss the performances in detail. "There was a robust debate!" laughs Bevan. "Because we're all from different backgrounds, it was interesting to see how everybody viewed these films and performances differently."
For Bevan, seeing the potential for longevity motivated her choices. "Sometimes you can see a range in their performances," she says. "Whether you like the film or not, you can see an actor you know will be able to grow, and that they'll be able to have a really strong career." She cites Georgia's Levan Gelbakhiani, star of LGBTQ+ romance And Then We Danced; Denmark's Victoria Carmen Sonne from Isabella Eklöf's Holiday; and Bartosz Bielenia of Polish Oscar nominee Corpus Christi (an $8m hit in Polish cinemas) as three to keep tabs on.
With representation leading the discussion throughout the recent awards season, Bevan is conscious of broadening opportunity across the continent. The jury considered the strength of the film industry in the submitting countries, as well as the budgets of the relevant films. "It's great to watch films you wouldn't necessarily watch in normal circumstances," she says. "A good discipline — a deep dive into European cinema."
Each individual actor is supported by their country's national film institute, with the initiative financially backed by the European Union's Creative Europe — MEDIA programme.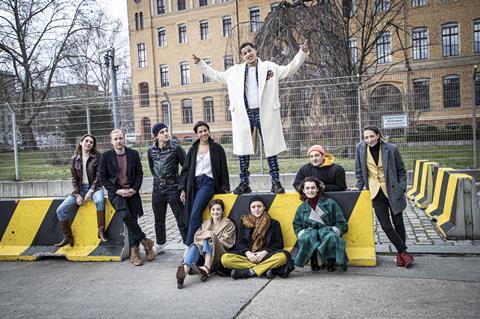 Martina Apostolova (Bulgaria)
Credits: Lament For The Silent Fool (2020), Irina (2018), Whole (2018)
"I am a purposeful person, not an ambitious one; my aim is to take part in meaningful films with a powerful message for the audience — the ones that can make a difference. I want to make art I will not be embarrassed about and can defend with my whole self. My biggest career challenge has been going outside the borders of my own country and becoming recognised as a professional worldwide. As a role, my biggest challenge was playing a pregnant character, since I haven't given birth nor am I a mother."
Bartosz Bielenia (Poland)
Credits: Corpus Christi (2019), The High Frontier (2016), The Time Of A Young Man About To Kill (2015)
"Corpus Christi was my big break — I never thought the film would go that far. It seems to me that failures work as the biggest challenge. They teach me my biggest lessons, and remind me that nothing is given forever. Being European means extraordinary and privileged access to culture and art, the possibility to encounter amazing architecture on a daily basis, and enormous cultural diversity in a relatively small area. My biggest inspirations are adventures — trips far away, where you can't foresee what's going to happen, yet you embrace it and let the whirlwind of events take you."
Victoria Carmen Sonne (Denmark)
Credits: Holiday (2018), Psychosia (2018), In The Blood (2016)
"For me, a big break is more likely to be something you experience within yourself and together with your colleagues, while exploring whatever project you are diving into. I'm experiencing breakthroughs now and then, which I'm grateful for. Any person can inspire me — it can be one sentence or a long story, the way they lie, get embarrassed or get angry. I hope to keep exploring through the eyes of new people. By telling their stories, I'll hopefully make the audience come closer to themselves, and maybe I can kill some of the biased ideas and prejudices we all have."
Jonas Dassler (Germany)
Credits: Mein Sohn (2019), The Golden Glove (2018), The Silent Revolution (2017)
"Every film is a new challenge, but my first film [We Are Fine, 2015] was my biggest. Back then, my only acting experience was with my school theatre group, so the first days of shooting were very overwhelming. I have already achieved more than I could ever have imagined — I'm glad I have the opportunity to work. As a European, I'm part of a multi­cultural, diverse society with the chance to get in touch with wonderful human beings from different countries and cultures. But we are also privileged; the wealth, freedom and peace we enjoy is only possible because of other people suffering in poorer parts of the world."
Levan Gelbakhiani (Georgia)
Credits: And Then We Danced (2018)
"Music and dance are my biggest inspirations in life — both of these mediums provide me with the most amazing connection to myself, physically and spiritually. I got to know myself better through And Then We Danced; I met a lot of interesting people and discovered a magical new world. Mediating between dance and acting was a challenge, portraying the correct emotions my director assigned for my role through dance. To me, being European means being a member of the family. A family that loves its kids no matter where they were born."
Zita Hanrot (France)
Credits: School Life (2018), The Party's Over (2017), Fatima (2014)
"When I was 18 years old, I saw Ariane Mnouchkine's show Les Ephémeres — that's when I developed the desire to be an actress. I wanted to move people through telling stories. I would like to work with foreign directors including those in the theatre, and meet artists from other countries, such as Thomas Ostermeier, Maren Ade and Steve McQueen. I'm writing my second short film, and am going to perform on stage in a play by Spanish playwright Federico Garcia Lorca. I probably would not be here without the European Union and the Erasmus programme — my parents met in England thanks to this programme."
Pääru Oja (Estonia)
Credits: Cold Courage (2019), The Last Ones (2018), Mikhel (2017)
"I just want to play! Whether in films or on stage, I want to do it all — from the most awkward experimental theatre to the biggest Hollywood costume dramas. My biggest inspiration is seeing other actors playing a part in a way that makes me want to play it exactly that way. I am the youngest Estonian to receive the best male lead award in Estonian theatre, after finishing drama school just two years previously. Soon I will play Raskolnikov in a production of Crime And Punishment at the Estonian National Theatre."
Joana Ribeiro (Portugal)
Credits: Crooked Lines (2019), The Man Who Killed Don Quixote (2018), Crutches (2017)
"All my projects have taught me something, but if I had to choose one that changed my life most, it was Terry Gilliam'sThe Man Who Killed Don Quixote. I have four films coming out in 2020. Right now, my ambitions are to keep working in and out of Portugal, with people who inspire me and with whom I can learn. Love is my biggest inspiration — everything we do, we do it for love. My European identity is based on the French motto 'liberté, égalité, fraternité'. Although we are moving further from it, I hope we can change that in the coming years."
Ella Rumpf (Switzerland)
Credits: Sympathy For The Devil (2018), The Divine Order (2017), Raw (2016)
"I was born in Paris, raised by a French mother and Swiss father mainly in Switzerland, and now I work in different languages in different countries. I feel more European than Swiss or French. Freud [2020] is my first main role in a series. Although it was a challenge on a physical and psychological level, I very much enjoyed working with [series director and executive producer] Marvin Kren. I will start to shoot a new project in Japan in March. I'm inspired by humans, books, films, music, friends and nature. I hope to be able to work with many interesting directors and be able to choose exciting and challenging roles."
Bilal Wahib (Netherlands)
Credits: Paradise Drifters (2019), About That Life (2019), Brothers (2017)
"Dutch actors I look up to include Nasrdin Dchar, Pierre Bokma and Achmed Akkabi; Will Smith is an actor I admire on the international stage. I would love to do some acting work abroad. As well as acting, I am currently facing the challenge of a music career — I hope it will go just as well. For me, being European means being free. I grew up here and I don't know anything else. As well as Paradise Drifters, my upcoming projects include season two of Mocro Maffia and series Commandos."