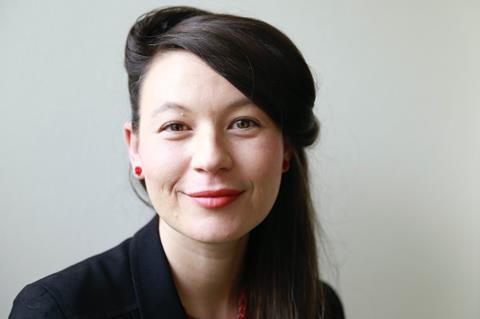 "We're having fun with the logistics," says Kristy Matheson with a wry smile, as she discusses the build-up to her first edition as creative director of Edinburgh International Film Festival (EIFF), set to take place from August 12-20.
It is the first fully physical festival in the August slot since EIFF's move to June in 2008 and Matheson says planning the festival has been an unwieldy task.
The festival has taken a risk in announcing the line-up just three weeks ahead of the festival, with the full industry programme unveiled earlier this week.
"What we gain by cutting it down to the wire is we've been able to go right up to Cannes and do some programming out of that festival [titles include Aftersun, 99 Moons and Mediterranean Fever]," Matheson expains. "The flip side of that is it's pushed us much closer to the wire. Going forward we're going to have to find a sweeter spot.
"It's been a sprint to get to the end. It's something we're going to have to really think about going into 2023."
August is a month where the city is a hive of cultural activity, owing to Edinburgh's major arts and TV festivals also running. "It's lovely, the idea you'll stumble out of a screening, you'll go to a bar and be next to someone who happens to be a ballet dancer from somewhere in the world," says Matheson. "I like the idea you're putting people in a chaotic and slightly unhinged social space where they will have these great encounters."
But it is also a congested month for resources and space in city, and a notoriously expensive one for accommodation and travel. "It's a logistical nightmare and a lot of operational pain. There's not a cupboard spare," she admits.
Bold changes
Australian Matheson has taken on the newly-created role of EIFF creative director. The festival was previously headed up by artistic director Mark Adams, who departed in 2019. Matheson was director of film at Australia's national museum of screen culture (ACMI). She previously worked at Brisbane International Film Festival, Sydney Film Festival and Dendy Films. She has been based in Edinburgh since September 2021, having never previously been to Scotland.
While she may be new to the UK festival landscape, Matheson has not been shy in making bold changes. In addition to the date move, she's removed the requirement for titles in the programme to be a minimum UK premiere to qualify. "It's very expensive to travel around even quite short distances in the UK," she says. "I feel like there are a lot of films that are terrific, that were simply not being seen because of this UK premiere rule. I don't see how it advantages audiences, filmmakers or film suppliers."
She's also tweaked the competitive category Powell Award for best British feature, to be the Powell and Pressburger Award – named after the 20th century filmmaking partnership of the UK's Michael Powell and Hungarian-born Emeric Pressburger, with both UK and international features now taking part.
"[The Edinburgh festivals] were founded in the spirit of internationalism, and this idea of cultural exchange and how that could heal people after the schism of the Second World War," says Matheson. "In thinking about that, I approached Michael Powell's widow and said that I would like to reimagine the award. Powell and Pressburger were two filmmakers from different parts of the world and cultures, and together produced films with a tonne of humanity at their core."
Something that will remain the same is the annual EIFF cèilidh dance. "The cèilidh is a non-negotiable," she confirms. "We have made sure it's happening at the same time as the industry programme [August 16-19]. That's one of the quickest and earliest things we put in the schedule."
Industry activity
EIFF is running a 12-week curatorial fellowship for seven emerging curators, in partnership will film distribution company Aya Films, with a screening event taking place as part of the festival. "There are not a lot of professional opportunities for people who want to do curation or programming," acknowledges Matheson.
To mark the Women's Film Festival of 1972, EIFF's global film event in 1972 that was dedicated to the cinematic achievements of female directors, the festival is running the inaugural EIFF Curatorial Commission, for three mid-career Scottish or Scotland based curators to present a programme that responds to the multiplicity of feminisms within modern society. Mentors are Sydney Film Festival director Nashen Moodley; Bernardo Rondeau, the Academy Museum's senior director of film programmes; and awards, publicity and marketing strategy consultant and former Bafta New York CEO Julie La Bassiere.
The annual works in progress event returns, which this year features a collection from Ukraine. "The quality of that work has been really overwhelming," says Matheson. "It was meant to happen in 2020 or 2021 but has been pushed back because of the pandemic. Obviously now it lands in a completely different way."
Matheson hopes that the Ukrainian filmmakers will be able to attend in person: "We are on a minute-by-minute basis, praying to the travel gods and the visa gods."
A wider programme around Ukrainian filmmaking, including a retrospective of Ukrainian works, was supposed to take place during this year's EIFF, but has had to be delayed owing to Russia's invasion of Ukraine. "It was just too difficult with colleagues there [in Ukraine]," reveals Matheson. "It feels like that is something we will revisit as soon as we can."
The four-day Talent Labs, now in its 11th year, returns to support emerging writers, directors and producers, with representatives from Altitude Films, Bankside Films, BBC Film, Cornerstone Films, Film4, Mubi, Sky and Blue Finch Films taking part. There's also a new spin-off programme, Talent Lab Mentors, that offers producers who are Talent Lab alumni a mentoring partnership with international sales agents to help them develop and internationalise their slates.
The Independent Cinema Office (ICO) is also returning to Edinburgh for the final edition of Developing Your Film Festival, a training programme for film festival professionals, funded by Creative Europe. It was last held at Edinburgh in 2017. Industry talent from Sundance Film Festival, Toronto and Vilnius International Film Festival will be taking part. "As this is the last edition of Developing Your Film Festival funded by Creative Europe, we are really pleased to be bringing our international guests to the UK to affirm our ongoing openness to the European Union and international collaboration," said Hatice Özdemirciler, head of partnerships and development at the ICO.
UK industry figures set to attend EIFF this edition include Stephen Kelliher, Sophie Green and Sarah Townsend from Bankside, with Flux Gourmet competing for the Powell and Pressburger award and Green taking part in Talent Lab Mentors; Carla Quarto di Palo, head of international sales at Cornerstone Films, who will be in town with Nude Tuesday, the festival's inaugural central gala, as well as as a mentor in Talent Lab Mentors; Fatima Hayward from Blue Finch Films with Please Baby Please competing for the Powell and Pressburger award; Mubi's Cate Kane for the Talent Lab Mentors programme; and executives from the British Film Institute (BFI) and Sky.
Matheson says she is not aspiring to re-invent the festival as a hub of market activity.
"We're sitting right in front of what I'd say is the busiest corridor of the year for film. We finish and less than 10 days later Venice starts," she notes. "After that, it's such a busy time for people who work in the industry, they don't get a break – there's London Film Festival and awards season.
"I'd love to think it's high summer, people might come up [to Edinburgh] for a few days, see some great things, see some unexpected things and have a moment to recharge and remember why they do the work they do, ready to dive into the business end of the year. We need to look at what is the piece that we could do that would be useful to the industry, and not just do things because it's what other festivals do. People are really saturated."