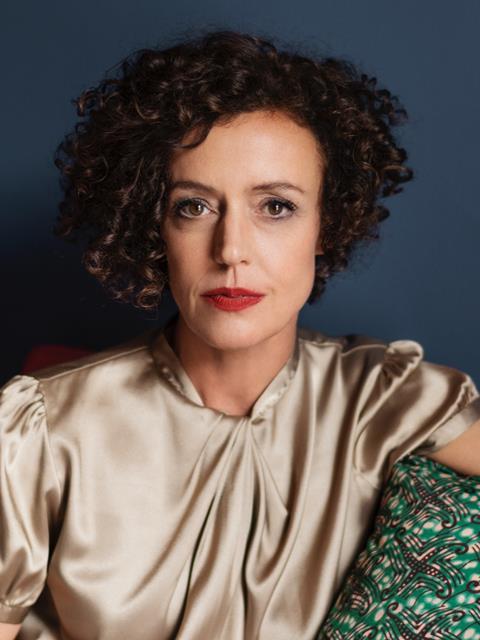 A mix of "humour and bewilderment" drew German filmmaker Maria Schrader to make I'm Your Man, which will play in Competition at the virtual Berlin International Film Festival (March 1-5).
"I was drawn to it by the simplicity of the set-up," says Schrader, who tackled more serious subject matter last year in Netflix miniseries Unorthodox, which won her an Emmy for directing. "It's like a boy meets girl thing. But it's actually girl meets boy and it's a robot boy."
The romantic comedy, sold by Beta Cinema, stars Maren Eggert as an academic who agrees to take part in an unusual study. She agrees to live with a robot, played by Dan Stevens, who is programmed to attend to her every need.
Marking the third feature for Schrader, who previously directed European Film Award winner Stefan Zweig: Farewell To Europe and her 2007 debut Love Life, it was shot in Berlin from August to September 2020 during the ongoing pandemic.
"It wasn't as bad as now," she recalls, although production was interrupted for two days after members of the crew returned positive tests (later shown to be false). The filmmakers were able to shoot inside Berlin's Pergamon Museum, where Eggert's character works, but were not able to film inside apartments.
Based on a short story by Emma Braslavsky, it is scripted by Schrader and Jan Schomburg (Above Us Only Sky) and produced by Lisa Blumberg for Letterbox Filmproduktion.
The director insists that the film is not a mediation on artificial intelligence or science fiction. "It's more the playfulness of the idea," she says. "It was a very conscious idea to put it in our time and not to create a future world."
But it does tackle human reasoning and emotion. In one key scene, Eggert's character explains to Stevens' robot what an orgasm feels like. "The most interesting moment in the love scene is her brain, allowing this to happen, to sleep with a machine," explains Schrader.
"It's the biggest step her brain must take – and to allow the body to follow. That's why I decided to [only let audiences] see her eyes glued to him. You see her brain working, fighting against herself."
Casting Dan Stevens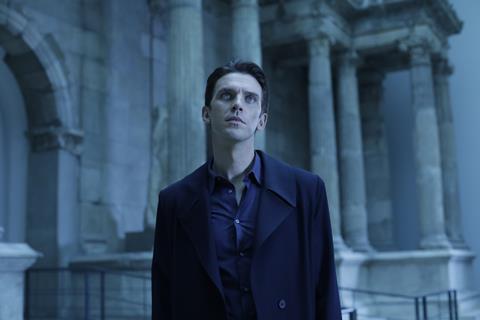 Leading man Stevens is well-known in the English-speaking world for his role in period drama series Downton Abbey as well as thriller feature The Guest and Disney blockbuster Beauty And The Beast.
But Schrader wanted Stevens in the German-language feature because "he is not specifically known in Germany".
"It was very demanding [to play the robot]," says the director. "I am so happy Dan took on this part. It is so rare to find an actor who is so good-looking and, at the same time, you can talk to him."
The character, she elaborates, is intended to be "like the Ken [doll] to Barbie".
"It is so beautiful to have such a handsome main actor who loves the playful approach; who likes to make fun of his character at some points and to ask how far he can go acting as a machine."
Although born and based in the UK, Stevens is a fluent German speaker and this is not his first German-language role. Early in his career, he appeared alongside Heike Makatsch in Kai Wessel's Hilde, which received a Special Gala screening at the Berlinale in 2009.
"His German is very good… and they are very demanding lines in German," says Schrader of his performance in her film.
'Unorthodox' response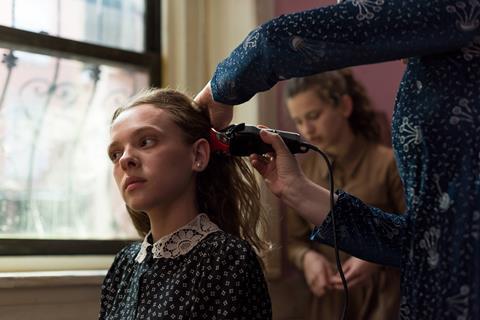 The feature follows nearly a year of plaudits for Netflix series Unorthodox, about a young ultra-Orthodox Jewish woman who flees her arranged marriage and religious community in New York to start a new life in Berlin.
Schrader directed all four episodes and the drama gained admirers such as Iranian director (and Berlinale juror) Mohammad Rasoulof who recently told Screen that it "reminded me a lot of the situation of young Iranian women".
"It was a very small show, a German television show with rather a small budget," recalls Schrader.
"I've been getting so much response from the Arab world, also from the Arab female world, saying they completely identify with the religious restrictions [faced by the main character]. That was something I did not expect.
"We had this one tweet coming in from Turkey… saying this is the first time I cry for something that is Jewish."
Berlinale relationship
Schrader is also well-known as an actress, having starred in around 50 features over the past 30 years as well as acclaimed German drama series Deutschland 83 and its follow-ups, Deutschland 86 and Deutschland 89.
She also has a long relationship with the Berlinale, having won the best actress Silver Bear in 1999 for her performance as a Jewish woman who enters into an affair with the wife of a Nazi officer in war drama Aimee & Jaguar.
Schrader is philosophical about the festival having to shift to an industry-focused, online-only event as a result of the coronavirus crisis.
"We have to adapt, what else can we do?," she says. "We can celebrate that there is a virtual festival at least. It's better than no festival at all. It is wonderful to be able to show it to a couple of people.
"We have to be happy with what we have and at the same time fight for the possibility that movie theatres will soon be able to open again. I haven't heard of a single incident where someone was infected [with Covid] being in a movie theatre."