The two-time BAFTA-winning producer discusses one of her production company's busiest years to date and Cannes-bound thriller Brand New-U.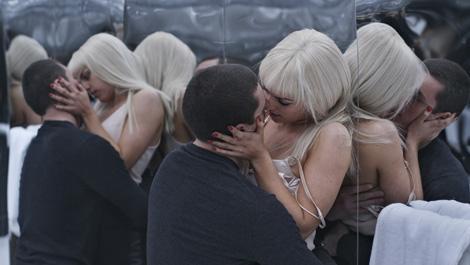 Going into 2014, producer Janine Marmot knew it was going to be one of the busiest to date for Hot Property Films, the production company she co-founded with writer-director Simon Pummell in 1995.
So a BAFTA win for Keiran Evans' relationship drama Kelly + Victor, which Marmot produced, provided the perfect boost to set off the year.
"It was a brilliant moment after a very long, hard slog," she recalls of the night, when Evans won the award for Outstanding Debut for a British Writer, Director or Producer.
That 'slog' involved nearly 10 years of work to bring Niall Griffiths' novel about a young, nihilistic relationship to the big screen and the result speaks to Marmot's continued championing of new talent.
Marmot met Evans when he was making music videos for a company that shares office space with Hot Property in London. "We started off just having really nice conversations about films and he eventually told me he wanted to direct a feature," says Marmot.
"He started to bring me books and when he gave me Kelly + Victor, I immediately thought it would make a really strong film.
"I sent that to Peter Carlton and it was pretty much the first thing that arrived on his desk when he started at Film4 and he put it into development. Around 10 years later, we were standing on the BAFTA platform."
Bodysong
It marked the second BAFTA for Marmot after Bodysong, a ground-breaking film about the process of life told using footage from 100 years of cinema scored by Radiohead's Jonny Greenwood.
The film, directed by her Hot Property co-founder Simon Pummell, was released with a website that told more than 600 stories of the archive clips within the feature.
It marked Film4's first foray into transmedia and won the BAFTA Interactive Award in 2003 and the Best British Documentary at the BIFAs that same year.
Brand New-U
This embracing of transmedia will be seen in Pummell's next feature, the psychological thriller and obsessive love story Brand New-U.
"I'm incredibly excited about it," says Marmot. "It has a very original transmedia campaign that will help raise our voice in a crowded marketplace."
Speaking of markets, The Match Factory will launch the campaign while selling the film at the Cannes Marché in a couple of weeks, where it will also have a teaser of the film.
Still under wraps, the transmedia project will include "feature film, and an interactive web site that riffs on the themes of the film of psychological profiling and customised experience".
Starring Lachlan Nieboer and Nora-Jane Noone, best known for her roles in The Descent and The Magdalene Sisters, the film is set in a world where there are other versions of yourself who are hunting you down. Nieboer plays a man who must kill his old selves while searching for Nadia (Noone), the woman he loves.
Hot Property is co-producing with SP Film and Rinkel Film in association with Illuminations Films and Finite Films. Finance has been provided by the BFI Film Fund, Irish Film Board, Netherlands Film Fund and Finite Films.
Shot in spring 2013, it set for delivery in July. "We will have a big festival launch to coincide with the launch of the transmedia campaign and we'll tie-in those elements with the distribution around the world," adds Marmot.
Looking for Light
Ahead of Cannes has been the release of Looking for Light: Jane Bown, a portrait of the photographer who snapped iconic pictures of Mick Jagger, the Queen and Bjork across a six-decade career.
"That's been an interesting development," says Marmot of the film, released by Soda Pictures on April 25.
"I made that film with The Observer [newspaper] and its part of a new model – financing very modestly-priced films that have an audience and generate real returns for us. I'm usually low on the list in terms of recoupments but with this model, we're in the number one position."
In development
The year will continue to prove busy for Marmot and her team, which has expanded to include development producer Emily Morgan, who was recruited after producing infomercials for Brand New-U.
In the pipeline is The Museum of Innocence, inspired by the novel by Orhan Pamuk, who also established an actual museum in Istanbul based on the building described in the book. The film, directed by Grant Gee, will feature original narration written by Pamuk.
"Just as the boundaries between fact and fiction are blurred in the novel, so will the boundaries in our film," teases Marmot.
In development is something Marmot will only describe as "Simon Pummell's super high concept thriller", with finance discussions ongoing.
The producer is also hunting "the right director" for The Price On Your Head, "a super-smart heist film" based on the first screenplay of young novelist Ned Beauman and in development with the BFI.
An adaptation of Margaret Atwood's The Edible Woman is also in the works, with Canadian director Francine Zuckerman (We Are Here) attached and Marmot as the English co-producer.
"This is a really prolific time for us and we have an extraordinary looking, accessible thriller in Brand New-U," adds Marmot.
While the BAFTA may have been a successful start to the year, it appears like it won't be the last.