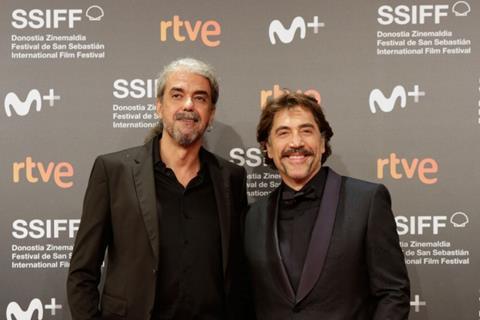 Spanish director Fernando León de Aranoa and Javier Bardem team up again in The Good Boss, a dark comedy produced by The Mediapro Studio and Reposado PC that premiered in competition at the San Sebastián Film Festival (September 17-26) this week.
Their previous take on troubles in the workplace, Mondays In The Sun, won San Sebastian's Golden Shell award in 2002. Nineteen years later, they have returned to the festival with a story that focuses on the petty boss of an industrial scales factory.
Bardem plays the good boss of the title, a man who crosses all lines when it comes to putting his interests first, from abusing interns and sacking workers to desperately trying to keep up appearances so his family-run business can win an award. The film gives Bardem the chance to tackle satire, shoot in Spanish again and enjoy the nuances of a down-to-earth character, fresh from the Venice premiere of Warner Bros' sci-fi tentpole Dune in which he has a significant role.
Bardem and director León de Aranoa sat down with Screen in San Sebastian to discuss politically engaged cinema, friendship and the pleasure of working together again after Mondays In The Sun and Loving Pablo, their 2017 portrait of drug kingpin Pablo Escobar.
How does The Good Boss compare with Mondays In the Sun, a film that dealt with the struggles of working-class workers trying to make ends meet?
Fernando León de Aranoa: In the process of writing the film I felt there were things in common because both stories deal with working life. The first one was about unemployment and now, The Good Boss works like a sinister counter shot, showing what working life can be like. Trouble doesn't end even if you have a job to speak of. But maybe because nearly 20 years have gone by, I felt the need to tackle this theme more through comedy than drama. Despite the fact the story deals with very dramatic events, humour acts like a counterweight, probably a fitting image for a film about a scales factory boss.
Another similarity is that both films rely on a charismatic character that binds the stories of all the others and in both films, Javier Bardem plays that part. The difference in The Good Boss, beyond the sense of humour, is that the workers do not share a sense of class identity, they have not the strength of a collective fight and therefore are more exposed.
Was spotlighting the workplace abuses within the framework of a dark comedy a key reason you came on board, Javier?
Javier Bardem: Humour helps to reach out to the audience, tell them something that can move them, make them want to empathise with the world we try to convey, with its harsh realities. That is what art offers, whether it's art, literature, cinema – a chance to reflect. Fernando's writing is nuanced, deep, delicate when it comes to weaving the story, defining its characters. Working with such a screenplay is a delight. If, on top of that, you have the chance of working with such a good friend, you can hardly ask for anything more. I love working with him. He is a great director of actors and not only that, he knows how to edit so that your work makes sense. He knows what takes to keep and how to articulate them. And that is not always a given.
Javier, you come from a very politically engaged family. How important is it for you to work in politically engaged stories?
Bardem: At home, I learned at a very early age from my mother [recently deceased theatre and film actress Pilar Bardem] and uncle [film director Juan Antonio Bardem] that work had to have a social sense beyond being your way to earning a living and to creatively express yourself. I also became aware that work can help shake and change minds. I don't mean this in a grandiloquent manner, just that cinema can be a communication tool. The films I have made with Fernando, in particular, have a lot of that and they are very fulfilling for me as an actor because I feel I'm doing something that is both challenging from an acting point of view and also deals with themes that are very relevant in society.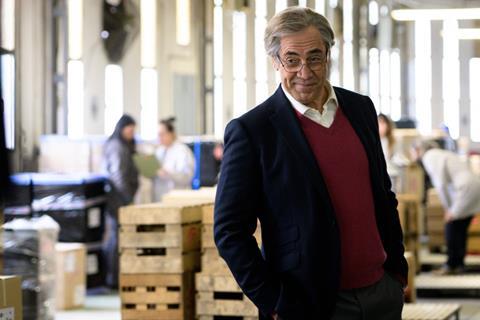 Are these themes key for you at a point in your careers where you can both decide where you are going to invest your time and effort?
León de Aranoa: I think about that a lot because a film like The Good Boss took three years to develop from start to finish, from the first idea to when you start talking about it with the press like we are doing now, so you have to choose wisely, especially when you are fifty-something. We are long-distance runners.
How do you work on the character, bearing in mind you know each other so well?
Bardem: Now that I'm talking about the film, I realise I have a more rational or intellectual approach to the character, to the work it took to play this factory boss much more than when I did when we were rehearsing and shooting when I had to keep things more on a more emotional, less rational, level. Of course you discuss matters, analyse motivations, reactions, but then there comes a point when you have to let go as an actor and focus on your body language, the way you talk… let the knowledge you have of the character flow in a more spontaneous manner.
With Fernando, we are close enough to toy with ideas. He throws options of moods and looks to go for, we discuss them, we keep some, throw others away. We go back and forth and are very aware of the need of a process that has to involve both of us. I know this guy is very smart and sensitive so I trust his judgement. This is very reassuring. It's not always the case, some directors have a much more mechanical approach, they are more focused on efficiency than in the will to let you try things, fly in a freer manner. In those cases you have to do all the homework at home, on your own. I like being able to share and I know working with Fernando will not only be fulfilling but fun too. A guarantee that we will enjoy the process.
León de Aranoa: It's great to feel we are creative partners and what Javier is so inventive. The friendship, the synch in the approach to work gives us a safety net and we are able to take risks. We had a month of rehearsals for The Good Boss and we could do it in the factory we used as a location. It was a very organic process.