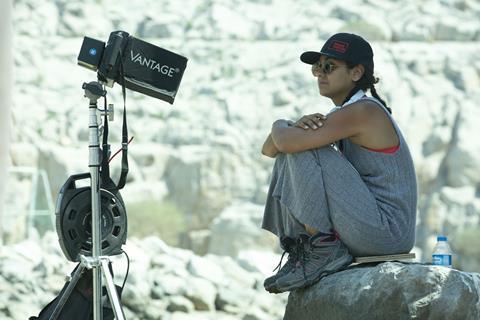 Shahad Ameen is one of Saudi Arabia's brightest new filmmaking talents. Her debut drama Scales premiered in Venice Critics' Week in September where it won the Verona prize feting the most innovative work in the selection.
The film went on to screen at the BFI London Film Festival as well as Tunisia's Carthage Film Festival, where it won the third prize, the Bronze Tanit. It was selected for Morocco's Rabat International Festival of Auteur Cinema.
Scales is now having a gala screening at the Cairo International Film Festival (CIFF) today (November 22).
The unashamedly auteur black-and-white work, portrays a young girl who challenges the patriarchy in her remote fishing community when she discovers a sisterhood of outcast mermaids living in its nearby waters. Rising Saudi actress Baseema Hajjar stars as the 13-year-old heroine growing up in a village where tradition dictates each family must give their first-born daughter to the waters off its coast. The village lives off the flesh of mermaids captured by an all-male team of fisherman.
Jeddah-born Ameen drew heavily on her experiences growing up in Saudi Arabia's conservative society and sense of feeling like "a second-class citizen" as a child and teenager. "There's of course a lot of symbolism in the film," she explains. "The act of throwing the girls into the water comes from a pre-Islamic tradition. I wanted to show how disposable girls are in comparison to boys."
"When I was growing up, me and my girlfriends used to say we wished we were boys because it was the boys who were allowed to go out, to have fun, to travel the world. Now when we talk about it we think it's ridiculous but at the time that's how we felt. We would try to argue in the classroom and at school but it's hard to defend or stay true to your point of view when you're in a culture that says you're not good enough."
Scales is competing in Cairo's Horizons of New Arab Cinema competition alongside another 11 titles including Lebanese filmmaker Elie Kamal's documentary Beirut Terminus and Iraqi director Mohanad Hayal's Haifa Street.
Eye-catching short films
Jeddah-born Ameen began her filmmaking career while studying for a degree in video production and film studies at the University of West London in the UK, a decade before Saudi Arabia lifted its cinema ban at the beginning of 2018 as part of reforms which also saw women given the right to drive. Her early shorts Leila's Window (2011) and Eye & Mermaid (2013), however, were already challenging the status quo back home.
Leila's Window is about a young girl who feels detached from her family, while Eye & Mermaid follows a 10-year-old girl who is shocked to discover the pearls her father brings back from his night-time fishing trips are violently extracted from mermaids.
"I wanted to tell the story of women who decide to take the other road, of women who get shunned for not sticking by their culture, for deciding to choose a different reality," says Ameen. "It's a universal story about breaking with tradition and choosing a different life. I have a lot of respect for my culture, the way my parents raised me and the way my grandparents lived. But I also have a lot of respect for change."
Eye & Mermaid premiered at the Dubai International Film Festival in 2013, screened in Toronto and went on to win the top prize in the Emirati short film competition and the best cinematography award at the Abu Dhabi International Film Festival in 2014. It caught the attention of Abu Dhabi production company Image Nation which expressed interest in working on Ameen's first feature, which she was already developing with producer Stephen Strachan.
The pair had started working together on Eye & Mermaid when Strachan was a producer on the Gulf film development programme at Qatar's Doha Film Institute (DFI), which helped develop the short. He left the DFI in 2015 to create the Abu Dhabi-based production company Film Solutions with producer and former DFI director Paul Miller, who also takes a producer credit on the film alongside Jordanian producer Rula Nasser.
Emirati director Majid Al Ansari, best known internationally for his 2016 prison-set thriller Rattle The Cage (aka Zinzana), also takes executive producer credits as does Iraqi filmmaker Mohamed Al-Daradji, whose recent credits include The Journey. Image Nation's chief content officer Ben Ross also helped move the project along.
"It took me about two and a half years to come up with a solid script. Image Nation arranged a number of script consultations and Stephen and I were batting it back and forth for nearly a year and a half," says Ameen.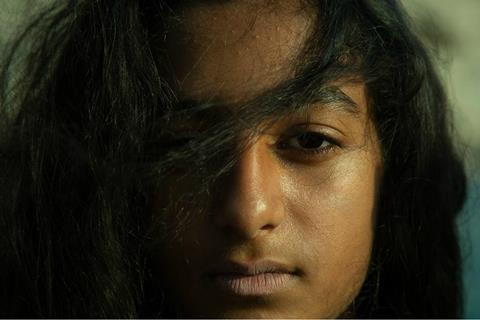 Another challenge was finding a barren, otherworldly landscape in which to shoot the film. Ameen considered a number of places including the Saudi Red Sea Farasan Islands and the Jordanian coast around the resort of Aqaba. The first was too green, the other not remote enough. "Image Nation was even suggesting Thailand at one point," Ameen smiles.
She finally stumbled on the remote fishing village of Kumzar in northern Oman, a two-and-a-half-hour drive north of Dubai via the emirate of Ras Al Khaimah.
"It's a place out of this world with a rich culture where the locals speak a special dialect mixing Arabic, Persian, Indian and a bit of Portuguese because it was occupied by the Portuguese for a while. The people are extremely warm and wear very colourful clothes."
The filmmaker is now working on a second feature which she would like to shoot in her home city of Jeddah. It will be about a young girl observing society through her family's reaction to the disappearance of her elder sister. Ameen says Jeddah has come alive following the lifting of the ban on women driving as well as on cinema, live entertainment and other forms of art and culture.
"I shot a commercial there recently and for the first time, I wasn't nervous about shooting in the street and constantly looking over my shoulder. I used to say we were a copy-paste society – black and white – but now there are colours on the street."