Joachim Trier is in Cannes with Competition title The Worst Person In The World, which he says is the final film in his 'Oslo' trilogy that began with Reprise and continued with Oslo, August 31st.
Cannes is not only a frequent home for his films, it is also a family affair — his grandfather Erik Lochen brought The Chasers to Cannes in 1960. The Worst Person In The World is a comedy drama looking at the relationship troubles of a woman (played by Renate Reinsve) who questions her life choices in her early 30s. The cast also includes Anders Danielsen Lie as her successful older boyfriend and Herbert Nordrum as her younger lover.
Trier wrote the script with his frequent collaborator Eskil Vogt (who himself is in Cannes as a director of The Innocents). The film is produced by Thomas Robsahm and Andrea Berentsen Ottmar for Oslo Pictures, and co-produced by MK Productions, Snowglobe, Film i Vast and B-Reel, while mk2 Films is handling international sales.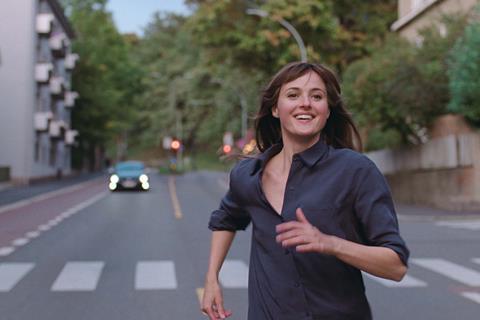 Have you always wanted to make a love story?
Love challenges us when it comes to defining ourselves and I think the films I've made deal with identity and loss and who we are at a certain stage of life. I wanted to tell a story about a young person who is about to turn 30 and is lost in this situation where she doesn't know how to appreciate herself or figure out her love life.
There's a tradition in cinema of dealing with love and existential questions. If you look back at George Cukor's films or Eric Rohmer's films, there is a tradition of using love as a theme. It's about more than just two people kissing.
How did you work with Renate Reinsve, who has her first lead role here?
It is always a leap of faith with actors. We did a lot of talking and of preparation around the script, and then rehearsals. I went to the National Film & Television School in London where I had wonderful acting coaches, and heard from people like Stephen Frears and Mike Leigh and Robert Altman. Everyone had their own technique.
For me, what I need to do with actors is to share where the story comes from so they can have some ownership and it becomes a personal collaboration. In this case, Renate was very interested in a character who feels like a failure. We're also exploring this sense that you're not successful in love and the feeling that time's running out fast. Renate is not the character, but it was about finding her ownership of it.
What drew you to work with Anders Danielsen Lie again?
We watched him in Reprise as a young man who had the future ahead of him and was ambitious and a dreamer; and then in Oslo, August 31st it was as a different character who feels lost; and now it's a more introspective man going into early middle age. I've known Anders for so long and we have a very open process. This film has a structure with chapters — they're almost short stories within the bigger story — so Anders had the freedom to explore each scene. Some scenes are quick, some are slow; the pacing is a bit looser than a lot of more mainstream romantic comedies.
How did you encourage Renate and Herbert in the flirtatious party scene?
That has to do with trust — they went to theatre school together, they know each other very well. I tried to give them a feeling while doing scenes like it was jazz — we know the point of the scene and the structure but they could improvise and do a 'solo'. They know that I'm going to cut material if it doesn't work so I want them to take risks, I want them to mess up. It doesn't have to be perfect, nothing's perfect.
We don't often see serious directors make love stories. Why did you want to tell one?
We wanted to go back to the more George Cukor-style of romantic comedies, and there are wonderful modern ones like When Harry Met Sally or Notting Hill, you know, the core tradition. Sometimes these films are not taken that seriously, but there can be an existential element to a love story. Love is the biggest life choice… that's why we're intrigued time and time again by love stories.
How would you describe the visual language of the film?
It's shot on 35mm. One thing I missed in the pandemic was the big screen. We got to shoot in Oslo in very specific moments in the morning and night. On 35mm, it's the sensuality of the image that matters. We have tried to create a film where it's almost like a big, visual musical. They aren't singing and dancing but there are sequences in the film that are structured conceptually like musicals.
When did you shoot?
We shot in the summer of 2020 when the pandemic was in a low moment. We had quite a long shoot: 54 days. Everybody's salaries go down so we can invest in that time — especially shooting in 35mm — and we wanted to do it properly. I'm so grateful we had this financing from Norway and Europe to enable that shooting time. I like to do it properly, like the way movies were made in the old days.
Is it true your grandfather premiered a film in Cannes?
Yes, my grandfather Erik Lochen shot his debut feature The Chasers in the Norwegian mountains, and it premiered in the main Competition in 1960. He was here with Minnelli and Bunuel and Bergman and Antonioni. So Cannes has a special place in my heart. I think about him when I'm here.