When Jodie Foster read the screenplay for The Mauritanian, she loved it but felt there was too much focus on her own character. Screen talks to the incisive actress who always puts the interests of a film first
Since making her on-screen debut at the age of three in a TV commercial, Jodie Foster has only ever played two real-life characters. "Usually, it's because the scripts have a structure I don't particularly like," she admits, regarding her disinclination for biographical material.
"Somebody is born, they do something, they meet a bunch of famous people, and then they die. To me, that's not good filmmaking. I just don't respond to the genre. There are some I like and appreciate, and it's because they take a different course. They either identify one tiny moment in that person's history where you really get a feeling you know them, or they approach it in a completely different way that isn't just the chrono­logical account of someone's life."
Not that it has stopped Hollywood from offering Foster countless biopics over the years, both as actress and director. But, Foster says STX Entertainment's The Mauritanian, in which she plays defence attorney Nancy Hollander, was too good an opportunity to pass up. Hollander, along with her associate Teri Duncan (Shailene Woodley), took up the case of Mohamedou Ould Salahi (Tahar Rahim), who spent 14 years in Guantanamo Bay without trial or charge.
"I was so taken and moved by Mohamedou's story, by the character, what he has to teach us, his relationship with Nancy, but also the Benedict Cumberbatch story," says Foster. (Cumberbatch plays US military prosecutor Lieutenant Colonel Stuart Couch.) "That, and Kevin Macdonald. He's the right director for this."
With Foster becoming increasingly selective as an actor — The Mauritanian is only her fifth film in 10 years — Macdonald says he sent her the script more in hope than expectation. He and his producers had commissioned new screenplay drafts to beef up Nancy's character, fleshing out her backstory and personal life to entice a star name. When Foster signed on, she found it all a distraction to Salahi's journey, and asked for it to be cut.
"I have always approached making movies as a director," she explains. "It's a weird thing I'm an actor. It's not my personality. I can't say it's what I was meant to do in life. It's just a strange happenstance I fell into as a three-year-old. I've never studied acting. And I thought it was important we're not distracted by bunny trails off into other people's stories. There are pieces of Nancy that come through about who she is, as a person, but they need to come through her interactions with Mohamedou and his story."
Unlike Foster's last real-life role, Anna Leonowens in Anna And The King, the real-life Nancy was very much alive and available, both before filming and during. "We talked a lot," says Foster. "She's such a cool lady and I think the essence of her is in the Nancy I created. But she's a whole bunch of contradictions. And that's what I love about her.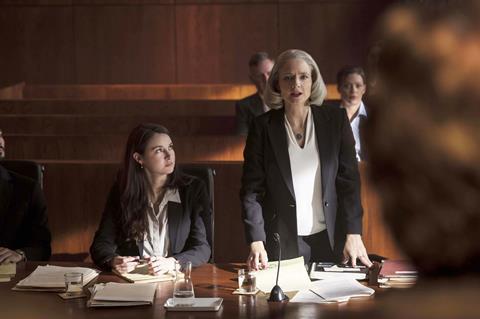 "At the same time, Nancy's character in the movie has moments where she's rude and insensitive. And Nancy Hollander is a sensitive person. She speaks very quietly, very measured. There's nothing outwardly threatening about Nancy. But I wanted to see the shift that happens from when she meets Mohamedou to where she ends up. And there is a shift. He's probably one of the very few not-guilty clients she's ever defended."
Macdonald believes Hollander is a character — tough, brittle, a loner — in the same mould of Clarice Starling who Foster played in The Silence Of The Lambs, a role that won her the best actress Oscar. "There's a few things Kevin [Macdonald] keeps saying I totally disagree with, but I love him, so, whatever," she laughs. "In fact, I could point out some big differences. Nancy's entire life is about challenging the government, starting with her work against the war in Vietnam. Clarice loves authority and sees them all as her fathers. I don't see much similarity between the two except they're both quite smart, and it's not that common to see intellectuals on screen.
"People think the intellectual process is somehow not what movies are supposed to be about. They're supposed to be about feeling and heart on your sleeve. And I am attracted to characters that aren't, 'Love me, love me,' heart first. Maybe Nell [from 1994's Nell] had that kind of simplicity. That was an eye-opening experience for me to play that character. But I play modern people, and modern people aren't all heart first."
It is 30 years since The Silence Of The Lambs was released, yet this month sees a new TV series, Clarice, that picks up Starling's story post-Silence. Does Foster have any interest in what they have done with the character? "Sure. I love that Clarice lives in the imagination of people, and that character captured so much, consciously and unconsciously. I feel flattered and excited, but I haven't seen all the spinoffs. I'll always have the fondness for the Clarice that came from The Silence Of The Lambs. Mostly because it's such an amazing book. And all of us who were involved in the movie, I feel we did the best work of our life, because of being inspired by that text."
Tools of the trade
Foster insists she has no plans to retire from acting, although her future — and heart — lies behind the camera. She always wanted to be a director, even when she was starring in Taxi Driver aged 12. As such, she treated her many years on set as "an amazing film school", says Foster, whose last feature as director was 2016's Money Monster.
"The way I've learned the most is by paying attention to directors," she says. "That's the person you serve, and you're there to identify what his or her vision is and help them get there by whatever tools you bring to the table. That, to me, is the way films should be made. And I have picked a lot of movies specifically because of the directors I wanted to work with."
Given she has worked with everyone from Martin Scorsese to Spike Lee, Jonathan Demme to Alan Parker, the most stimulating were, she says, "David Fincher [Panic Room], being very intentional and controlling and has an absolute idea about every single detail. And Neil Jordan [The Brave One], who's more of a poet and has a stream-of-consciousness approach. Even though he's prepared, he is always open to chance and to change and to the unconscious mind. Those two couldn't be more opposite, and yet they're the most inspiring directors I've worked with."