Wrestling with Bertrand Blier's 1974 comedy Les Valseuses, John Turturro had a flash of inspiration for his sixth directorial outing, Going Places.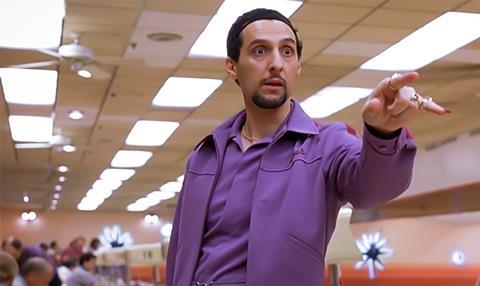 John Turturro was flummoxed. Try as he might, he could not crack a key piece of his adapted screenplay Going Places, his sixth and latest directorial outing, based on Bertrand Blier's novel and 1974 film Les Valseuses.
The actor and film-maker was excited about his "reimagining" of the French sex comedy following the misadventures of three misfits, but was struggling to update Jean-Claude, the character Turturro himself would play based on Gérard Depardieu's original role.
Then it came to him and, in a flash, Turturro's long-held desire to revisit an old friend and the wildest hopes of millions of fans of The Big Lebowski were destined to align.
"I was calling him JC, and it reminded me of this character I'd done in a play many, many years ago [he declines to name the play but will say it was a Latino character] that had inspired Joel and Ethan [Coen] to write the character of Jesus Quintana," says Turturro.
"So I thought, 'Wow! We've talked about doing something with Jesus Quintana but it was always silly.' I started playing around with it and I thought we could be on to something with his irony and the irreverence of the character."
While Jesus Quintana in many people's minds is remembered as the pederast bowler from the Coens' 1998 comedy, Turturro says of one of his most famous on-screen creations: "I knew him in a much more complex way than what people had seen in the movie, which was the trailer version of the character."
He took the idea to the Coens to canvass their opinion, and showed them Les Valseuses. "It kind of blew their minds," he says. "They thought it was a great idea and told me, 'We've taken a character inspired from a stage play and now you want to put him in a movie which is a French movie, which was inspired by American road movies.'"
Blier, it turns out, loved old American road movies with Bob Hope and Bing Crosby, and Les Valseuses was an homage of sorts. Turturro knew this first-hand, having got to know the French film-maker after approaching him seven years ago to remake Les Valseuses, which he had first seen in his youth.
"It made a big impression on me," says Turturro, who loved the performances of Depardieu and Patrick Dewaere, and went on to devour all Blier's films. "I liked the humour and the irreverence and the freedom.
The men were always so perplexed by women even though they thought they had the answers, and there was a level of guile and naivety that went along with their Neanderthal behaviour."
It turns out Blier liked Turturro's work as an actor and agreed to what the latter calls a "reimagining more than a remake, involving guys who were older but stuck in their adolescence".
After a quick negotiation, Turturro began to write the script in between other projects. John Penotti, president of Sidney Kimmel Entertainment, was an early champion and the company committed to finance alongside New Element and Tribus P Film.
Going Places shot in New York state over the summer and from what he has seen in the editing room these past six weeks, Turturro says he is delighted — not least with his cast, which includes Bobby Cannavale as the character originally portrayed by Dewaere, Audrey Tautou in the role played in 1974 by Miou-Miou, Susan Sarandon and Oscar contender and Aquarius star Sonia Braga.
Alison Thompson and Mark Gooder's Cornerstone Films represents international sales and is showing a promo at AFM. ICM Partners, which represents Turturro, has teamed up with Penotti to handle North America and buyers are sniffing around. It is no surprise. While the overall package sounds tantalising - a trio of troublemakers, a gun-toting hairdresser and unexpected love - people will be desperate to see the return of Quintana, aka The Jesus.
Turturro says there is more to the bowling demon with the prodigious tongue and unsavoury past than we saw in The Big Lebowski. "You see his past, how he thinks, and there'll be a lot of surprises," he says. "He still has his robust side to him, but without giving away the movie, he's not walking around like this angry guy - he wants to enjoy life a bit."
Turturro says Quintana serves as "the perfect guide" to his characters. "They're losers with these great schemes and everything they do backfires, but they wind up doing good things for other people. They do stuff we'd all like to be able to do but there would be too many ramifications."
Sidney Kimmel, Penotti, Robert Salerno, Fernando Sulichin and Paul-Dominique Vacharasinthu produce. Bruce Toll, Max Arvelaiz and Michael Lewis are executive producers.