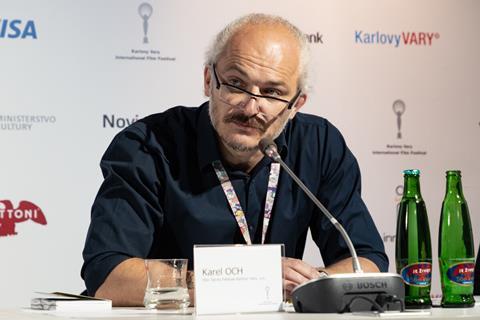 A new Czech New Wave, discussions about Russian presence at the festival, and tributes to the late Eva Zaoralova have all been features of Karel Och's 11th edition as artistic director of Karlovy Vary International Film Festival (KVIFF) which closes tonight, Saturday July 9.
Statistics from the first four days of the festival showed 64,881 tickets had been sold, with 6,491 festival passes issues and 453 journalists accredited. Och expects the final tally to surpass the 2019 numbers, boosted by the Czech national holidays last Tuesday and Wednesday.
Prior to the festival, a group of Czech and Czech Republic-based directors headed by Tereza Vejvodova, Tomasz Winski and Simon Holy published New Intimacy, a manifesto setting out a more radical style of filmmaking for the country.
Och talks to Screen about this new horizon, getting the festival back to its full strength post-pandemic and providing a platform for Ukrainian filmmakers.
Is a new generation of Czech filmmakers emerging?
There is a new generation, which is quite different from the previous one. What we witness this year is a return to a community. After the fall of communism, the filmmakers became individuals, like little islands – they knew each other, but you didn't have a sense of community for historical reasons. But now, the filmmakers are looking for the same goal. In the practices, we can see the motto from the 1960s being back – the success of one is an opportunity for another. The New Intimacy is a detailed, elaborate, radical statement on the state of contemporary cinema; of the lack of personality of cinema in terms of subject matters and form. They want to be more personal, more radical, more opinionated; it reminds me of the French Nouvelle Vague. I'm really excited about that; the filmmakers are using private, intimate stories to be political.
The manifesto was delivered to the Czech Film Fund, which reportedly reacted with surprise.
I did not know this, but it only confirms that the young filmmakers we're talking about are not afraid of anything. Tomasz Winski is a Polish filmmaker living for a long time in the Czech Republic; Olmo Omerzu is a Slovenian filmmaker living in Prague for a couple of decades. That's a great thing, because our country badly needs people coming from outside. Czech society has a strong tendency to isolate itself – a heritage of 40 years under communism. This helps broaden our minds towards the world.
Is it necessary for Czech filmmakers to have a greater presence on the international festival scene?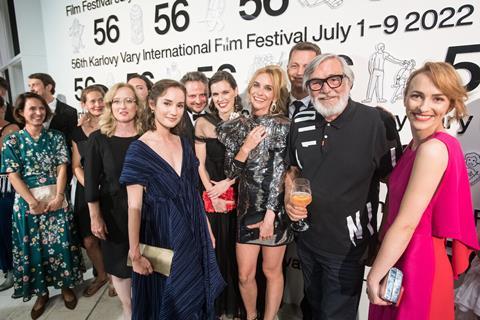 We try to support it as much as we can. The Czech filmmakers nowadays know the map of the festivals much more than their predecessors – they know what Cannes, San Sebastian, Locarno all stand for. Of course we're happy when a Czech filmmaker chooses Karlovy Vary, and they do that often. But whenever we are asked to help with a connection to a festival somewhere else – we will help.
Has the speed with which the festival has returned to full-strength surprised you?
It's going surprisingly well - we were expecting hesitation from people. But there's a big difference from last year's delayed physical version, when people did not have time to look forward to the festival. This year, even though we were not sure how many were coming, you could already feel the interest two months before the festival. With the national holidays on Tuesday and Wednesday, we've seen 'Friday crowds' on Tuesday as well.
How far in advance were you able to plan for an in-person event?
We have never done any version other than physical. We cancelled 2020; last year, while respecting all the security and health measures, we were still physical with the facemask. This year was always going to be a fully physical edition, because early in the year all the special measures were dropped and we had six months of so-called 'normal life'.
Before the event, the festival issued a statement regarding its inclusion of the Russian film Captain Volkonogov Escaped. What kind of challenge is this war posing for KVIFF?
The war is a constant challenge for all of us. We have to live with the fact that in 2022, atrocities of this kind are happening next door. [Regarding programming a Russian film] We have our opinion which we wanted to express publicly. But we badly want that opinion to be accompanied by the core of our conviction, and that is a total condemnation of what the Russian regime is doing. We are all losing in this situation, because of one mad person holding us hostage in this way. The conflict has been happening for more than 100 days; there is a risk of other countries looking somewhere else. We have to constantly attract attention. You focus on the audience, you want to show them films which enrich and entertain them. But at the same time, you have to be part of these conversations; there's a certain responsibility as a citizen of the world.
KVIFF has a partnership with Odesa International Film Festival, and has regularly noted its 'full support for Ukrainian filmmakers and programmers'. Bohdan Zhuk, programmer at Kyiv International Film Festival Molodist, has posted a passionate criticism of KVIFF on Facebook, accusing it of "hypocrisy… cowardice and avoiding responsibility." Do you have a response?
I have not read that; but whether a Facebook post or the petition sent to us by Ukrainian filmmakers, I fully understand these sentiments. I can only imagine the situation the people who wrote these articles are in – we have no idea. So whatever we receive, we fully respect and take very seriously. We have a different opinion [on the selection of a Russian film], and we try to express it as respectfully as possible. But we would never question the raison d'etre of such statements – from the perspective of the petitioners, it makes sense.
This is the first event since the death of former festival director Eva Zaoralova. What would she have made of this year's edition?
She would enjoy full cinemas, and seeing friends who came to honour her. She would be critical towards the noise level of the house music outside of the Hotel Thermal – she would be acerbic about that! She's here. She left us in March, but we've never stopped talking about her, and the tribute [at the opening ceremony] was very moving.