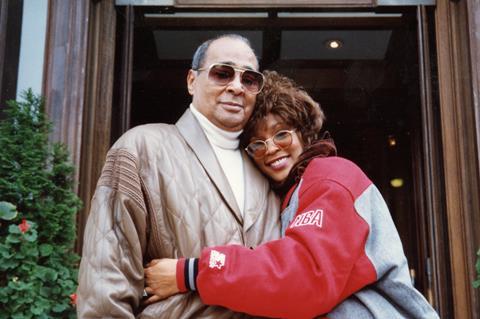 Kevin Macdonald's new feature documentary Whitney, premiering as a Midnight Screening at the Cannes Film Festival, tells the authorised story of the singer's incredible career, troubled marriage and mysterious death in 2012.
It also makes some disturbing allegations about the late singer's past.
In Whitney, her assistant and confidante Mary Jones claims that Houston was sexually abused as a child by her cousin, the late singer Dee Dee Warwick. Whitney's brother Gary also alleges that he was abused by Warwick.
Speaking to Screen, the Bafta-winning director explains how he unearthed this alleged long-buried family secret, the origins of the project, and why he insisted on a theatrical release.
Altitude Film Distribution will release the film in the UK and Ireland on July 6.
How did you find out about the alleged child abuse in Whitney Houston's past?
In the end it was the answer to the puzzle. Where does this all go back to? Quite early on when I was looking at the material, I said to the editor: "I think Whitney looks like someone who's been sexually abused, she has a frigidity, she's not sexy." I had no idea if that was true. Then somebody told me they had been told by her that she was [abused], but they wouldn't talk about it on camera. Then I managed to get Gary, her brother, to talk about how he was abused [by Dee Dee Warwick]. His wife Pat [Houston], Whitney's ex manager, then talked about how Whitney had spoken about it too. Finally, three weeks before we locked the cut, I got an interview with Whitney's long-time assistant and great confidante, Mary [Jones], who is the one who talks about this in the film.
It was like all the great detective stories. It unlocked so many things about her sexuality, drug use, relationship with her parents. It explains an awful lot about her. But there's still a lot more that we'll never know. I felt like we'd done what we set out to do, made her more understandable. Whitney was almost taunting the world to hate her at the end. To rescue her from that and make you feel sorry for her is the aim of the film. Hopefully you come out of it feeling this woman didn't stand a chance, and I can forgive some of her behaviour.
Were there any legal ramifications around what you discovered?
Dee Dee Warwick is no longer alive [she died in 2008]. There is no law of libel against the dead. I was told about the abuse by Whitney's brother, who claimed to not know it had already happened to Whitney but as soon as I heard that from a living person I thought, "I can put this in". When the sister-in-law says that Whitney said it happened to her too, I felt, "Why would she make it up?". Then it was confirmed by somebody else. To me then as a documentary maker, it felt like it wasn't speculation. I didn't feel bad about outing her. It's not like I'm dragging her name through dirt for no reason.
One of the things that I'm sad about is that nobody would talk to me about Dee Dee and who she is. She was gay and had drug problems and was jealous of her sister [Dionne Warwick] who was a huge star and there's kind of a tragic story behind the story. I met with one of Dee Dee's ex-girlfriends and tried to persuade her to talk about Dee Dee because she's not alive to defend herself.
Why make a film about Whitney Houston?
Simon Chinn (producer) came to me in Sundance 2016 and asked if I was interested in doing a film about Whitney Houston. I said, "Not really, no". Then I met Nicole David, Whitney's former manager, who was a highly regarded talent agent. It was Nicole who really intrigued me. She was talking how she'd represented Whitney since 1986, knew her family really well and just loved her. She was so puzzled and traumatised by what had happened to her and didn't really understand it. For her there was a mystery story. It was the hardest documentary I've done in terms of getting the truth. It was very frustrating because I interviewed 70 people, [but only] around 40 of them are in the film because so many people just didn't tell the truth. It was fascinating and soul-destroying.
How did it work being 'the authorised biopic'?
I've done authorised films before like Marley, where I sat down with [Bob Marley's son] Ziggy Marley and said: "I'm going to do my own film, are you okay with that?" Exactly the same thing happened with Whitney. I met with the head of her estate, we shook on it. I had final cut. They saw that to be authorised doesn't mean they have control of everything. I would never do a film like that. It's more them trusting me and giving me what they've got and giving me the music. Obviously with the finished film, there are things that are quite upsetting to the family.
My experience with doc filmmaking is that most people want to talk and get things off their chest. But with Whitney it took a long time to get to the truth because everybody around her lied for 30 years and were so used to lying that trying to get passed the pat PR answers was very difficult.
What was it like watching so much footage of her?
She never gave any really sincere interviews in her whole life, she never wrote anything down, so you have acres of archive with her, but it's almost all false feeling. You look at her on stage and you can feel that this is someone who is uncomfortable and unhappy. Why is she so uncomfortable in her own skin? At the beginning, like a lot of people, I thought, "Oh, she's gay", and she was fairly open about being bisexual and loving this woman [her long-time friend Robyn Crawford], but that turns out to not be the key thing. It goes back to her family, the abuse and the racial component.
There's a lot of historical context in the film. Why was that?
Why is it that the three great black stars of the 20th century, Whitney, Michael Jackson and Prince, all died within a few years of each other because of drugs-related issues, basically living as recluses and fuck-ups. Why? When you start asking that, it's a huge question. Their families moved from in the 1920s, escaping racism in the South. They were the first generation to be born free of that, so their parents had this apolitical attitude. But they came out of this incredible politics of the 1960s and '70s. Her father was involved in politics in New Jersey and suffered incredible racism in World War 2, so that informed their attitude to the white world.
Why didn't you interview Robyn Crawford?
I wanted Robyn to be in the film. I think she came quite close to doing it. She'd liked some of my films and was considering it but decided not to. I can understand why. I didn't want to enter into unfounded speculation about the Robyn thing. I did actually find documentation which proves when their relationship happened but for various reasons couldn't put it in. The Robyn story has been around since the '80s. The reasons the family don't like Robyn are complicated and it's not a one-sided thing. Robyn is not a saint. She did her fair share of things to piss people off.
The interviews with Whitney's mother and ex-husband, Cissy Houston and Bobby Brown, both looked difficult…
Both of them could have said much more. With Cissy, I did a longer interview, but I decided not to use it. She's old and has suffered a lot and doesn't have a good memory and it felt to me like the only thing I was getting from her is incredible pain.
With Bobby, in my opinion he's still not mature enough to have processed all this and to have any perspective, he's still sort of a child in some weird way. Not unsympathetic when you're with him but he just has no perspective and can't talk about the drugs and self-destruction in a way that is mature.
Did Nick Broomfield's documentary Whitney: Can I Be Me affect your project in any way?
First of all, I haven't seen his film and I deliberately didn't want to. I know Nick, I really like him and I like his films. It's not a competition. When we announced at Cannes two years ago, I wrote to him and said mine will be so different to yours, you'll do your own thing and I'll do my own thing, plus mine will be out a lot later. I hope there's still room for two Whitney Houston docs!
Was getting a cinema release important?
I feel docs can still be a cinematic experience. We're really pleased that when we took it out to Cannes it was bought almost everywhere as a theatrical proposition. My only proviso about doing Whitney at all was I said to Altitude, "I want it to be theatrical and not sell it to a streaming giant", not out of any feeling of disrespect to them but because I felt this subject to be a cinematic experience.
Why did you want Whitney to go to Cannes?
It's good for the film because there's a sense Whitney is a trashy, tabloid individual, so Cannes gives her and the film a stamp of quality in some way.