Hungarian director Kornél Mundruczó is in Competition in Venice with his first English-language feature, Pieces Of A Woman, starring Vanessa Kirby and Shia LaBeouf.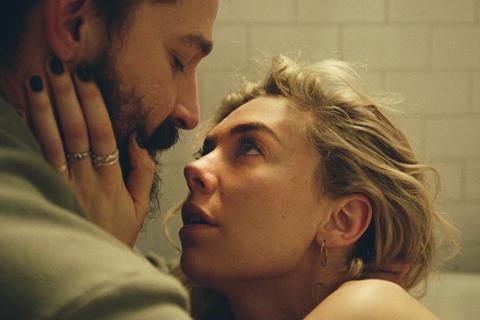 The $6m feature, made through Bron Studios, is a study of grief. "Is it possible to survive if you have lost the one you loved the most?" the director recently wrote, going on to describe Pieces Of A Woman as "an authentic film about tragedy."
The drama, which is being sold by Bron Releasing, includes one of the most harrowing, fraught and realistic birth sequences in recent cinema. Martha (Kirby) goes into labour at home, where she has planned a home birth with her partner Sean (LaBeouf). A midwife (Molly Parker) arrives to assist but dangerous complications ensue.
Mundruczó shot the gruelling 25-minute sequence in a single shot. "There is not even a fake cut. The actors played it in one. My idea is how you create reality for the audience so they exactly feel what the main character feels during the labour," the director says.
"At the end, we decided just to do one big sequence. Because it is film reality, that amount of time feels like eight hours." The director intended the camera to be like a character in the story, "like the spirit of the lost one," as he puts it.
One admirer who saw a long rough cut of the movie during the Covid-19 lockdown was Martin Scorsese. Mundruczó reached out to him through Howard Shore, his composer on Pieces Of A Woman who has also scored films for Scorsese including The Departed and Hugo.
"I said to Howard, 'Do you think we can ask Marty's view on the movie?' He said, 'Why not try?' So he connected me," Mundruczó says. "[Scorsese] saw the first rough cut and he was so enthusiastic about the movie that he said, 'How can I help?'"
Scorsese came on board as an executive producer. "He just encouraged me to follow my vision," Mundruczó recalls of the support Scorsese gave him.
UK actress Kirby, perhaps best known for playing Princess Margaret in the first two seasons of The Crown, was suggested to Mundruczó by his producers, who had already met with her. "In 24 hours, Vanessa was in Budapest. She read the script, she loved it, she felt so attached to the character."
The director wanted a "heavyweight" to play Martha's partner, with LaBeouf accepting the role. "When I gave the script to him, I thought, 'Hey Shia, it's not the lead but it's an amazingly important role.' I can't say I was surprised but I was very grateful that he said yes."
Ask Mundruczó why he wanted to leave Europe to shoot an English-language film set in the US and he points partly to disturbing changes in Hungary, where he has made his previous features, including White God and Jupiter's Moon.
"My country started to be a little strange; the pressure is growing on free art and how you can keep your independence," he says. "The [political] weather in Hungary is pretty stormy. I am living in Berlin since one and a half years now."
A treatment for Pieces Of A Woman was given first to the Hungarian Film Fund which, Mundruczó says, passed. The writer Kata Wéber, with whom he collaborates regularly, subsequently wrote a stage version which was performed in Poland. When Mundruczó saw it, he decided he wanted to turn it into a film and attracted the interest of US producer Aaron Ryder.
In spite of his foray to the US, Mundruczó maintains close relations with his contacts in the European industry.
"I did four movies with Philippe Bober [of Coproduction Office] and I did two movies with The Match Factory and Michael Weber. I love them both. I am still working very closely with Michael. I showed this movie to him and we are going to work together [again]."
Mundruczó combines his filmmaking career with directing theatre and opera, and much of this work is in Germany. Although the Covid-19 crisis has led to the cancellation and postponement of several of his projects, he has "two Wagners and a Britten" lined up for the coming months in Munich, Hamburg and Berlin.
He also hopes to work again with Kirby, who he likens to stars from European cinema of the 1960s and 1970s, figures like Hanna Schygulla and Claudia Cardinale. "She is an amazing, amazing actress. To work with her again would be a pleasure. I had expectations after meeting her but she surprised me every day."