Veteran Polish director talks to Geoffrey Macnab ahead of a major UK tour of restored Polish film classics, programmed by Martin Scorsese.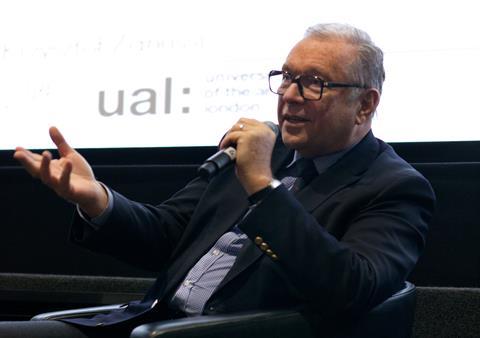 Krzysztof Zanussi ranks alongside Andrzej Wajda, Krzysztof Kieslowski and Agnieszka Holland as one of the major figures in post-war Polish cinema.
He is in London later this spring for the Kinoteka Festival, where he will be presenting his latest feature Foreign Body.
Zanussi will also support "Martin Scorsese - Masterpieces of Polish Cinema," a programme of digitally restored Polish film classics that is being given a UK tour.
The programme includes two of Zanussi's own movies - Camouflage and Illumination - alongside films from Wajda, Kieslowski and more.
Zanussi, now 75, is the director of Polish film studio Tor. Alongside his teaching and lecturing, he is still hard at work on new projects. He himself will soon direct new period picture Ether.
Meanwhile, he is also working as producer on his old assistant Agnieszka Holland's latest feature Game Count, "about a very extravagant old lady fighting against hunters…of course it is very metaphorical."
On the eve of his trip to London, Zanussi reflected on the Scorsese programme, his feelings about Ida, his problems with censors and his future plans.
Screen: What do you think about the films selected by Scorsese in this season? Is it a representative selection of the best of Polish cinema?
Zanussi: I am not in a very good position to judge the selection as I am part of it. But I think that out of many films that were shot in that period, Scorsese has pointed out films that have some relevance to the contemporary audience in other countries. For us Poles, some films are missing but I don't think I would question why any film is on the list. I think Martin was competent in judging which film will appeal to the western audience…he had a good intuition.
Scorsese says the way he was taught at New York Film School was modelled on the Lodz film school in Poland. What made Lodz so special?
The biggest secret was that was that we had successful filmmakers as our teachers, as our tutors. All over the world, in most cases, people who teach are people who did not succeed in (their) profession. There is some hidden bitterness behind it. For very simple economic reasons, as our salaries were very low, even for very successful filmmakers, teaching was some kind of a must.
What problems did you have with censorship in the communist era.
My film Camouflage was not really mutilated. I don't want to overdo it. But there were many cuts and also on Illumination, there was a very strong intervention of the censors. The whole social and civic involvement of my protagonist in Illuminations was cut. In the film, there is only a hint - I negotiated it with the high ranking politicians that it would be mentioned there was anti-Semitic wave and there were student riots. My protagonist was jobless which shows that he was kicked out of the university.
There is a missing scene when he is going to join the students on the student strike. His wife tells him, listen, this is a hopeless case. He answers, quoting Joseph Conrad that you have to stick to your principles even if you know the battle is lost. All this was cut…there is one still picture of the riots that the censorship allowed me to use.
Pawel Pawlikowski's Oscar winner Ida touches on anti-Semitism in Poland. What did you think of the film?
I liked it very much. It is very intimate, delicate and subtle, and it speaks about very dramatic problems in a very subtle way. There is no way to deny that there is anti-Semitism in Poland as there is all over Europe. It is good to talk about it openly.
What was your reaction to Claude Lanzmann's Shoah when it first came out? That was a film that upset some people in Poland with its treatment of wartime Polish anti-Semitism.
I was to some extent upset because it (Shoah) has some hysterical overtones. But it is an important film. However, it is tendentious. It is somehow biased. When you touch such a delicate thing, it is good to be very restrained and very objective. Lanzmann - that is not his virtue.
What is your new film?
It will be called Ether. I am working on the script now. It is set during World War One but it has nothing to do with history or politics. Rather, it is to do with the Faustian myth. It is about the dream of possessing other people. It is about somebody who is using the early anaesthetics - ether and chloroform - but the idea is to possess other people, to deprive them of freedom, make them totally subdued to a person who has power over them. It will be set in Galicia.
Do you agree that Polish cinema lost its way after the end of the communist era?
I must strongly disagree. Andrzej Wajda made his most important films in free Poland - his latest film about President Walesa and his film about Katyn are definitely among his best. I think we were underrated in the last 20 years. There was a concept that once we were in the free market society, we must not be interesting (in film.) Look at Romania. Romania was also neglected and suddenly is now discovered as a very interesting filmmaking country. Poland has a much bigger volume of production. I think there were many very interesting films done in the last 25 years.
Did you have the ambition to follow filmmakers like Polanski and Holland to the US?
We'd all love to be as popular as American directors are but we learned very quickly that there is a price. Once we see the price, we understand why Federico Fellini, who was offered many Ameian projects, said no, I cannot do it.
What is that price?
It is a kind of compromise. When you accept to work in Hollywood, you make a film that is done by a committee and not by an individual. It is far more individualistic and there is more space for very personal expression and very particular views that in America must be standardised to be accepted, as far as I understand it. ENDS
Foreign Body screens as part of the 13th KINOTEKA Polish Film festival, ICA 12th April.
Tthroughout April and May BFI Southbank will host, in partnership with the KINOTEKA Polish Film Festival and Filmhouse Edinburgh, Martin Scorsese Presents: Masterpieces of Polish Cinema.