LipSync Post celebrates its 30th anniversary this year and has invested in more than 50 feature films. Wendy Mitchell talks to financial director Norman Merry about the company's flexibility and the diversity of its work.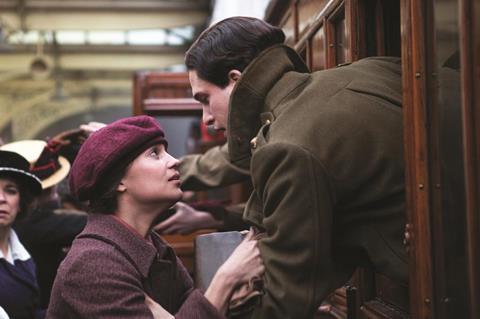 Refreshingly, LipSync Post does not boast about the need to be the biggest in the business. This post-production company, housed in two sites on London's Wardour Street, employs more than 70 people and works across television and feature film.
"We don't want to go massively huge ― we want to do more quality work, keep it interesting and enjoy it," says financial director Norman Merry. "The diversity of projects is really nice at the moment. It's a real range."
LipSync has been celebrating its 30th anniversary this year. It started out from an office in Barnes doing shortform, such as founder Peter Hampden's work on the trailer campaigns for Basic Instinct. The company moved to Soho in 1998, taking over 123 Wardour Street in 2000. In 2002, it became one of the first post houses in the UK to work on digital intermediates, which has become one of its areas of expertise (James Clarke serves as head of DI and Stuart Fyvie as senior colourist).
'Part of our job is managing expectations and getting post done on time and on budget'

Norman Merry, LipSync
In 2006, the company made a riskier move, by starting to make equity investments in film ― mostly UK films with budgets of less than $16.8m (£10m). As of now, LipSync has worked on 70-plus features and invested in about 50 of those, starting with Sean Ellis's Cashback and including We Need To Talk About Kevin, Great Expectations, Nowhere Boy, Made In Dagenham and forthcoming titles including Testament Of Youth, The Face Of An Angel and Get Santa.
Merry and company see investing in productions as well as doing post for films as a savvy business move ("It has increased our business enormously," Merry says) and as a way to keep the UK production scene thriving; yet they do not plan to start their own in-house production team. "We're very good at post-production. We don't develop films, that's not our skillset," says Merry. "Part of our job is managing expectations and getting post done on time and on budget."
One thing that makes LipSync attractive as an investor, or indeed a post-house, is that the company's size means it can be nimble. "We have flexibility. Peter Hampden and I own the company and we have our own group of investors," Merry explains. "We can say yes immediately, we can shake on it there and then. We've never pulled out of an investment."

'Interesting' work
"We do most of our work on mid-range VFX," Merry explains. "A lot of our staff can come from The Mill or MPC, there they might have just been painting one shot for a Hollywood film, but here they can do more interesting work on a smaller film. We don't work on a film where you need 300 people working on the same shot in one day." They do, however, count nearly all the studios as clients, having worked with Warner Bros for more than 25 years, for example.
Recent projects for post-production services include Cannes trio Mr. Turner, Catch Me Daddy and Snow In Paradise. Forthcoming releases include A Little Chaos, What We Did On Our Holiday, Hyena and more. There are also bigger productions ― the company did VFX work on Kick-Ass and Total Recall.
TV is a growing area of LipSync's business, with Beverley Horne joining as head of TV post. "TV works quite well with the film side. It helps us keep a steady workflow through the peaks and troughs of film," Merry adds.
The company is working on several co-productions, including Testament Of Youth (with Denmark) and Second Origin (with Spain). "We hope to do even more co-productions as the tax breaks become more attractive," Merry says. "The UK's very much where it's happening in Europe… and with the changing tax breaks, films not shot here can come back to do post."
lipsync's current film projects in post-production
Bill (Cowboy Films, Punk Cinema, BBC Films), dir Richard Bracewell
The Dead Lands (General Film Corporation), dir Toa Fraser
The Face Of An Angel (Revolution Films, BBC Films), dir Michael Winterbottom
Girls Night Out (Ecosse Films), dir Julian Jarrold
London Road (Cuba Pictures, BBC Films), dir Rufus Norris
Second Origin (Antartida Produccions, Ipso Facto Productions), dir Carles Porta, Bigas Luna
Testament Of Youth (Heyday Films, BBC Films), dir James Kent
Trespass Against Us (Potboiler Films, Film4), dir Adam Smith