While her industry programme is packed, Locarno Pro head Nadia Dresti seeks to foster a less-is-more approach.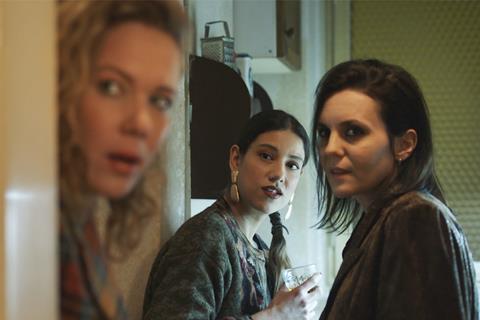 Locarno's lakeside location, high summer dates and holiday feel lend its Locarno Pro industry programme a more relaxed air than many of its counterparts around the world. Longtime industry chief Nadia Dresti is protective of this slower pace. "I want guests to have time to see films, have a beer, talk to their clients and friends," she says. "Locarno is still a human-size festival. We want everyone who comes out here for three or four days to get something out of it."
Locarno Pro still runs a tight ship. The 2019 Pro programme (August 8-13) spans networking platform Match Me!; one-day industry think tank StepIn; work-in-progress showcase First Look (focused this year on Serbian cinema); the Open Doors programme, which begins a new three-year cycle devoted to independent filmmaking in Southeast Asia and Mongolia (pages 9-15); and the Alliance for Development co-production event.
Dresti is expecting some 1,100 industry professionals. Confirmed sales companies include Charades, Memento Films International, mk2 Films, Wild Bunch, TrustNordisk, The Match Factory, Beta Cinema, Protagonist Pictures and Bankside Films, while distributors due to attend include France's Diaphana Distribution, the UK's New Wave Films and New York-based Film Movement alongside digital specialists Under The Milky Way and Mubi.
In spite of a strong arthouse sector presence, Dresti gets a sense its sales and distribution ecosystem is increasingly under strain. "With small distributors, I feel they take less risk. It seems like the tendency for independent distributors is to buy less," she observes. "I am sure some will buy. But if they buy here [in Locarno], probably they will not buy in Sarajevo and San Sebastian."
In keeping with the fresh emphasis on youth across the festival under new artistic director Lili Hinstin, Locarno Pro has also launched the U30 think tank event aimed at professionals under the age of 30. The Industry Academy also falls under the Locarno Pro umbrella. "It is important we start thinking about what younger generations want to see," says Dresti. "Since the whole scenery is changing, the business has to understand how young people watch films and what kind of films they want to see."
StepIn (Aug 8)
Around 40 top professionals will join the invitation-only think tank — which marks its seventh edition this year — for a day of discussion around key issues affecting the film industry. "It's difficult to step back and look at the bigger picture. StepIn creates a space for the industry to do that," says project manager Marcello Paolillo.
The future of cinema promotion bodies will be one of the topics up for debate in a round-table panel organised with umbrella network European Film Promotion. Dresti suggests these national agencies need to rethink their strategies at a time when distributors are more cautious about acquiring non-local films for their markets. "The film institutes have to change," she says. "The promotion agencies should become even stronger key players for their national films upon their release, helping the distributors, theatres and platforms to reach a wider audience."
There will also be a discussion around the future of production as formats change, pre-sales decline and financing models evolve, while a panel titled 'The box-office puzzle' will look at why territories such as the UK had bumper cinema attendance in 2018 while others, including Italy and Germany, struggled. StepIn will also host representatives of US and European talent agencies, for a discussion on their increasing prominence in the independent marketplace. "They are very often involved in sales, financing and packaging," says Paolillo. "To have them in our conversation is an important addition."
First Look (Aug 9-11)
Award-winning filmmaker Milica Tomovic's debut feature Celts is among six features in the work-in-progress showcase devoted this year to Serbian cinema. Set in sanctions-hit Belgrade in 1993, Tomovic's comedy drama explores the implications of the break-up of Yugoslavia through a family's preparations for an eight-year-old girl's birthday party. Tomovic's award-winning short Transition screened at Locarno in 2016.
"The films they make are sometimes very surprising," says Dresti of recent Serbian cinema. "They can be very ironic about themselves as well as very political. They always have a lot to say, which is a consequence of the country's history."
The other five productions are feature documentaries, highlighting the strength of Serbia's current docs scene. The titles include Srdjan Sarenac's Prison Beauty Contest, capturing life in a Brazilian jail for women; Resisting Landscapes by Marta Popivoda, about Second World War resistance figure Sofija Vujanovic; and Filip Martinovic's Telenovela: Grey-Scale In Color, in which the director explores his split Serbian-Spanish upbringing.
Some of the works are more experimental in style such as Marija Stojnic's Speak So I Can See You, going behind the scenes of Radio Belgrade, and Tamara Drakulic'sIn Praise Of Love, exploring life, love and holding on to the past in a remote village in Mexico.
Miroljub Vuckovic, head of international relations and promotion at the Film Center Serbia, says there has been a renaissance in documentary in Serbia that began in earnest after Mila Turajlic's The Other Side Of Everything won International Documentary Filmfestival Amsterdam's feature competition in 2017.
Torino Film Festival director Emanuela Martini, Tallinn Black Nights Film Festival director Tiina Lokk and Berlinale programmer Lorenzo Esposito are on the jury for prizes including a $72,000 (€65,000) post-production award as well as advertising and the creation of poster art support.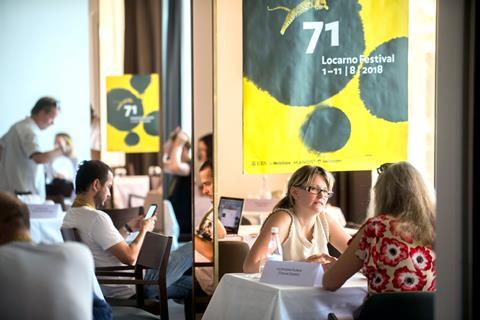 Match Me! (Aug 9-11)
The fifth edition of networking platform Match Me!, connecting professionals at the beginning of their careers with established players in informal social settings, welcomes a trio of Singaporean producers for the first time. "We initially created Match Me! to create a continuity with the countries we worked with in First Look," explains Markus Duffner, who oversees both programmes.
The initiative has since expanded to run in partnership with film bodies in Brazil, Estonia, Italy, Mexico, Poland, Portugal, Spain, Latvia and, for the first time, Singapore. They each sponsor the Locarno attendance of two to three emerging producers from their territory. Singaporean delegates include producer/director Huang Junxiang of Zhao Wei Films, who co-directed short Piece Of Meat. The work, based on a short story by Ramen Shopfilmmaker Eric Khoo, premiered this May in Directors' Fortnight at Cannes.
Past Match Me! participants include Adar Shafran of Tel Aviv's Firma Films, who went on to produce hit Israeli comedy Maktub, and Alessandro Amato, the Rome-based producer of Maura Delpero's International Competition title Hogar. Amato connected with Paris-based sales company Charades at the meeting, which is now handling international sales on the film.
Alliance for Development (Aug 9-11)
Dresti spearheaded the creation of Alliance For Development in 2015 to encourage co-operation between Switzerland and its neighbours Italy, France and Germany around the development of feature projects. Success stories include Italian director Duccio Chiarini's The Guest, which participated in the debut edition and premiered on the Piazza Grande three years later. Also in 2015, compatriot Annarita Zambrano's After The War found a producer and sales agent in France's Pyramide Films and went on to premiere in Cannes' Un Certain Regard in 2017.
Switzerland is represented this year by Jenna Hasse's adaptation of Swiss writer Charles-Ferdinand Ramuz's 1925 novel L'Amour Du Monde, about a small town getting to grips with the modern world; Juri Steinhart's drama Der Kämpfer, about a young man who exchanges his secluded life in the Swiss Alps for a career as an MMA fighter in Los Angeles; and the animated documentary Red by Mara Manzolini and Andrea Pellerani.
Italian projects comprise Damiano Ticconi's debut feature Maoz, about the capture of infamous Nazi Adolf Eichmann, and Berardo Carboni's The Thirteenth Thursday revolving around a love affair between German philosopher Walter Benjamin and Latvian playwright Asja Lacis on the island of Capri in 1924.
German projects attending include Angela Schanelec's Music, a modern-day reworking of theOedipus myth about a young man who unwittingly falls in love with his prison-guard mother after he is convicted of his stepfather's murder; and Domenico Distilo's With Spirit And Fire about a young woman who witnesses the death of her boyfriend in a terror attack and then discovers she is pregnant.