Summer Academy returns to support another group of up-and-coming film-makers, critics and industry professionals, as Wendy Mitchell discovers.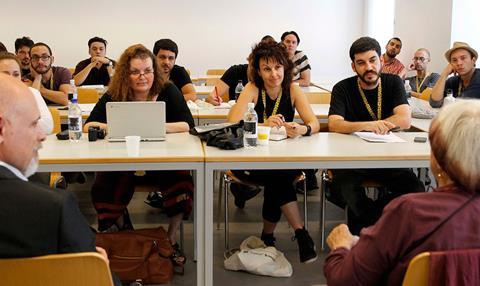 Launched in 2010, Locarno's Summer Academy remains a natural extension of the festival. "From the beginning, Locarno was a place to talk and think about cinema, not just to do business," explains Stefano Knuchel, head of the Filmmakers Academy. "The concept of the Academy was in the concept of the festival itself, so it was a long time coming."
The Filmmakers Academy is just one part of the Summer Academy, which includes the Critics Academy, Industry Academy, Documentary Summer School and Cinema and Youth programme for local college students, and involves 100 promising talents across the sections.
There is some interaction across the strands — for instance, the Critics Academy writers each profile a Filmmakers Academy participant. Last year, the Filmmakers Academy and the Industry Academy attended a joint talk from programmers from Sundance, Cannes and Morelia. "Some people know nothing about how the other side works, so it's important for them to meet each other," Knuchel says.
Tomorrow's talent
Knuchel wants to keep the Filmmakers Academy from being too predictable by mixing up the speakers each year. Using a foodie's metaphor, he says: "I really love to cook with what's fresh in the refrigerator and not a frozen lasagne from six months ago."
Speakers will include Roger Corman and Alejandro Jodorowsky — the former is being honoured with a retrospective and the latter is this year's recipient of the Pardo d'Onore Swisscom. Past speakers include Werner Herzog, Abel Ferrara, Lav Diaz, Agnes Varda, Aleksandr Sokurov and Michael Cimino.
"It's about not losing the idea of why you make cinema," Stefano Knuchel, Filmmakers Academy
This year's tagline is "film like there is no tomorrow". According to Knuchel, "That's the reality for film-makers today. You make one movie and you never know if you will make another one… I selected people that I think have something to do with life, that can go beyond making movies."
The Filmmakers Academy used to have about 25 participants. That has recently been reduced to around 15 film-makers, under 40 years of age, who are preparing their debut features. Meanwhile, the duration has grown from one week to 10 days (August 3-13). "We try to have this kind of connection and relationship-building," Knuchel says of the intimate size. "When film-makers get to this stage, it seems like they are losing their identity," he adds. "It's not only about having the right producer, the right distribution, it's about not losing the idea of why you make cinema."
All this discussion is, of course, integrated into the festival itself, with Academy members watching the festival's range of films from artistic new works to bigger movies on the Piazza Grande and famed retrospective titles. "What I like to do in Locarno is have all the ingredients there and they can make something of it," Knuchel says.
The Filmmakers Academy also has an "exchange" with Cannes Cinefondation's Residence, which means three to five of those film-makers will join the Filmmakers Academy programme in Locarno.
The Critics Academy (August 3-13), a joint initiative with Indiewire, works with four young Swiss and six international journalists and critics who will write articles on the ground for publication through various partners. "You can't do without criticism in cinema, otherwise it just goes into business," Knuchel says of the importance of the scheme.
Similarly the Industry Academy (August 3-9), added in 2014, selects nine participants working in sales, marketing, distribution, exhibition and programming, and runs in parallel with Industry Days.
The Documentary Summer School, now in its 17th year, is a partnership between Locarno and Universita Della Svizzera Italiana, and offers 20 university students the chance to discuss theoretical issues around documentary film-making.
Finally, Cinema and Youth (August 2-13), now in its 57th edition, welcomes several dozen students aged 17-21 from Switzerland and northern Italy to watch and discuss films.
All these strands of the Academy also benefit the festival, as Knuchel notes: "The participants get to know the festival of Locarno. If some of them go on to make a feature, this festival is very interested in that. That builds a network."