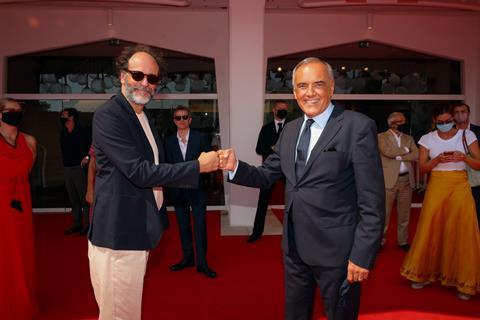 Luca Guadagnino paid heartfelt tribute to the Venice Film Festival before the premiere of his new feature documentary about Salvatore Ferragamo, Salvatore: Shoemaker Of Dreams.
The Italian filmmaker, who has been to the Mostra many times as director, juror and spectator, talked of "the huge debt" he owed the festival. He also praised festival director Alberto Barbera and his team for holding a physical festival in the midst of the Covid-19 pandemic.
Thanks to the pandemic, Guadagnino suggested the programming in Venice this year has changed in an inventive and intriguing way. "This year's selection for Competition titles presents an outstanding numbers of second and first feature films. Covid gave us this great opportunity – a few less established filmmakers and more women and debutants. It's great."
In a few days, Guadagnino will head to San Sebastian to serve as president of the jury there. He has no qualms about attending in spite of a new spike of Covid cases in Spain.
"When I received a very humbling proposal, it was immediate: 'Of course!' I am completely sure that the organisation will be as pristine there as here," Guadagnino said. "To support cinema, to support the theatrical experience, to endorse and make sure the filmmakers can be empowered, is honestly a mission I have in life."
Speaking about his new documentary, which is being sold by Sierra/Affinity, Guadagnino acknowledged the comparisons between Italian shoemaker Salvatore Ferragamo's story, who came from a small town in southern Italy to the US via Ellis Island, and the epic tales told in many American gangster movies.
"When me and my editor, Walter Fasano, were working on the editing of the movie, it struck us how many instinctual remembrances in our imagery came from The Godfather: Part II. I am thinking of the travel of Salvatore Ferragamo to America."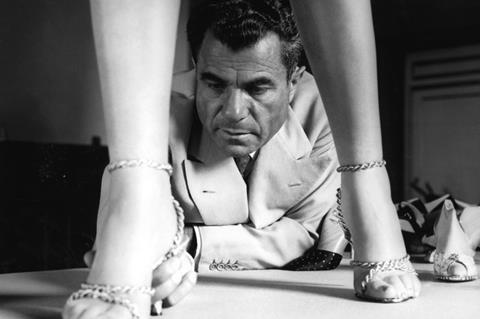 Salvatore, the director continued, has "a provenance like Don Vito Corleone". The shoe designer also came from the south of Italy, from a poor family, and arrived in the US with nothing, but soon made, lost and remade his fortune.
"There is the archetype and the cliché in the narrative of gangster movies. Then there is the reality. The reality is that [Ferragamo] was a genius. He had a great, strong will and America embraced him."
Part of Guadagnino's fascination with Ferragamo's story lay in how someone from such humble origins could achieve so much. "America is the country that it is because it has been made by immigrants and also by people who've been forcefully brought to America by slavery," the director said.
"Those two dramatic moments, one an act of violence and one an act of will, is what America is made of and what it has to deal with. What struck me is that you have an expression of genius, an expression of resourcefulness, an expression of ambition in places that we don't think that is [found]."
Ferragamo became an important figure in the US silent film industry, which is one reason why Martin Scorsese was invited to participate in the documentary as a talking head.
"[Scorsese] is so articulate, so compelling, so beautiful and so humorous," Guadagnino said of his fellow director. "I also worked recently with his fantastic daughter [Francesca Scorsese]. She debuted in my [HBO] show, Why Are We Who We Are. She is amazing."
The director was tight-lipped about his own plans for a new version of the gangster classic Scarface, working reputedly from a script by the Coen brothers.
"I wish I could talk more about Scarface but I can't. What I can tell you is that I am somebody very interested in the underdog, the person who comes from off the centre. Myself, I grew up in Ethiopia. I moved to Italy when I was six and a half. Coming to Italy was not being Italian but almost about being allowed to be Italian."
Another feature project Guadagnino has in the works is Aryan Papers, an adaptation of Wartime Lies, Louis Begley's 1991 autobiographical, Holocaust-themed novel that Stanley Kubrick came close to making in the early 1990s but abandoned partly because Steven Spielberg's Schindler's List was due to appear at the same time.
"The Louis Begley novel is one of the most chilling, astonishing, deeply human novels I have read about the Holocaust. I say novel because Mr Begley himself wanted it to be considered a novel in spite of the fact that some of the things that happen in the book happened to him and his mother in their lives. The book is amazing.
"The idea of this titanic filmmaker [Kubrick] doing a movie from that book struck me strongly. I became obsessed about it. When I heard when I was young that he didn't do it, it was a very sad day for me."
Guadagnino has already studied Kubrick's research material and papers, which are kept at the Kubrick archives in the University of London. It's a film he seems determined to make, even if he can't provide a timeline.
"It's a great possibility, a great project. We will see."