A well-intentioned deception inspired Lulu Wang to make her indie comedy-drama The Farewell. The filmmaker talks to Wendy Mitchell about going back to her Chinese roots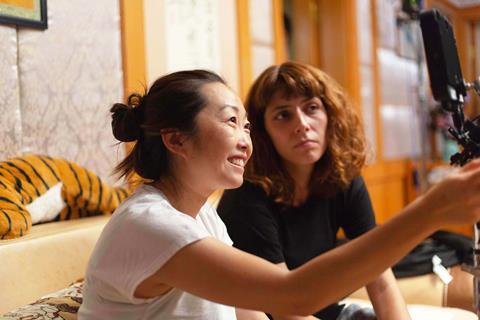 One of Lulu Wang's biggest fans has not seen her hit film The Farewell. That is her grandmother, who inspired the story. "I don't think we're going to show her," Wang explains, with a hint of guilt in her voice.
That makes sense once you know The Farewell's premise — inspired by Wang's own life — about Billi, a Chinese-American woman in her twenties who revisits China when her grandmother is diagnosed with terminal lung cancer. In keeping with tradition, her family decides to keep the diagnosis a secret from 'Nai Nai', but have a reunion at a staged wedding. As the film's opening text — and poster — declares, this story is "based on an actual lie".
Back in 2013, when her grandmother's cancer story was unfolding, Wang was finishing her debut feature: art-world romantic comedy Post­humous. She knew immediately that her family's true-life drama would make a great film. "I felt like this was a perfect scenario that had so many emotions — it was funny, joyful and sad. When I got back from China, I would wake up in the middle of the night and write down these excerpts. It felt so visceral and visual."
Getting those moments into script form was relatively straightforward, but financing the film proved to be more difficult. Or to be more specific, the difficulty was financing the film Wang knew she wanted to make — shot partially in China, with a lot of dialogue in Mandarin, without a prominent white character.
"When I couldn't get any US producers to come on board, they said, 'Maybe it's not a US film, it's a Chinese film.' So I went to a Chinese investor, and they said the film was too American for the Chinese market."
After Wang told her family story in 2016 on a 30-minute episode of National Public Radio show This American Life, producer Chris Weitz (Columbus, A Single Man) sought her out and came on board to produce The Farewell through his company Depth of Field, and was joined almost immediately by Peter Saraf and Daniele Tate Melia at Big Beach, whose credits include Little Miss Sunshine. The authenticity of the director's vision was important to the producing team. "They said, of course, 'Why would we want to have you change the textures that are so important to the story?'"
Screen presence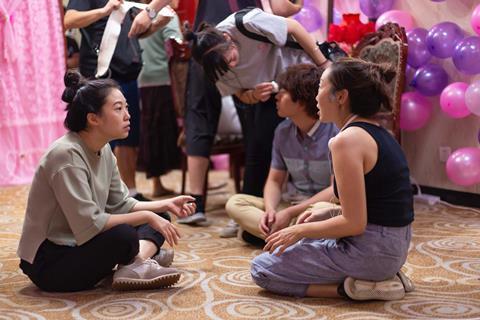 Finding the right actress to play Billi was also crucial. Wang was initially sceptical when her casting director suggested Awkwafina — at the time known mostly for her music career but soon to impress in scene-stealing roles in Ocean's 8 and Crazy Rich Asians.
"Someone can be passionate about the role but you don't know how they come across on screen," Wang explains of her initial reluctance to cast Awkwafina (real name Nora Lum) in her first lead dramatic role. "I didn't know if she could do a dramatic part. She sent in a scene, and it felt very lived-in. It wasn't like somebody acting, I felt like I saw Billi on screen."
Wang was clear that Billi had to become Awkwafina's creation, not a version of herself, even though the character is partly autobiographical. "I just told her this clearly, 'Don't think about this as playing me, Billi is not me, so don't study me. Dig up your feelings from yourself in her, your feelings about family.'" Awkwafina has said growing up with her own Chinese grandmother helped her relate personally to the story.
Making a US independent film on a modest $3m budget was a challenge in China — it shot in New York and then for 24 days in Changchun, in northeast China's Jilin province, the real home of Wang's family — including her grandmother. "It was difficult because there's not many people who have done it," she says of western filmmakers working in China on a low-budget production.
Wang pays credit to Big Beach producer Melia and Chinese producer Jane Zheng, as well as the hard-working and mostly Chinese crew (director of photography Anna Franquesa Solano and production designer Yong Ok Lee came over from the US).
Casting 75-year-old Zhao Shuzhen as the grandmother was another key decision. "She is such a find," says Wang. "It took so long to find her, we cast her just before the first day of production. She didn't audition — Diana Lin who plays Billi's mother sent me some of her work. I had a feeling about her, especially after we spoke on the phone. She's a soap opera star in China, she's very busy, so I had to beg her to do it." On set she was referred to as "Teacher Zhao". Wang's own great aunt, Hong Lu, plays Nai Nai's sister. Wang's grandmother visited the set in Changchun, and she figured out that the film was about her family's relationships, but everyone still kept the cancer plot secret from her.
Even though Netflix put a lucrative worldwide offer on the table after the world premiere at Sundance Film Festival in January, Wang and her team knew they wanted to have a territory-by-territory theatrical release, led by A24 in the US. That decision was not just about screen size, Wang explains. "I knew strategically the theatrical roll-out would require a different kind of attention, it was about me being on the ground, me talking to journalists, and me talking to audiences. I thought that was important to the film. It's a miracle it exists — I wanted people to know about it."
Indeed they did, and the film has had a robust US release, earning $17.7m since opening in July. The Farewell is also making a good showing in the early stages of this awards season, picking up nominations for best feature, actress and screenplay at the Gotham Awards, and for feature and supporting female (for Zhao) at the Independent Spirit Awards.
Wang has enjoyed meeting her audience around the globe and hearing their responses. "It's really eye-opening when people laugh in different spots," she says. "Sometimes an Asian audience will come up to say, 'This movie is so specific to my family, to my culture.' They feel like non-Asian people aren't going to get it. And then non-Asian people will say, 'My grandmother is exactly like that!' I made the film so specific, not knowing if those things were going to resonate with everyone. It's amazing to me how much it translates."
The film was released on November 22 in China by Tianjin Maoyan Media. Let's hope Nai Nai's friends know how to keep a secret.