International Film Festival & Awards Macao (Dec 8-14) is building audiences and drawing international talent with a carefully curated but accessible programming mix.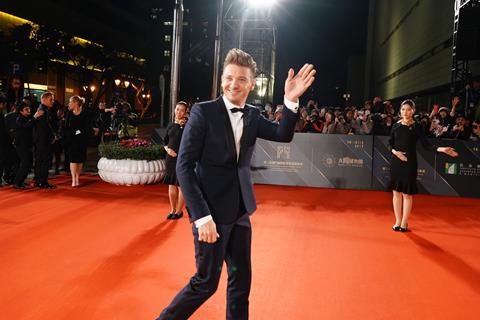 Heading into its third edition, International Film Festival & Awards Macao (IFFAM, December 8-14) is establishing a reputation as a relaxed, boutique event, with strong programming and a productive industry programme — but without the frenetic pace of earlier autumn festivals.
IFFAM artistic director Mike Goodridge plans to build on that foundation in his second year in the role. "Our mission is to create a world-class film festival in Macao," says Goodridge, who joined IFFAM in 2017 from his former position as CEO of UK-based Protagonist Pictures.
"At the same time, it was never going to be a huge festival," he adds. "This year, we have a carefully curated programme of 55 films, slightly up from last year, which is about where we want to keep it. It is principally about building both a cinema-going audience and a filmmaking culture in Macao."
IFFAM's first edition in 2016 drew a lukewarm response from Macao residents, who were unsure how to engage with an international film festival. However, in the run-up to the second edition in 2017, co-organisers — the Macao Government Tourism Office and the Macao Films & Television Productions and Culture Association — worked on outreach programmes to target relevant sections of the local and regional audience. The result was 75% capacity audiences across the festival's three main venues at the Macao Cultural Centre, Macau Tower and Cinematheque Passion.
"We were surprised and delighted by the response last year," says Goodridge. "One of my biggest challenges coming to the festival was that it has to exist for a reason — there has to be an audience for it — so it was a thrill to see all those people there."
Reflecting Macao's young cinema-going culture, IFFAM's programme is designed to be accessible rather than challenging, with a combination of festival favourites, crowd-pleasing mainstream films and genre titles. Goodridge says IFFAM aims to present the best of what is out there, rather than being hung up on premiere status, although he adds, "it is a perfect place to launch a film as we have lots of press coming from mainland China and across the region".
Titles screening in Macao fresh from the festival circuit include Alfonso Cuaron's ROMA, playing on the big screen ahead of its Netflix debut, Suspiria, The Favourite and Mary Queen Of Scots.
This year's international competition will screen 11 films from first- and second-time directors, with an award of $60,000 for best feature. Chinese auteur Chen Kaige will head the competition jury, which also includes Hong Kong filmmaker Mabel Cheung, Australian producer Paul Currie, Indian actress Tillotama Shome and Oscar-winning Bosnian director Danis Tanovic.
IFFAM is also introducing a competitive section, New Chinese Cinema, comprising six titles that represent the best of recent independent cinema from across the Chinese-speaking world. "We wanted to put renewed focus on Chinese films in the programme," Goodridge explains.
The festival will open with Peter Farrelly's Green Book, starring Viggo Mortensen and Mahershala Ali, which Goodridge describes as not just a crowdpleaser, "but also Hollywood storytelling at its very best. It's a road movie framework filled with rich period details, humour, wit and a surprisingly complex commentary of America's attitudes to race, ethnicity and sexuality."
Connecting cinema globally
IFFAM head of festival management Lorna Tee says: "The idea is to showcase some of the best films from the year, plus a few films from the region that are newer for press and industry. We want to build a bridge between world cinema and this part of the world, because Macao is not a place that is known for its cinematic history."
Meanwhile, IFFAM's Industry Hub is starting to draw more guests from the wider Chinese-speaking industry, in addition to international participants. Industry activity includes the IFFAM Project Market, a new works-in-progress section and round-table discussions. "What is interesting about Macao is that it's very Chinese, but also very international, so guests from both East and West can feel comfortable," says Tee.
She adds that due to IFFAM's timing at the end of a busy year, both the festival and Industry Hub have deliberately been given a relaxed schedule. "We haven't scheduled a huge number of events because we want it to become a place for industry to meet in an organic way," explains Tee, who is also a producer and previously headed the Netherlands' CinemAsia film festival. "You can watch films and have hour-long meetings. Guests told us that they've closed deals here that they didn't have time to close at other festivals."
This year, the festival schedule also includes masterclasses with talent ambassador Nicolas Cage and Actress in Focus Yao Chen. IFFAM's screenings, masterclasses and industry activity are all designed to feed into and enrich the local film industry, which is still in its infancy, but starting to grow. IFFAM has also invited festival chiefs from around the region, including Busan's Jay Jeon, partly to help raise their awareness of the emerging talent in Macao.
Similar to previous years, the festival also promises to provide plenty of red-carpet glamour. In addition to Cage, talent ambassadors include Hong Kong star Aaron Kwok and rising Korean talent Lim Yoon A (also known as Yoona). Actress in Focus Yao Chen is one of China's highest-profile actresses, working across blockbusters such as Journey To The West: The Demons Strike Back and dramas including Chen Kaige's Caught In The Web and Lu Yue's Lost, Found, all three of which will screen at the festival.
"The local audience was really excited about the festival last year and we want to turn it up a notch this year so it becomes a must-do event that also attracts regional critics and journalists," says Goodridge. "We believe we can do that because we've got some really great films."
IFFAM 2018 programming line-up
In addition to IFFAM's international competition and New Chinese Cinema, the festival offers several non-competitive sections, including the genre-focused Flying Daggers, which this year will screen seven titles including BuyBust from the Philippines' Erik Matti and Cannes Critics' Week winner Diamantino.
Galas include UK titles The Favourite and Old Boys, food-themed drama Aruna And Her Palate from Indonesia's Edwin and Kong Ruiliang's Nobody Nose, adapted from three novels written by Macao authors, which has its world premiere. Best of Fest Panorama includes titles such as Roma, The Sisters Brothers, Papi Chulo, U-July 22, Thailand's Manta Ray and Close Enemies from France.
In Directors Choice, six renowned filmmakers select a classic film that has had an impact on them — three from Asia selecting non-Asian films and three non-Asian directors picking Asian titles. This year's line-up includes Mabel Cheung's choice of Lawrence Of Arabia, Ben Wheatley's pick Hard Boiled, and Bandit Queen, selected by Phillip Noyce.
Special Presentations include Mary Queen Of Scots, Suspiria, Ivo M Ferreira's Empire Hotel — which was filmed in Macao — and Indonesian action comedy 212 Warrior.
Headed by IFFAM artistic director Mike Goodridge, the festival's selection team includes global consultants Giovanna Fulvi (Greater China), Violeta Bava (Latin America), Fionnuala Halligan (Europe), Hiromi Aihara (Japan) and Lorna Tee (Korea and Southeast Asia).