Martin McDonagh reteamed with his In Bruges stars Colin Farrell and Brendan Gleeson to make Searchlight Pictures and Film4's The Banshees Of Inisherin. The filmmaker tells Screen what drew him to this tale of platonic male breakup.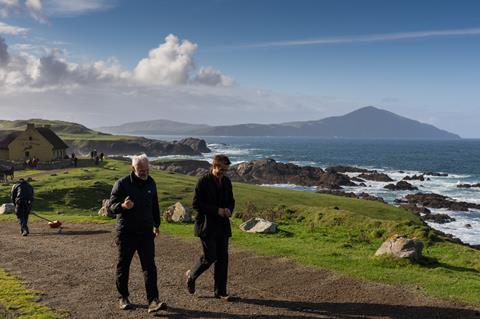 Writer/director Martin McDonagh threw out his first attempt at the script for what became The Banshees Of Inisherin. "It wasn't very good," he recalls. It began with the same conceit: set on a remote island off the west coast of Ireland during the country's 1922-23 civil war, two lifelong friends become bitter enemies after one suddenly ends the relationship. However, the original version "explained way too much", says McDonagh. "There was much more plot, civil war characters came into it from the mainland, and it dissipated the simplicity of the breakup story."
After abandoning the project for three years, McDonagh reread it at the end of 2019 and discovered he liked the first five pages. "Everything else I threw out and rewrote from scratch," he says. "I literally just chucked all the plot out apart from trying to get under the skin of the sadness of these two characters."
Showing two male friends falling out was interesting to McDonagh because it is so rarely portrayed on film. "Most male friendships are seen in buddy comedies or as silly in some way," he says. "It's not usually the primary focus of stories. Making it a platonic male breakup gave it much more sadness and depth than if it had been a romantic breakup. I haven't seen anything similar, thank God."
Convenient timing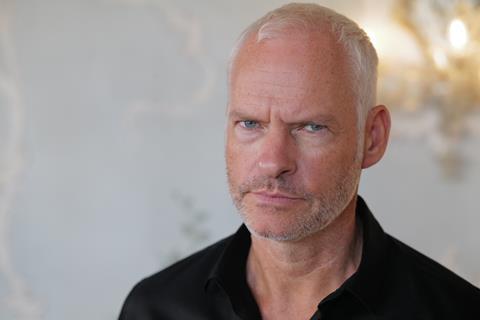 McDonagh completed his new version of the script just a month later and emailed it to his regular producer Graham Broadbent of Blueprint Pictures, as well as Colin Farrell and Brendan Gleeson; they had starred in McDonagh's 2008 debut feature In Bruges and had read the old version. The duo quickly agreed to sign on as the two friends-turned-enemies Padraic and Colm, and with them involved it was an "easy yes" for backers Film4 and Searchlight Pictures, which previously partnered on McDonagh's double Oscar winner Three Billboards Outside Ebbing, Missouri. "It all happened quickly," says McDonagh of the project, which was budgeted at around $18m. "In a matter of weeks, we had it set up to go."
However, this was at the start of 2020 and the production soon ground to a halt for more than a year due to the pandemic. The enforced break allowed McDonagh, production designer Mark Tildesley and director of photography (and regular collaborator) Ben Davis to go to Ireland for a year and work through storyboards, discuss schedules and find the locations.
"It's almost like the ideal way to make a film — plan it all out a year before and then delay it for a year," says McDonagh. "It gives you time to think about it and work out exactly how to run the whole thing."
Shooting eventually kicked off in August 2021, towards the end of tourist season, on location on the islands of Inishmore and Achill, where they were blessed with an unusually dry summer. "It was one of the best I've ever seen on the west coast of Ireland," recalls McDonagh. "It helps give the film its look, all those sunset shots — we lucked out."
Many locals were employed as drivers, extras or to make thatch for the cottages and other key locations. "The islands really welcomed us," says McDonagh. "I think everyone had a great time."
Banshees was informed by films such as Terrence Malick's Days Of Heaven, and westerns including John Ford's The Searchers. The latter's iconic closing shot of John Wayne silhouetted in a doorway with the famous Monument Valley scenery behind him inspired Tildesley to build Padraic and his sister Siobhan's cottage (in Gort Na gCapall on Inishmore) at a specific angle, so that looking through the doorway would give a perfect vista of the island and ocean.
"In Banshees there aren't many big, showy camera moves, like the two-minute unbroken sequence when [Sam Rockwell's character] throws the guy out of the window in Three Billboards," adds McDonagh. "For me, it was just about capturing the simplicity of the performances and the beauty of the islands. Just making sure the truth of the scene, like where Colm says to Padraic, 'I don't want to be friends with you,' is as truthful and sad as possible."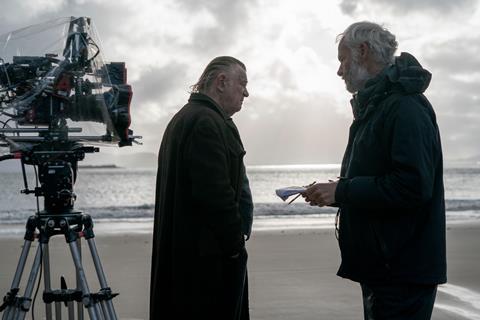 Successful partnership
McDonagh wrote the leads specifically for Gleeson (who also starred in the filmmaker's Oscar-winning 2004 short Six Shooter) and Farrell, as well as the roles of Siobhan for Kerry Condon and local outcast Dominic for Barry Keoghan. McDonagh had no qualms about revisiting such a successful partnership with his leading men but was conscious not to tarnish the goodwill that has grown towards In Bruges over the years.
"It was more not wanting to let down an In Bruges fan, of which I'm one," he says. "Also, artistically you want to take an In Bruges fan on a stranger, sadder journey and hope they are up for the ride." As with In Bruges, the trio spent two weeks in rehearsal dissecting the script. "During that process you're reminded that you're all in it together, you want to do a good job and are all friends. There was something very natural about it from day one."
Setting the film during Ireland's 1922-23 civil war, which was fought between the provisional government of Ireland and the IRA and left lasting scars in the country, was no random choice. The conflict, which takes place entirely off screen in the film and is never explained in detail, mirrors the increasingly violent stand-off between Padraic and Colm.
"It was interesting to have [the civil war] there juxtaposing this smaller war between these two guys," explains McDonagh. "How that smaller war gets worse and worse, and unforgivable things happen that come about from tiny misunderstandings. You don't need to know anything about that particular civil war apart from the knowledge that this is how all wars go — it's when men stop talking to each other and are completely up themselves."
At press time, Banshees had grossed $19.2m in North America and UK-Ireland cinemas via Disney's Searchlight Pictures, with further international territories to follow — a strong result in the current marketplace. McDonagh insisted on a theatrical window for the film. "I wouldn't have made it with Film4 and Searchlight unless they guaranteed that," he says. "We got two months… even two months feels not long enough."
He admits to concerns about the future of his type of films in a theatrical context. "It's a worry but all I can do is keep making good ones and keep insisting on that kind of clause and hope people will hear about it and go to it. We can't all be going to Netflix. It's good to get out of the bloody house. We've all become a nation of fatsoes if we can't even go to the fucking cinema once a week."
Next up for McDonagh is a revival of his play The Pillowman in London's West End in 2023 starring Lily Allen and Steve Pemberton, which has not been seen in the UK for 20 years. He is also working on another feature film project that could shoot in 2024. "I've got a script that's sort of ready to go," he says, "but I want to do a good polish of it before I set that in motion. It won't be a Marvel movie!"