Producer Kevin Walsh tells Jeremy Kay why he was determined to help filmmaker Kenneth Lonergan realise his vision for Manchester By The Sea.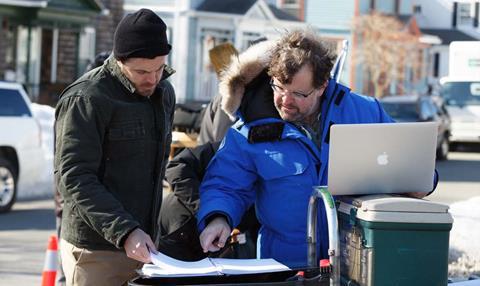 When Kevin Walsh joined Matt Damon as producer on Manchester By The Sea, he was ecstatic to be among such exalted company - and one person in particular.
"I would have killed to work with Kenny Lonergan. Killed," says Walsh, who learned his craft under Scott Rudin and was recently named president of Scott Free Productions.
"I was so moved by [Lonergan's 2000 debut] You Can Count On Me that I gave it to my family to watch."
Manchester By The Sea had been sliding through various iterations for several years by the time Walsh saw the script and flew to New York to meet Lonergan in November 2014.
Matt Damon had initially reached out to Lonergan in 2011 with a story idea from his friend, actor John Krasinski.
Damon had starred in Lonergan's 2009 second film Margaret, and watched how the ensuing battle with financier Gary Gilbert for ownership of that ill-fated project had left Lonergan in a legal and emotional funk.
Lonergan was persuaded by Damon to write the script about a traumatised Boston-area janitor called back to his homestead to assume guardianship of his recently deceased brother's teenage son.
Lonergan took a while to write the script. "It just took me a little time to get a bead on the material," he says, adding it typically takes him two years to finish a screenplay.
Coming together
At first, Damon wanted to make Manchester By The Sea his directorial debut and have Krasinski star, but the A-lister had to scale back to a producer role due to his acting commitments.
Eventually, the writer/director role landed in Lonergan's lap, and he and Damon agreed that only their old friend Casey Affleck had the chops to play the lead.
At the time, Affleck was developing a directing project with Walsh. Affleck suggested Walsh meet Damon and his Good Will Hunting producer Chris Moore to help them find financing; the controversy surrounding Margaret made this a potentially difficult process.
By 2014, however, things were looking up. After Fox released a version of Margaret in 2011, which many critics dubbed a masterpiece, Lonergan and Gilbert settled their differences out of court.
Walsh brought on Kimberly Steward of fledgling producer/financier K Period Media, a largely untested capital source that agreed to fully finance the $8.5m production on condition that Damon had final cut. The arrangement secured funding and illustrated the influence of Damon, who ultimately knew the film was safe in Lonergan's hands.
"Matt weighed in and we got Kimberly in a room with me and Matt and Kimberly's two partners Lauren [Beck] and Josh [Godfrey] to talk about the movie," says Walsh.
Steward, daughter of David L Steward, billionaire founder of systems integration specialist WorldWide Technology, had not made a narrative film before. Walsh educated her on the intricacies of independent production.
"It was a trial by fire for her but her character didn't waver once, and she was put through the wringer [on Manchester]," he says.
"She was spending a lot of money and it was a complex shoot. We were burning down a house, an extraordinary accomplishment for a movie of our size. For her to do that and hold her composure and cool was a real testament to her character. It was an education and Matt was a huge force to be able to say to Kim, 'Hold your ground, we're going to deliver something good here.' And Kenny did."
"It was about supporting filmmakers we love," says Steward. "We see many wonderful films that don't go through the studio model. The [Manchester By The Sea] script was everything I wanted it to be, and then some. It was so funny and such a human story that I thought would resonate with everyone."
When Walsh flew to New York to sit down with Lonergan in late 2014, they discussed at length what went wrong on Margaret.
"He was told he'd get protection, but he didn't," says Walsh. "So we made a pact. I said to him that whatever I told him in this process I would do, I would do. If I couldn't do it, I would tell him I couldn't do it. For me, the challenges he had on [Margaret] were about communication.
"My job is to protect the filmmaker," Walsh continues.
"I can challenge the filmmaker and give him notes, but ultimately my job is to let that filmmaker make the decision. That's how I make movies and how I was trained, and that's what Scott [Rudin] does. We're the last line of defence for the filmmaker."
With financier, producers, writer/director and cast all set, Manchester By The Sea shot from April to May 2015 in and around the North Shore area of Boston in Cape End, where the story is set, and Gloucester, where Wolfgang Petersen had filmed The Perfect Storm.
To add to the fun, the area had just been battered by the worst winter storm in history, which had dumped more than seven feet of snow.
"It didn't cause any delays, miraculously," says Walsh.
"It began to melt as we started the shoot. So we had this blizzard that made prep brutal, but when we started shooting and needed snow, we were chasing it."
Up all night
One of the biggest challenges was time.
"We were trying to pack a ton of shit into a tight schedule," says Walsh.
"But, ultimately, we protected Kenny so he had enough time to create these amazing performances and let these actors do their job, and let the script be what it was.
"He had to cut pages. I locked myself in the production offices overnight one night. He would finish 10 or 20 pages, I'd walk down the hall and get them from him and go back and read them, then he'd do 20 more and I'd go back and read them. We were up all night to make sure we could get the movie into shape."
The aforementioned, extraordinary, burning house sequence would not have worked so well were it not for production designer Ruth De Jong, Walsh's friend, who had trained under the great Jack Fisk. Fire codes meant they had to build the entire structure, and not rely on effects.
"You had the front facade and fire doors all the way through it and they built pockets of the roof where the fire would burn quicker than others," says Walsh.
"We had a ton of fire department people on hand and they had control over the fire. They would put the gas lines up and set it ablaze and then turn it down and douse it out. They would do this a couple more times - we could bring it up and down three times and on the fourth time you had to light it up and set it ablaze for good. The result looks extraordinary. We had multiple cameras on the night but Kenny and our DP wanted to shoot it as a [one-shot], and they did."
That scene and many other passages in Manchester By The Sea were anchored to the characters brought to life by Lonergan, and it is an experience Walsh will not forget.
Amazon Studios were hooked from the moment they saw the world premiere at Sundance in 2016, and pounced on a $10m deal for US rights.
Partnering with theatrical distributor Roadside Attractions, the film earned Affleck a best actor Golden Globe in early January and it has been nominated in six Oscar categories: best picture, director, screenplay, actor (Affleck), supporting actor (Lucas Hedges) and supporting actress (Michelle Williams).
North American box office stood at $39m as of January 23, and Sony and Universal hold the bulk of international rights following a deal with sales agent Sierra/Affinity.
Studiocanal released in the UK on January 13, taking more than $2m to date.
"[Amazon Studios] has a long-term plan and wants to make a big splash in movies," says Walsh. "[Jeff] Bezos said it was a priority; they want to fund quality and match their membership with movies that are intelligent, smart and high quality. It felt like a good match."
Walsh could not be more pleased with how the film turned out.
"It's the most authentic depiction of grief and loss since Ordinary People. It's hard to hit that note and not be melodramatic or handle the audience with kid gloves, but Kenny has the ability to reveal true life. That's why people relate to it so much."