With Marco Müller as festival director, the inaugural International Film Festival & Awards Macao (Dec 8-13) intends to make a big splash.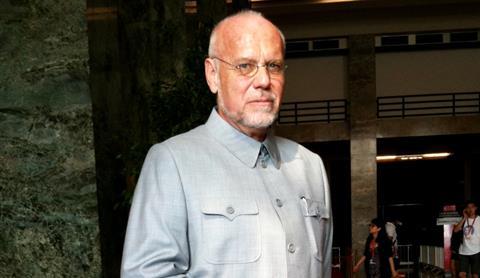 The inaugural edition of the International Film Festival & Awards Macao (IFFAM) can take advantage of Macao's singular position in the world: this autonomous territory sits on the western side of the Pearl River Delta in China; it is also just 64km from Hong Kong. So a film event in Macao can offer unique insight into the Chinese audience and market without having the restrictions that come with actually being in China.
It is no accident the festival will last six days (December 8-13). Organisers are taking advantage of the fact every Chinese citizen can visit Macao for up to seven days per year. So Macao's tourist organisations and famed hotels are offering packages that can include film festival accreditation.
"At least half of our audience is the mainland China audience," says veteran festival head Marco Müller, who serves as Macao's festival director. "We want to strike a balance with the mainland China audiences and the Macao audience. And Hong Kong is only a 55-minute ferry away so we expect some audience from there, too."
Film-makers and industry will get to see how their films play to a mainland Chinese audience, and there will also be key Chinese-language media in Macao.
"You create top visibility for the kind of singular films that have a chance in the greater Chinese market," says Müller, who has been one of the festival circuit's greatest champions of Asian cinema for decades during his years at Venice, Locarno, Rome, Rotterdam and, in 2015, as an advisor to Beijing International Film Festival.
Crossing cultures
But Macao is not only looking towards China. The festival aims to be a gateway to east Asian cinema while also connecting film culture globally.
One unique selling point to the film programme is the Crossfire strand, which will screen 12 non-east Asian, non-US genre films selected by a dozen major east Asian film-makers.
For instance, South Korea's Park Chan-wook selected Nicolas Roeg's 1973 classic Don't Look Now; Japan's Sion Sono picked Terence Fisher's 1958 Dracula; and Hong Kong's Johnnie To chose Sergio Leone's The Good, The Bad And The Ugly (1966).
"I wanted to make the point that genre cinema is not just east Asian genre cinema or American genre cinema," Müller explains. "By talking over the years to film-makers, I did remember that there were films that stayed as a reference for them." For the 2017 festival, Western film-makers will pick east Asian films that have inspired them.
IFFAM is organised by Macao Government Tourism Office (MGTO) and the two-year-old non-profit Macau Film & Television Productions and Culture Association (MFTPA), with government support and sponsors including Macao's notable casino companies such as Galaxy Entertainment Group, Sands China Limited, Wynn Macau Limited, MGM and luxury hotel The 13.
Müller's decades-long connections are serving the festival well. For this inaugural year, IFFAM has recruited an impressive group of advisers: Chinese producer/director Huang Jianxin, South Korean producer Oh Jung-wan, Olivier Pere from Arte France Cinema, US producer/director/screenwriter James Schamus, Hong Kong producer Nansun Shi, Portuguese producer and programmer Luis Urbano and former Fortissimo chairman Michael J Werner.
Müller also tapped into his frequent collaborators for the programming team: Lorna Tee as head of festival management, plus Deepti D'Cunha, Shan Dongbing, Marie-Pierre Duhamel, Sandra Hebron, Diego Lerer, Tomita Mikiko and Alena Shumakova. Industry veteran June Wu is spearheading the Industry Hub (December 9-11) and will host forums, project meetings and networking events.
Competition titles were still under wraps as of press time, but the judges confirmed include Shekhar Kapur (Bandit Queen, Elizabeth) who will serve as jury president in the inaugural year. Müller says Kapur is the perfect kind of film-maker to represent the crossover that Macao is hoping to inspire. "Shekhar Kapur has the combination of the two worlds," he explains. "He's an Indian director and a Hollywood director and he's shooting a big UK TV series [Will] in the UK."
The other strands of the programme will be out-of-competition titles and galas; Hidden Dragons (contemporary Asian genre cinema); and Best of Fest Panorama (hits from major international festivals). The Macao local audience usually goes for starry blockbusters, but Müller and his team hope to also develop more cinephile xperimentation especially among university students. Says Müller: "We are really gambling on that kind of audience."