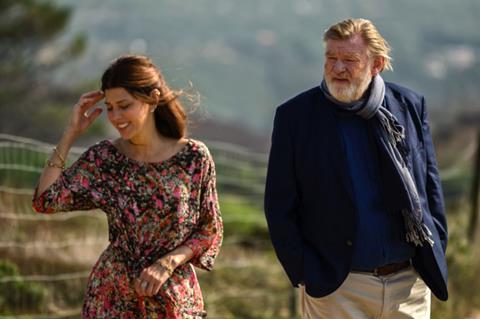 Two boiled eggs brought Marisa Tomei and Isabelle Huppert together. The two were in Portugal last summer filming Ira Sachs' Competition comedy drama Frankie as part of an ensemble cast that also includes Greg Kinnear, Brendan Gleeson and Jeremy Renier. Tomei, a Sachs regular, and Huppert, a newcomer to the troupe, were on a roadside between set-ups. It was about 11am
"She pulled out her little boiled egg from her cooler and I pulled out mine!" Tomei laughs. "We looked at each other and we were like, 'We both have our eggs right now'. You've been around, you know you need an egg. You know you've got to pack it yourself and have it near you."
Frankie is about three generations brought together by the family matriarch, played by Huppert, who is terminally ill. Tomei plays her friend, Irene.
It was Huppert's first time working with Sachs but Tomei's third following Love Is Strange and Little Men (in which she had small role Sachs ultimately cut). Kinnear is also a Sachs regular and Tomei enjoys working with people with whom she has easy familiarity.
"We have a shorthand, we have a lot of laughs. I understand, I hope, what Ira is looking for," she says. "And we inspire each other." Ever since making Love Is Strange with Sachs, Tomei knew his films were the ones she wanted to be in and he did not have to pitch her the role in Frankie.
"We're friends outside of our creative life and he mentioned it to me. He wrote me a lovely, loving note about the character and where he sees her going and invited me to come along. And it was into his care that I fell.
"He has a very strong idea about the character and about the performance and how he wants it to play," she explains. "He's very careful to have, quote unquote, no acting going on. He has a keen eye to keep it very real, to keep it very subtle. It's less about character history and more about he envisions it. He doesn't like to talk about it too much. He likes it to marinade. He likes there to be mystery and for things to not be over articulated."
After a quiet period Tomei is now enjoying what she describes as a welcome flurry of activity. She cannot be in Cannes as she is starring as Edith Bunker opposite Woody Harrelson as Archie Bunker in a one-off live recording of All In The Family on ABC this week and later this summer she is starring in The Rose Tattoo on Broadway and then in an untitled comedy with Saturday Night Live's Pete Davidson to be directed by Judd Apatow.
"I'd love to work in Europe more," she says of her amibitions for the future. " I'd love to work with Ira more.I have an area of interest in the women's movement. I also have a desire to play a deeply spiritual person, a nun or a mystic, something like that. I'd love to play stage actress Eleanor Duse, who was a contemporary of Sarah Bernhardt. She was known for her uber-naturalistic approach. Actually, she was considered a bit of mystic."
Tomei is disappointed to not be in Cannes with Frankie and to not be at the festival to meet directors such as Luca Guadagnino with whom she would love to work. "There are just some people, like Luca, that I am just dying to work with," she says. "There is a certain yearning and wanting on my part."
She reflects back on the idyllic summer shooting Frankie in Portugal. "It was heavenly. I could have a pastis de nata every day of my laugh. The pastries, the landscape, the crew were wonderful."