Actor Michael Shannon reveals to Jeremy Kay how he embraced the grotesque nature of detective Bobby Andes to create a gripping performance in Tom Ford's Nocturnal Animals.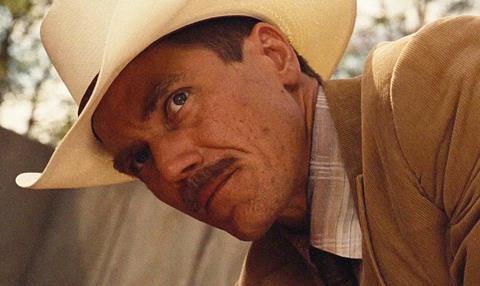 It is hard to know where you are at times in Nocturnal Animals, which may be what makes Michael Shannon's Bobby Andes such a confounding source of comfort as well as one hell of a guilty pleasure. As the detective who helps Jake Gyllenhaal's timid family man Tony Hastings seek retribution when west Texas rednecks terrorise his family, Andes lurches out of Tom Ford's swamp of a narrative with a steel-reinforced moral code that you hate to love.
Ford produced the film with Robert Salerno, and Focus Features landed the project in a headline-grabbing $20m worldwide-rights deal at Cannes in 2015. Following its world premiere at Venice, Nocturnal Animals opened in the UK on November 4, taking $2.3m in its first 10 days, and a limited US release is scheduled from November 18 before going wide on December 9.
Even by Shannon's standards - the Kentucky-born actor's roles blend high intensity with an unshakeable sense of resolve - detective Bobby Andes is one of the most eye-opening roles of his career.
"Initially I was a little reluctant," Shannon says of the occasion when Ford approached him. "It's a dark story and there's a lot of brutality in it, but I really liked the character of Bobby Andes and saw him as a very grotesque kind of angel in the whole story, almost like the character in It's A Wonderful Life.
"I have two children and was fascinated by the exploration of what a father does in such a situation. You like to think you'd be able to protect your family, but what if you weren't able to? It's frightening, but I thought it was worthwhile."
It could be argued that as Andes grows more frightening he becomes more believable, despite inhabiting a story within a story. Besides Tony, Gyllenhaal also plays Edward Sheffield, a novelist who sends his revenge thriller manuscript to his ex-wife Susan Morrow, played by Amy Adams.
"Bobby as much as anything is a representation of a part of [Edward's] psyche - all the characters in the book are," says Shannon. "The reason people kind of like Bobby is he might represent an aspect we all wish we had, ultimately - an aspect that will stand up and protect anyone and doesn't get afraid or run away."
Shannon admits he was not sure where the character would take him when he turned up for the autumn 2015 shoot in the Californian desert and Los Angeles environs. "What people seem to see in Bobby, what attracts them to Bobby, is his will," he says. "There's so much in his way, so many obstacles. He's basically dying and yet he'll not give up until he feels there's been some justice for Jake's character. In a way, it's his one last crusade."
Open to interpretation
Shannon does not see Andes' ailing health as a device designed to curry favour with audiences. "It's not a popularity contest. People will have to judge for themselves what kind of people they like. There are lots of people I don't like, but it's not as if I expect them to go away."
The actor barely improvised on set because of the solid job Ford did adapting Austin Wright's source novel Tony & Susan. "I may have thrown in a little thing here or there, but I'm pretty fastidious about sticking to the script if I like it and this was very well written," he says.
"Tom would say the most interesting thing you'd see on a person's face is when they're not trying to do anything and they think they're off the clock, so to speak, so he tried to capture that sometimes."
Working with the fashion designer and sophomore director was a treat, Shannon says. "He's had so much experience in this other realm and he's so experienced at dealing with people and running things. That carries over nicely into film. I was surprised. I was expecting someone who would be a perfectionist, but I was surprised by what a sweet person he was."
Another pleasure was to finally work alongside Gyllenhaal, with whom Shannon had gone through the Sundance Filmmakers Lab years before. "It's kind of the fruition of a long-seated desire to work together," he says.
Shannon can also be seen this awards season as Life magazine photographer Grey Villet in Jeff Nichols' Loving, and the friends were recently in Toronto plotting their next move. "Loving was a chamber piece compared to Midnight Special," says Shannon, "but I think he wants to go back and see if he can make something even more spectacular."