The director of programming talks censorship, diaspora and non-Bollywood cinema ahead of the 15th annual event that runs in Downtown Los Angeles from April 5-9.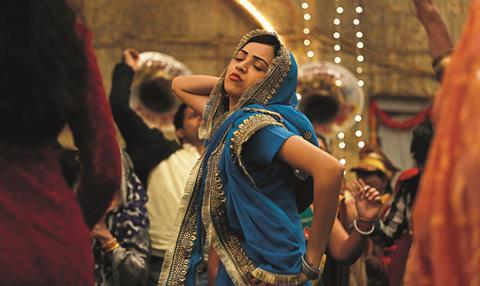 Alankrita Shrivastava's controversial Lipstick Under My Burkha [pictured] and Shubhashish Bhutiani's Hotel Salvation bookend the festival.
Other highlights include a tribute to musician Zakir Hussain, and a director round table. Click here for further details.
What is the festival about and what kind of films do you select?
Our festival is the premiere festival in the United States for Indian cinema with highlights from the year past. We also like to find discoveries. Indian cinema is by and large looked at as Bollywood, but in recent years there's been a new wave of Indian cinema, which is what we have come to focus on.

It's not dissimilar to what's going on in the US, where big directors want to tackle more challenging subject matter. It's starting to make waves on the festival circuit. The filmmaking system in India is such that films are made in more than 40 languages and dialects, so we try to highlight the major successes of the year and give on a good view of what's around [the sub-continent].
So you're championing Indian independents?
The major Bollywood films have their conduit into US theatres [and these are] the films the diaspora audiences are going to see, but it's hard for the independent features to get distribution. Netflix has been giving these films releases, but it's hard for them to get theatrical releases and distributors tend to overlook Indian films because there this sense what Bollywood equals India.There are occasional breakouts like The Lunchbox that was picked up by Sony Classics. It's still an uphill struggle though.
Tell us about the range on offer
We have six features by female directors, three shorts and 12 languages represented across the programme. We have films that were in Cannes and Toronto. Sanal Kumar Sasidharan's Sexy Durga just won the Tiger Award in Rotterdam and will come to us for the Los Angeles premiere.
It seems from looking at the selection that Indian filmmakers are not afraid of courting controversy and tackling tough subjects
The opening night gala is Lipstick Under My Burka. It's directed by Alankrita Shrivastava and is serious and lively and irreverent. [It's about] four women struggling to express themselves as sexual beings. Very bold filmmaking for any filmmaker and it's been in the news because it's been winning awards around the world.

It's been in a battle with India's censors, which has denied it a certificate – it's like the MPAA giving an NC17, so it cannot play in any theatre in India. The reasoning is it's too lady-oriented. It's a kind of ridiculous reasoning and it's getting this groundswell of support. Filmmakers in India want to tell more challenging stories and every year there seems to be a battle with the censors in India. We hosted the world premiere of Shlok Sharma's Haraamkhor in 2015, which had a lot of trouble with the censors.
You have some powerhouse documentaries this year
It's a great year for lovers of non-fiction to come to IFFLA. We have three great documentaries. An Insignificant Manpremiered in Toronto last year and is one of the best political documentaries I have ever seen. Machines played in Sundance where it won the World Cinema Cinematography Award [for Rodrigo Trejo Villanueva] and The Cinema Travellers played in Cannes.
Tell us about some of the special events
We're bringing back the filmmakers round table. This year we have 10 directors confirmed to talk about issues affecting filmmaking in India and we have a mixture of veterans and emerging filmmakers, so it will offer an interesting perspective. We have Zakir Hussain, a famous musician out of Indian, who is coming on a US tour in April. The special event will look at his career and there's a short film about him.
And the shorts?
We have world-class shorts in out programme and it's a shame if people don't give them a shot. We have Aaba (Grandfather), which just won a shorts programme in Berlin, and Disco Obu, which just won at Clermont-Ferrand. Infiltrator by Gurvinder Singh, the director of The Fourth Direction, which premiered in Un Certain Regard in 2015. We have LGBT-themed Devi (Goddess), which stars Patel's birthmother in Lion. It's very high-quality filmmaking from people who will probably be coming back to the festival as feature directors in the coming years."
Where does your audience come from?
We've got people coming from Orange County and the Valley. Our core audience is South Asian and Indian diaspora, but we have broadened the audience into film-lovers who want to see films from the sub-continent they may not be able to see elsewhere. Every year we expand our audience.