It has taken Hollywood a while to catch up with some parts of the world, but the demarcation between the US film and television industries is becoming ever more faint.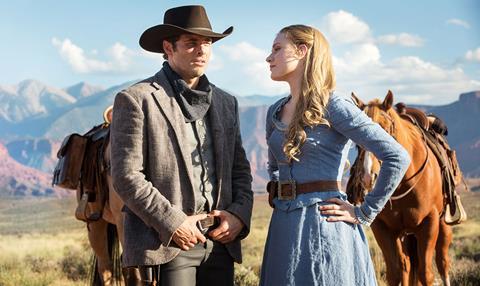 With US demand for scripted drama series at an all-time high due to competition between premium cable outlets, basic cable and broadcast channels and SVoD players, US TV producers and networks are increasingly looking to the film world for material - with mixed results. And with sophisticated adult drama migrating from the big screen to the small, film actors, directors and producers are following in growing numbers.
Features that have already morphed into hit series include Friday Night Lights, Fargo, School Of Rock, 12 Monkeys and Animal Kingdom (among the misses have been TV takes on Limitless, Minority Report, Uncle Buck, Friday The 13th and Rush Hour). Those film creatives making successful transitions have included David Fincher, executive producer of the US version of House Of Cards; Guillermo del Toro, co-creator and executive producer of The Strain; and Susanne Bier, Emmy-winning director of The Night Manager. Film names that have had a tougher time include Martin Scorsese, co-creator of high-profile TV flop Vinyl.
For film-makers, the US industry's increasing adoption of the limited series format that has been commonplace in Europe for years (as opposed to the US's traditional 22-episode run) has made TV a more attractive proposition. "That format has become really appealing to high-end talent because it's inherently cinematic," says Chris Rice, a partner at US agency WME who oversees international TV (WME packaged and sold The Night Manager). "Combine that with bigger budgets, which allow premium film talent to work at a quality level they might previously have found in film, and it creates really fertile ground."
Fresh ingredients
For TV producers and networks, using a theatrical feature as the basis for a series can create built-in awareness and a valuable marketing hook, and provide a stockpile of character and narrative material. But it also creates expectations, in audiences and critics. "If something exists in people's minds already, you've made it that much easier to break through," says Sarah Aubrey, EVP of original programming at TNT, US home to the series version of Australian feature Animal Kingdom, which was recently renewed for a second season. "But you have to be incredibly respectful of people's passion for the previous incarnation, and that can be a little treacherous to navigate."
The key, argues Aubrey - who, as a producer, worked on both the film and TV versions of Friday Night Lights - is to add something fresh to the foundations already laid by the original feature. "I'm not very interested in literal adaptations," she says, "especially of excellent original product. It's always about what we are bringing that's new, that's going to make it worthwhile to show to an audience again."
The latest crop of crossover series - most of them being touted to international buyers at this month's Mipcom market in Cannes - suggests some of the ways in which crossovers can be enticing but also challenging. Among series making their debuts as part of the US broadcast networks' 2016-17 line-ups are small-screen spins on Taken, The Exorcist, Training Day, Frequency and Lethal Weapon, as well as Designated Survivor, an original political thriller executive-produced by Mark Gordon (of Saving Private Ryan and Criminal Minds fame) and starring Kiefer Sutherland.
Lethal Weapon, posits executive producer Dan Lin (also an executive producer of Frequency and known in the film world as producer on the Sherlock Holmes and Lego Movie franchises), could benefit from both its connection to and separation from the four-film series (1987-98) starring Mel Gibson and Danny Glover. "We felt enough time had passed since the movies," says Lin. "There's a generation of people who think fondly of the movies, but there's also a generation of younger people who don't even know them, so we can use that as a launching point."
Designated Survivor, says John Morayniss, CEO of eOne Television, worldwide distributor of the series - and part owner of The Mark Gordon Company - illustrates how, in theory at least, an independent can benefit from investing in premium content. "If you have the infrastructure and the ability to spend a lot of money in development," Morayniss points out, "you can start getting scripts written and bringing in A-level stars and directors, so you're delivering something fully fleshed out to a buyer. And it's a more compelling value proposition to buyers around the world, so it's easier to pre-sell too."
New projects from US cable and streaming networks include The Get Down, co-created by Baz Luhrmann for Netflix; Venice world premiere The Young Pope (another WME IMG sales project), with Jude Law starring for director Paolo Sorrentino; and Westworld, HBO's high-profile spin-off from writer-director Michael Crichton's 1973 sci-fi thriller feature. According to HBO president of programming Casey Bloys, Westworld makes use of the artificial intelligence theme of the feature rather than its specific storyline. When production on the series was temporarily suspended late last year, it was because creators Jonathan Nolan (writer, with his brother Christopher, of The Dark Knight and Interstellar) and Lisa Joy "needed time to sit and think, not just about the scripts at hand but going forward how it was all going to work. The world and the themes were bigger than they had originally anticipated."
Ongoing trend
Whether this season's new series hit big or fail to live up to their theatrical precedents, the crossover trend does not look like abating. Already ordered by US networks are TV takes on Dear White People, She's Gotta Have It (both for Netflix), Tom Clancy's Jack Ryan (for Amazon, based on the same character as The Hunt For Red October and its follow-up features) and Shooter (being adapted from the 2007 feature for USA Network). In development or at pilot stage, meanwhile, are series versions of The Departed (for Amazon), Let The Right One In (a TNT pilot), From Paris With Love and These Final Hours (both from Taken producer EuropaCorp Television US).
Production companies with a foot in both the theatrical and TV worlds are paying particular attention to Lionsgate's reported plan to make Ascendant, the fourth instalment of its Divergent film franchise, as a TV movie with a spin-off series to follow, a decision implemented when the third instalment, Allegiant, stumbled at the box office. It is a plan that intrigues Michael Connolly, head of television at Vertigo Entertainment, one of the producers of both the film and series versions of The Departed, whose slate also includes The Grudge feature series and, in development, a feature version of the multiverse videogame Minecraft.
"A lot of our thinking, because we've had such success on the film side, is can we play in the same sandbox at the same time?" says Connolly. "Can we have a movie and a TV series coming out about the same thing at the same time? I think there are certain properties that would allow you to do that."
The Switch
How EuropaCorp steered Taken from film franchise to TV series…
If fans of the Taken films were wondering exactly how central character Bryan Mills got his "very particular set of skills", they may find out in a few months' time when the franchise's spin-off TV series debuts. The small-screen version, says Matthew Gross, president of EuropaCorp Television US and an executive producer of the series, is a "contemporary prequel" that "really leans into the character and shows how Bryan Mills became Bryan Mills".
Adapting the Taken franchise - whose three big-screen action thrillers racked up worldwide grosses of $226.8m, $376.1m and $326.5m respectively in 2009, 2012 and 2015, with the third taking 73% of its total from the international market - was at the top of Gross's to-do list when he became head of EuropaCorp's new US TV operation in mid-2014. Luc Besson, founder of the French studio and writer-producer of the Taken movies, "felt he had written all the stories he wanted to do with the franchise at the time," Gross recalls. "I told him the first thing I would embark on would be to adapt the franchise for TV. And I felt the best way to adapt it was to make it modern-day but still back the character into his thirties."
UK writer Alexander Cary, an Emmy winner for his work on Homeland, was recruited to write the series as the origin story of a younger Mills, a former Green Beret trying to deal with a personal tragedy and being pulled into a career as a deadly CIA operative (Cary also executive-produces along with Besson, Gross, Edouard de Vésinne, Thomas Anargyros and director Alex Graves). Taking on the central role played on the big screen by Liam Neeson - who was 56 when the first film came out - is 35-year-old UK actor Clive Standen, best known for TV hit Vikings (and born, like Neeson, in Northern Ireland). Though a younger central character will undoubtedly help attract the younger audience TV advertisers covet, the change "wasn't about youth at all", Gross insists. "It all came from a place of character."
Bringing the franchise to the table may have helped EuropaCorp Television US, which finances its own development and production, negotiate a better deal than most independents producing for US networks. EuropaCorp is lead studio on the series in a 50/50 co-production with Universal Television, and is distributing the series in France and the US, with NBCUniversal Television Distribution handling other international sales. NBC gave Taken a straight-to-series order as a February mid-season entry in its 2016-17 line-up, and has assigned the series a prime 10pm Monday night slot.
Power Moves
Big-screen players in the small-screen world
Jerry Bruckheimer
1980s box-office hot-shot Bruckheimer executive-produced long-running procedural CSI: Crime Scene Investigation and reality show The Amazing Race in the early 2000s. He will soon be back with the series version of Antoine Fuqua's 2001 corrupt-cop thriller Training Day (Bruckheimer was not involved with the feature).
Steven Soderbergh
Soderbergh first dipped his toe in TV in 2003, directing and executive-producing political satire K Street. More recently, he served as executive producer on The Girlfriend Experience (based on his own 2009 feature) and The Knick, which he directed. He is also an executive producer on upcoming western series Godless for Netflix.
Martin Scorsese
Confirmed cineaste Scorsese embraced the TV medium as executive producer (and debut episode director) of HBO's gangster drama Boardwalk Empire. His most recent TV show, 1970s music business drama Vinyl, was cancelled this summer after a 10-episode first season that cost a reported $100m to produce.
Lee Daniels
Daniels (Precious, The Butler) exploded onto the TV scene last year as co-creator - with Danny Strong - and occasional director of hip-hop drama Empire. The multi-hyphenate's new series, Star, about an ambitious
female singing group, is set to make its broadcast debut early next year.
Woody Allen
Though he started out in the 1950s as a writer on TV landmark The Sid Caesar Show, Allen has always seemed like a theatrical die-hard. But Amazon, said Allen at a recent press launch, "made me an offer I couldn't refuse", and the resulting comedy series, Crisis In Six Scenes, has just debuted on the streaming service.