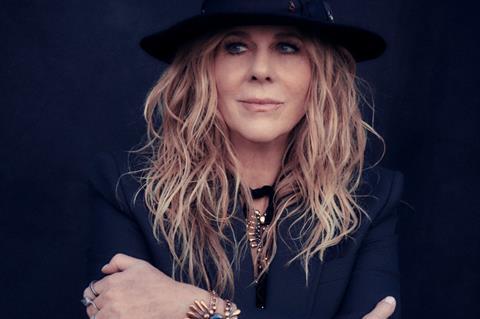 Actor, producer and singer Rita Wilson was inspired to produce A Man Called Otto, which stars her husband Tom Hanks as a curmudgeon whose life is changed when a young family moves in next door, after she watched the original Swedish hit A Man Called Ove five years ago.
The comedy drama has just been released in the US via Columbia Pictures and features the Oscar-shortlisted original song 'Til You're Home', which Wilson co-wrote with former Evanescence band member David Hodges and performs alongside Latin pop star Sebastian Yatra.
Wilson's acting credits include Sleepless In Seattle, Runaway Bride and the upcoming Asteroid City for Wes Anderson, and she has produced My Big Fat Greek Wedding and the sequel and served as executive producer on Mamma Mia! Her fifth album, Rita Wilson Now & Forever: Duets, came out last year.
What is your home office like?
Half of it is very neat, and half of it…the word piles is coming to mind. Piles of books, correspondence, to-do lists, creative notebooks, a bulletin board. I do watercolour painting as a hobby – it's how I relax – so I have some watercolours up there of paintings that give me a sense of calm. Lots of photographs, family pictures, and lots of music books.
What is your morning routine?
Before I get out of bed I say my prayers of gratitude. If I remember I will do my stretches. I always have a decaf cappuccino, because I don't drink caffeine. I read the paper and I do the crossword.
What was your first job in the film industry?
It was getting cast to play a cheerleader in The Brady Bunch and that's how I got my Screen Actors Guild card.
What was your favourite film growing up?
My head exploded with Mary Poppins. I thought that was one of the most joyful, incredible movies – the colours, Julie Andrews, Dick Van Dyck, those kids. That was just fantastic. Later as a young woman I have to say The Way We Were.
What mentors have you had throughout your career?
In film, Nora Ephron. Nora came along and just was able to match up what she believed that I could do as an actor with the material that she created. She gave me a role in Sleepless In Seattle, she cast me in Mixed Nuts, and she cast me in a play she wrote, Love, Loss And What I Wore. She was also the first person that told me I could write. In music it's Kara DioGuardi, the songwriter and American Idol judge, who helped me write my first songs and that opened up the door to songwriting about 10, 11 years ago.
What is the biggest challenge facing the film industry today?
I know people say that streaming is going to be the way of the future and people won't go to theatres, but I don't believe that because I believe that people want communal experiences. I don't want to see a scary movie by myself at home on TV; I want to go to the theatre and see that and the same thing goes for a love story or anything that's powerful. I want to be able to share it so that we're all experiencing the same thing at the same time. It's the reason we go to concerts, right? So the challenge facing the film industry today is… we just need more good stories.
What is the biggest professional mistake you have learned from?
Not having the awareness or the ability to say no to things so that I could define who I was as an artist more clearly at a younger age.
What is your favourite film festival?
Hands down the Venice Film Festival. It's like Disneyland for grown-ups: there's gondolas, canals and little bridges and perfect little restaurants and the best food. It's perfect.
What's the one TV show people should watch?
The Crown. It's beautifully written, beautifully acted, beautifully shot.
What would you do if you didn't work in the film and music industries?
If film was never an option I probably either would have become a professional athlete – I still ski, play tennis – or an FBI agent.
What book are you reading?
This is going to sound so stupid but I am reading the book that Tom has coming out in the spring [novel, The Making Of Another Major Motion Picture Masterpiece] because I have to record the audiobook. We just got early copies from the publishers, so very excited to be reading that. It sounds too inside baseball but that's the truth.
With whom would you most like to take a meeting?
I really like [Alejandro G.] Ińárritu. I would love it if he called and said, "I have something for you to do." I'd be like, "Just sign me up." [Last year] I had two experiences working with people that were just absolutely incredible and they were Steven Soderbergh on Kimi and Wes Anderson on Asteroid City.
Is there a story behind the song 'Til You're Home'?
David [Hodges] and I started talking about how when someone is gone, maybe they're out of the room, maybe they're down the street, maybe they're coming home for dinner, maybe you'll never see them again. It's those conversations that go on in your head, and that even continue after somebody [dies]. When my dad died, Mike Nichols, who's a friend of our family, said, 'You know, the conversation continues.' At first I didn't understand what that meant and as time passed I realised, 'Oh, I'm talking to my dad,' and then my mom died and I'm talking to her, I'm hearing them back. We were trying to incorporate that with the idea of how you can't wait until someone gets home so you can tell them what happened in your day. When it's somebody you really love and somebody you're really close to you tell them the truth of your day. You don't have that impulse to make things up or be charming.
What are you working on now?
I have a wonderful project based on Ruth Handler's autobiography called Dream Dolls. She's the creator of the Barbie doll and she's an incredible woman. I have another one that hasn't been announced yet.
Who would star in the movie of your life and who would direct it?
You can't ask a question like that! I can't answer that question! [Laughs.] That's crazy. I'll tell you who I'd want to direct it and that would be Nora Ephron but she's not with us anymore. I would want her to write it and direct it. She would get it.