The literary agent at the UK's Curtis Brown talks about finding new clients during lockdown, learning the importance of a good script and why he looks like Jeff Goldblum and not Riz Ahmed.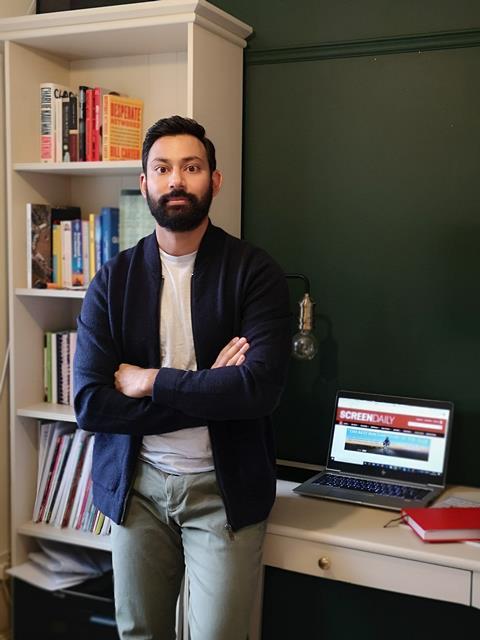 Nish Panchal has carved a name for himself on London's agency scene with a client list of emerging UK writers and directors. They include Been So Long's Tinge Krishnan, who directed several episodes of HBO's Industry and is now making her next feature for Net­flix; Nottingham-based video-games writer Rob Yescombe, whose debut feature Outside The Wire starring Anthony Mackie was produced by 42 for Netflix; Anya Reiss, the lead writer on Starz's upcoming Becoming Elizabeth; and Hans Herbots, who recently shot four episodes of The Serpent in Thailand for the BBC and Netflix.
How has your working life adapted to the challenges of the pandemic?
I have spent a lot more time on work. The things I do for fun, like reading and exercising, have become deprioritised. I have taken on four new clients in lockdown. They are all writers who have had a little bit of work made or have written scripts. I have time to spend a couple of hours talking with them and really giving in-depth notes.
What is the first thing you do when you sit down at your desk each day?
Make sure I have a lot of black coffee.
Do you have any rituals to signal the beginning and end of each working day?
I work out in the morning at home. At the end of the day, I have to be really disciplined and so I cook. You can't check your phone or email when you're doing that.
What do you miss most about the Curtis Brown office?
It's a thriving, buzzy office, two floors packed wall-to-wall with agents and assistants. I miss my colleagues, catching up, getting advice from someone, working through something that's an issue and workshopping with the team. I also miss the collective experience of going out as a group to see a play or a film and then discussing it over wine.
What was your first job in the film industry?
I did a month-long work experience at BBC Films [now BBC Film], getting the train to London from my home in Luton. I ended up becoming assistant to [then production and development executives] Joe Oppenheimer and Jamie Laurenson. They taught me the importance of a good script and gave me full access to the writing process with incredible writers like Julian Fellowes, Peter Morgan and Simon Beaufoy. I also got to see how [then BBC Films head] Christine Langan worked with directors like Stephen Frears, Lynne Ramsay, Simon Curtis and Lone Scherfig from the script to the edit.
Who helped you most when you first started out?
Jamie taught me the importance of reading everything; Joe told me to look at the budgets of everything. They both helped me to get my job at Curtis Brown.
What are you most proud of professionally so far?
That a buffoon from Luton with very little to brag about academically is now working at one of the most successful talent agencies in the world. I had no affiliation to the world, no leg up. I worked hard to get where I am.
What's the biggest mistake you have made that you have learned from?
When I was at BBC Film, there was definitely a divide, not a snobbism exactly, between film and TV. When I was about to leave and wondering where to move, I saw all these telly jobs and thought, "I don't want to work in telly." And now who's laughing! But someone said to me, "Go and work at an agency as that's where you will have the chance to do everything and you will fall into what you love." That led me to learn more about TV, and now TV forms about 70% of my job. Then film and a bit of theatre.
What book are you reading?
Antkind by Charlie Kaufman. I love everything he's done.
What do you do to unwind?
Watch reality TV and go for a walk.
Who would play you in the film of your life?
A young Jeff Goldblum. I have always said I'm going to look like Jeff Goldblum when I'm older. I recently watched Sound Of Metal and a lot of people say I look like Riz [Ahmed] and that would be the obvious answer. But in Sound Of Metal he asks his co-star Olivia Cooke, "Don't you think I look like Jeff Goldblum?" So it's done the full circle.