The leading Italian distribution and production executive reveals who he looks up to in the industry, why cinema will bounce back and why he misses an authentic… pause.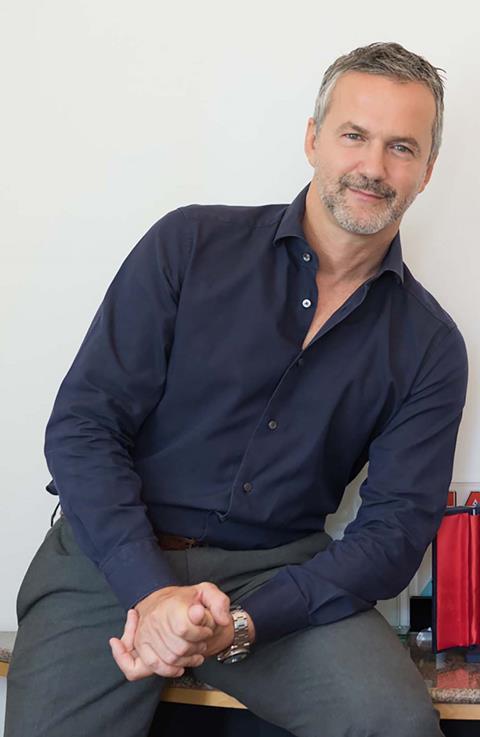 Roberto Proia is the executive director of theatrical distribution and production at Italy's Eagle Pictures. After a stint as a PR for a pharma­ceutical company, he joined the marketing department of MTV Italy at its launch in 1998. He then worked at various distributors before joining Eagle Pictures in 2015.
Over the past year, his remit has expanded to encompass production and he is the producer on Eagle's live-action comic-book adaptation Dampyr, which the company hopes to distribute theatrically later this year. Proia is also a writer: Eagle released romantic comedy Out Of My League, Proia's second film as a screenwriter, in October before the pandemic again closed cinemas in Italy.
Plans are in place to shoot seven features in 2021, and Proia's distribution slate at Eagle for this year includes Paramount titles for the first time, including Top Gun: Maverick, Rumble and A Quiet Place Part II.
How has your working life adapted to the pandemic?
Working from home has given me freedom but I miss the office, the human contact, looking at people and their happiness. And pauses! Pauses have changed completely. If I stop to think during a meeting now, everybody asks if there's a problem with my internet connection.
What is the biggest professional mistake you've made?
A huge one. It was in my first week at Eagle back in 2015. There was a movie I was called to see, to decide if it was worth participating in the auction for distribution rights. The film was good but risky and I wasn't sure, I didn't want to take a chance in my first week at Eagle, so I passed. That film was [Gabriele Mainetti's] They Call Me Jeeg, which is now probably one of the most important Italian films of recent years.
What are you most proud of professionally?
Leaving MTV in 2001. At that time, MTV in Italy was the coolest possible place to work. I had been there since the beginning and we had expanded from 12 to 350 employees. To leave it and take a chance in another industry — cinema — at a much smaller company with a much smaller role, it wasn't a bold choice, it was foolish. But it meant moving to Rome, I love Rome and I love cinema. So I took it.
Who do you look up to in the industry and why?
I'm a fan of people that can do more than one thing, and the more you go up in the chain of command the more you need different skills. I look up to Nicola Maccanico [executive vice president of programming at Sky Italia] who is able to sit down and talk either with an exhibitor, a politician or the president of an association.
What was your favourite film growing up?
Alien and Victor/Victoria probably… Naaah, it was 9½ Weeks and Flashdance! I'm a child of the '80s.
What is your favourite festival?
Cannes, of course. It's marvellous, the beginning of the summer, the marine breeze and the movies…
Who is the most famous person in your contacts book?
John Turturro. We have been friends since my days at [distributor] Nexo when we distributed Romance & Cigarettes [the 2006 film that Turturro wrote and directed].
What excites you about the future of the business?
I am really eager to know what will happen, as if this were a movie. The pandemic has created an earthquake and everybody has a guess about what's going to happen now. I wonder who is right. Cinema has endured every possible form of oppression from TV, to colour TV, to the internet and the streamers. Now the pandemic has boosted home viewing but I think movie theatres will come out stronger than before. Here, in Italy, a shared experience is still crucial.
What job would you do if you didn't work in film?
I would have worked in a hotel, as a concierge. That is my Plan B.
What do you do to unwind?
I ride my bike for 20 or 30 kilometres, with music in my ears and not thinking. I only recognise the need to stop when I feel the pain in my legs.
Who would play you in the biopic of your life?
Neil Patrick Harris. People have been telling me I look like him since he played Doogie Howser in the early '90s. I was even stopped in the street in the US by someone who thought I was him. And this only exploded when How I Met Your Mother came out. I would like Brad Pitt to play me, but I suppose it must be Neil Patrick Harris.