The artistic director of Göteborg Film Festival on leaving the cinema as a changed person, annual trips to Bergman's island and his pride in a gender-equal programme.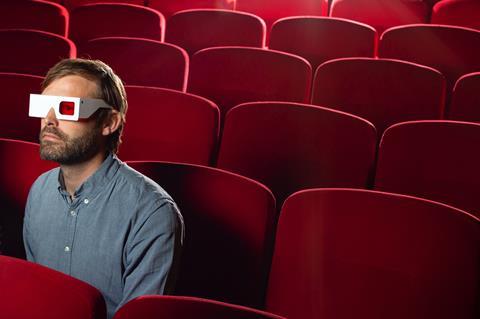 Holmberg is artistic director of Göteborg Film Festival, which will make history when it opens on January 24 as the first major international festival to present an equal split of male and female directors. Holmberg says the strategy "created a lot of complex discussions in the programming team about equality and quality. But one thing that hasn't been difficult was to find the films directed by women; finding the films has been wonderful." He is also one of the founders of Swedish film magazine FLM.
What is your office like?
It is one big room with everyone in it. During the spring it feels too empty, and now, in festival mode, everyone is sitting on top of each other. The walls are covered by our old festival posters, designed by different artists. The office has a great view over the port.
What was your first job in the film industry?
I was a doorman at a cinema in Stockholm, this was my first job and also the best job! The job was to take tickets from the audience but also to file a report on the quality of the 35mm prints. I was watching all the films and getting paid, what a dream.
Who do you look up to in the industry and why?
Its many people, but one in particular is Mirja Wester, our festival CEO. I look up to her so much; I admire her intelligence and loyalty.
What do you like best about your job?
Once or twice a year I see a film that shakes my world, and I come out of the cinema a different person. That used to happen more in my twenties, but it still happens. If that doesn't happen then I would have to quit my job. This year it was with Céline Sciamma's Portrait Of A Lady On Fire.
What was your favourite film growing up?
When I was 15, I was blown away by Lovers Of The Arctic Circle by Julio Medem. It was so romantic. I still love romantic movies.
Where do you want to be five years from now?
I want to write a book on cinema.
Of what are you most proud professionally?
I'm very proud to be able to help film­makers find an audience for their films, that's the core of my job. I'm also proud of my role in the VoD service Draken Film. And of course I'm very proud of our gender-equal programme this year, I hope we're showing people it's possible.
What's the biggest professional mistake you have made?
There are always great films you make programming mistakes with. And last year, I bought a pair of beautiful black Oxford shoes and I wore them for the first time on the second day of the festival. Never wear new shoes at a festival. My feet were bleeding and I couldn't even take my shoes off because of the snow.
What is your favourite festival or film event?
I love Bergman Week. It's a small festival on Faro, the little island where Bergman lived. Every year I take my family and we sit on the beach and watch movies in his private cinema.
With whom would you most like to take a meeting?
My grandmother, she is turning 87. I want to see her as much as possible.
What is the biggest challenge facing the business?
The biggest challenge is if the industry will be dominated by a few global corporations.
What job would you do if you didn't work in film?
My dream job as a child was to be a sign painter for shops.
What book are you reading?
This Life by Martin Hägglund, about death and socialism. It's about how to live your life, that's important.
What's the one TV series everyone should watch this year?
One of the series we present at this year's festival is NRK's 22 July by Sara Johnsen and Pal Sletaune. Many people think we don't need another story about Utoya. But they should see this.
What do you do to unwind?
I spend time with my kids and go out into nature. I love to be by the sea.
Who would play you in the biopic of your life and who would direct?
I would go for a musical and wish that Jacques Demy could direct it.