The German producer talks about how he organises his working day, being at home with his newborn daughter and encouraging his male colleagues across Europe to take up yoga.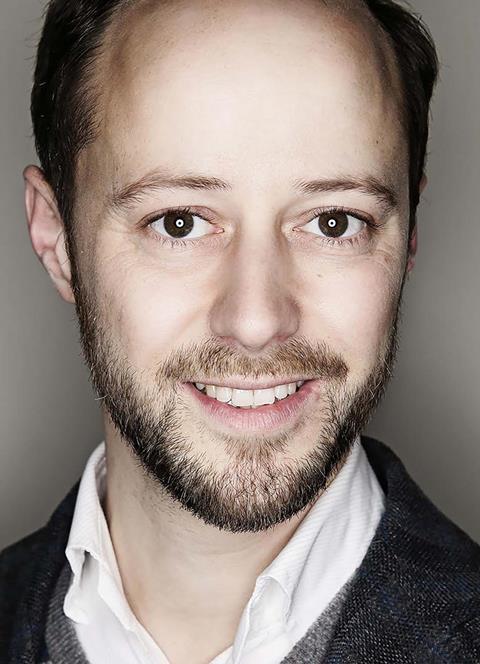 Fabian Gasmia is renowned as one of Europe's leading producers. He began his career as producer in 2007 by founding DETAiLFILM with Henning Kamm, producing festival favourites such as Olivier Assayas' Personal Shopper, Nuri Bilge Ceylan's The Wild Pear Tree and Leos Carax's musical Annette. Gasmia also serves as the German partner for Zentropa's Hamburg outpost and is a partner in Berlin-based Seven Elephants, which he founded with German directors Julia von Heinz, David Wnendt and Erik Schmitt. The company's first completed film was von Heinz's political drama And Tomorrow The Entire World, which was selected as Germany's entry to the Oscars.
How has your working life adapted to the challenges of the pandemic?
Massively. I would have now been in Los Angeles working on the promotion of Julia von Heinz's film And Tomorrow The Entire World. But, on the other hand, I became a father at the beginning of the year and am home here looking after my daughter.
Where do you prefer to work in your house?
I didn't used to have a desk at home because I tried to separate work from home life. When lockdown began, I had a problem — but the kitchen table was first a breakfast table, then an office space until noon and lunch, and an office and meeting space again in the afternoons before the evening meal. I recently bought myself a desk, so I now have a proper one at home.
What is the first thing you do before you sit down at your desk each day?
I try to do an hour of yoga. It gives me a sense of sanity and calm. I have spread the word and a lot of my male colleagues in the European film industry are also now doing it.
Do you have any rituals to signal the beginning and end of each working day?
In the first weeks of the lockdown, I was working right through from when I got up to when I went to bed. That wasn't good for me or my team. Now we have core working hours where we check out for lunch as well as in the evenings.
What was your favourite film growing up?
I saw Luc Besson's Leon on my 18th birthday and was blown away by its score, acting and camerawork. It left such an impression that I thought if I could become part of this industry, it would be as a producer.
What was your first job in the film industry?
One of my first internships was as an assistant to a unit production manager on a commercial filmed on DigiBeta with a five-man crew.
Who helped you most when you were starting out?
My best friend from the age of 11, Sebastian Matthes, who is now the editor-in-chief at Handelsblatt newspaper.
What is your favourite festival or film event and why?
The Berlinale — I just love the buzz when it comes to town and the fact it's an audience festival and you have fantastic Q&As with such a curious Berlin audience.
What excites you about the future of filmmaking?
The massive changes through digitisation are, on the one hand, frightening, but also offer great opportunities for independent filmmakers. For instance, when we started our new company, we could never have dreamt that Netflix would be picking up Julia's film and showing it in 180-plus territories in 10 languages.
What do you think is the biggest challenge facing the industry today?
The business is currently upside down, no question, but I truly hope cinemas will survive. Cinemas that have really great programming and know their audiences have a future.
What book are you reading at the moment?
Hard Land, the soon-to-be-released novel by Benedict Wells, whose previous work The End Of Loneliness is the best German-language novel of the last 20 years.
Is there a TV series you recommend right now?
Euphoria. It's incredibly visual with amazing acting and very innovative. I can't wait to see the second season.
What do you do to unwind?
Long walks with my baby daughter in her stroller. I also do some calls with Los Angeles and have been listening to lots of audiobooks I've discovered during lockdown.
Who would play you in the film of your life and who would direct it?
Joseph Gordon-Levitt and certainly one of the three directors from Seven Elephants.
What are you working on next?
We are now in the middle of casting and financing for David Wnendt's adaptation of the bestselling novel Sun And Concrete by Europe's most successful German-language podcaster Felix Lobrecht.