The Italian producer talks about losing herself in her work during lockdown, a big mistake she made early in her career and why she hopes Sofia Coppola could jazz up the film of her life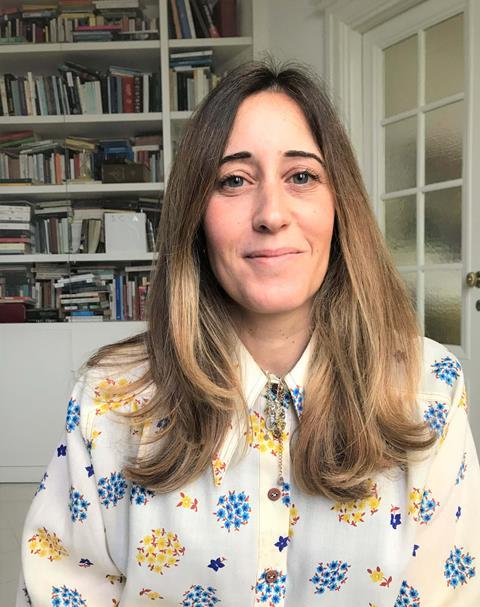 Alessia Polli is head of project development at Italian director Matteo Rovere's Rome-based production outfit Groenlandia. Her international production credits include The Beast and Rose Island, both distributed worldwide by Netflix, The Champion and ancient Rome epic The First King, which spawned the TV series Romulus, a co-production with Cattleya.
Working with Eleonora Marangoni and Fabia Fleri, Polli also oversees a new division called Lynn, dedicated to films directed by women. Two features are in the works: Francesca Marino's Blackout Love, starring Anna Foglietta, for Amazon Studios, and Giulia Steigerwalt's September, starring Barbara Ronchi, for Rai Cinema. Animated TV series YU, created by Marta Bencich, is also in production.
How has your working life adapted to 2020?
I think I've benefited from working at home. My job needs both to have strong relationships and a great deal of concentration for reading and writing notes to be able to push texts in the direction that best suits them. Being cut off from the outside world has certainly helped me to go deep into the scripts, as opposed to sharing an office space with other colleagues. Being in contact with your inner self helps in a job that is not that different from being a dowser — looking for those areas of a text that can really explode.
What do you miss about working in the office?
The people. At home I'm really focused, maybe too much, not leaving the desk until I've done everything I need to do. At the office there are breaks, there's the chatting.
What do you like best about your job?
I love the idea of transforming a text, taking something to its best possible version. I also love the moment in which something on the printed page becomes something else, images and sounds. I am always amazed when I see the rough cut of a movie.
Who do you look up to in the industry and why?
Riccardo Tozzi from Cattleya. We are working with him on Romulus and in each meeting he is so specific and has such an experienced point of view on production. Everything he says opens a window.
What was your favourite film growing up?
Orlando by Sally Potter. I graduated with a thesis about Orlando's transfiguration in the Virginia Woolf book, and watching the movie at that age really struck me. It was both the stylistic choices and the importance of the story, which is still so contemporary.
What is the biggest professional mistake you have made?
I started my career in publishing and at my first publishing house I received the manuscript of Three Steps Over Heaven. In my report I suggested not to take it into consideration. Eventually someone else published it and it went on to become one of the biggest Italian literary novels of the time and a few years later was adapted into a successful movie.
What excites you about the future of the business?
Freedom. We live in a moment in which experimentation is possible. With production we can try and venture where just a few years ago it would have been impossible to dare going. And that is what Groenlandia tries to do, overcoming the clichés of Italian films using genre cinema.
What job would you do if you didn't work in film?
I would probably have liked to be a photographer.
What book are you currently reading?
I am halfway through Hanya Yanagihara's The People In The Trees and I love it. It's a fake biography and is so well-written.
Is there an under-the-radar TV series you recommend?
Mrs. America is so cool and complex. It has a premise that may sound boring when pitched [the ratification of the Equal Rights Amendment in the US in the 1970s] but the final product is so compelling. I've loved the appendixes The Guardian has made to every episode, explaining the real events behind the story.
What do you do to unwind?
Contemporary dance. During lockdown I started practising it once again. It's been several years since I stopped dancing but I've found a great teacher online. I listen to music, also while working, and drink many, many infusions.
Who would play you in the biopic of your life and who would direct?
Sofia Coppola because she could give a pop twist to a very boring story. And I would be happy to have Greta Gerwig playing me.