As the longtime executive director of Cannes' Marché du Film gears up for his final edition, he reflects on his early career, why he enjoys flying planes and his love of a daily sundowner of ti'punch with his team.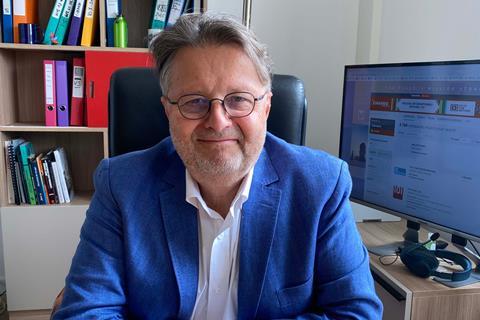 Jerome Paillard spends most of the year in Paris before transporting his entire office to Cannes 10 days before the start of the Marché du Film. He joined the Marché in 1995 following a career in the music industry and spent the next 27 years transforming the event into the biggest film market in the world, with innovations including the creation of online database Cinando. This is Paillard's last edition before handing over the Marché mantle to Guillaume Esmiol for 2023.
What is your office like?
My office in Paris has been a bit of a mess for the past few months as I am sharing with [co-executive director] Guillaume Esmiol, who is taking over from me. We'll share in Cannes too. A big difference is that in Paris I have an office with a view of the Notre-Dame and in Cannes my office is the basement of the Palais. No light, no view. But it's efficient.
What's the first thing you do when you arrive in your office each day?
My day starts before the office. I read my emails at home. I don't drink coffee anymore, so I jump straight into my activities.
What do you drink, if not coffee?
It depends on the time. During the day I drink water. I'm French, so I like wine. In Cannes I like rosé; in Paris it's red wine, a Cotes du Rhone. I also like rum and vodka. We have a tradition every night with the Cannes team — we do a ti'punch. It's a drink from Martinique — a little bit of sugar, a little bit of lime and a lot of rum. It can be dangerous!
What was your first job in the film industry?
My background is in classical music, and I started as a sound engineer and a producer in a recording company called Erato. When it was bought by Gaumont, Daniel Toscan du Plantier, who then ran Gaumont, offered me the role of general manager of Erato Films. With him, I produced about 15 films, many with international directors.
Who do you look up to in the industry?
Working with Daniel was very inspiring. He was a visionary. He was very supportive of the talents.
Who helped you most when you were first starting out?
One of the first films I produced was a film by Mehdi Charef, Au Pays De Juliets. I did a negotiation with France Television. When we signed the contract, the head of cinema at France 3 laughed at me and said: "You did a very, very bad deal. Now I will teach you how you should negotiate." That was very helpful to me.
What was your favourite film growing up?
The first big film I saw was Stanley Kubrick's 2001: A Space Odyssey, with my father when I was about 10 or 11 years old.
Of what are you most proud professionally?
Turning the Marché du Film into what it is now is something of which I'm very proud. I would say 'we'. We built it with the team. It's a collective success.
What is the biggest challenge facing the business?
The cinema [industry] is facing really big challenges, but I am confident solutions will be found and I am confident theatres will have a role to play. But I think everything in the [industry] has to reinvent itself a little — including the Marché du Film.
Is that why you're ready for a reinvention of your own?
I'm 66, and at 66 you realise life is not forever. I have many interests and I want to enjoy them and enjoy my family. Cinema is making a big turn and someone has to write the next 20 years. I cannot be the person writing that new page.
What are you doing next?
I will continue to co-direct Ventana Sur in Buenos Aires and to consult for the Marché. I will join the board of a film company and I've been invited to visit many festivals. I'm excited to have time to do so and to watch more films.
What book are you reading?
I finished Stefan Zweig's Magellan a few weeks ago. It combines a lot of my interests as it's about travelling, Latin America, sailing, and it's very cinematic.
What do you do to unwind?
It depends how much time I have. I listen to and play music. I like to play tennis, to travel and to fly. I'm a flight instructor. It's a way to clear my head. It's important to me to have something when I don't think of anything else.
What has been your one favourite Cannes moment?
The most memorable was that first year. I had been to Cannes before many times with Erato Films but this was my first time on the inside. It was such an excitement to launch that new Marché.
Who would play you in the biopic of your life and who would be the director?
I just can't imagine this — I'm too shy.