The New Europe Film Sales chief on his influences, both on and off screen, his favourite festivals, and what it takes to impress his mother.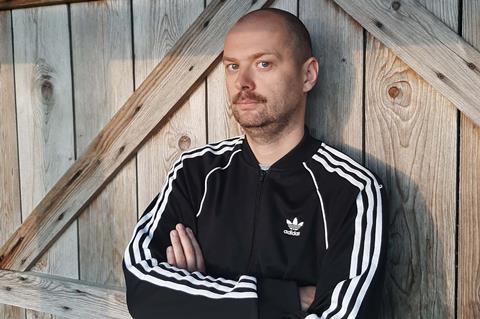 The founder and head of Warsaw-based sales agency New Europe Film Sales was in Cannes with Valdimar Johannsson's Icelandic drama Lamb, starring Noomi Rapace, screening in Un Certain Regard. He is also working on the company's animated feature The Peasants, from the makers of Loving Vincent, is developing a 3D family animation about a girl exploring the world of Slavic mythology, and is also writing his own script, a comedy called Women's Circle.
What is your office like?
New Europe operates from an 1930s apartment in a part of Warsaw where you can still find pre-Second World War buildings called Mokotów, where many film and media professionals live or work. We try to create a cosy atmosphere, we have a great carpet bought on the market in Sarajevo and a mix of old and new furniture.
What is the first thing you do when you arrive in your office each day?
I usually work from home during the first few hours of the day and try to have breakfast with my wife, then either walk or drive to the office. When I arrive somebody is already there and I have a freshly-brewed coffee waiting for me in the kitchen. Which is lovely.
What was your first job in the film industry?
My first film job was volunteering at the New Horizons International Film Festival when I was still in high school. I went to the festival because I liked a girl, who was volunteering there. Then I got interested in how films circulate and wanted to know more about distribution. And the films I saw at the festival became the reason I got sucked into the arthouse world. Watching Wayward Cloud at 18 in a hot screening room packed with 800 people without air conditioning was definitely a formative experience.
Who do you look up to in the industry?
I respect what Phillippe Bober [at the Co-Production Office] does a lot – being able to work on just a few films per year and sticking to the interesting filmmakers he discovered. It's something I also live by. Working with Ewa Puszczynska, who produced Ida and Cold War, has also been a humbling experience. We have created a collaborative creative alliance, NEM Corp, with producer Klaudia Smieja. In Ewa, I never saw anybody who won an Oscar and remained so kind, down to earth and nice. It really shows that you can have success without being mean.
Who helped you most when you were first starting out?
The people from New Horizons, such as Roman Gutek, Adam Trzopek, who runs the best arthouse cinema in Warsaw, and Joanna Lapinska, New Horizon's previous artistic director, who believed in my potential and allowed me to grow within the festival. Aleks Habdank and Russel Barash recommended me for my first film acquisitions job at Shorts International in 2008.
What was your favourite film growing up?
The Big Lebowski – was and still is. The dude abides.
What do you like best about your job?
I love being a curator that can help somebody in their career and influence what kind of culture people are exposed to.
Who's the most famous person in your contacts book?
My mum was recently impressed that Agnieszka Holland wished me happy birthday on Facebook. These days, I also have extensive WhatsApp exchanges with Noomi Rapace, since she plays the main role in Lamb, selected for Cannes Un Certain Regard. She's super charismatic and I'm not surprised that people are starstruck when meeting her in person.
Of what are you most proud professionally?
Our biggest success was definitely getting Corpus Christi nominated for the international film Oscar. This film really came out of nowhere for so many people. It was great teamwork between New Europe, producers, talents and institutions. Personally I'm very proud of my team at New Europe – all talented, creative and homegrown in a country with no tradition of sales agents. I'm proud of the way we're striving to do business, with a mix of professional and fun, non-corporate, hands-on and filmmaker-focused way.
What's the biggest professional mistake you have made?
I never got a job where my parents would understand what I do.
What is your favourite festival?
I'm a fan of the Karlovy Vary Film Festival. Karel Och and his team have made it a true global event. They know about films, are ambitious in their selection and smart in the way they handle industry and talents. And I love their black and white films with the past Crystal Globe winners.
My second favorite event is Les Arcs, not only great selection of projects but a great way of finishing the year with skiing and oystres on the snow. I always think to myself at the time, "It was a long year. You deserved it".
With whom would you most like to take a meeting?
The filmmakers I'd like to meet are Jordan Peele to talk comedy and Marielle Heller. I'm a big fan of her films. A Beautiful Day In The Neighborhood made me cry. A dinner with her and Tom Hanks would be perfect. I'm buying.
Where do you want to be five years from now?
Definitely working less and enjoying more time with family and friends. As a company, I'd like to be able to say that we've achieved success and still stayed down to earth.
What excites you about the future of the business?
Covid-19 vaccines.
What is the biggest challenge facing the business?
I hope cinema distribution will survive. It's hard to find the really good, daring content online. It's too busy.
If you didn't work in film what job what you do?
I would probably work in Brussels and be pretty bored.
What book are you reading?
I own a lot of books at home but don't read much, that's my Achilles heel. I always think about all these e-mails waiting [to be read]. It would be nice to disconnect more and slow down these thoughts.
What's the one TV series everyone should watch this year?
Everybody should just catch up on Fleabag or watch it again.
What do you do to unwind?
Listen to NBA podcasts or watch comedies.
Where do you go to unwind?
My wife is a comedian so I go to see a lot of improv in the club she's running with friends.
Who would play you in the biopic of your life and who would direct it?
I'd like Chris O'Dowd to play me and Judd Apatow to direct it. A comedy about a guy who did his best. Scarlett Johansson can play my wife.