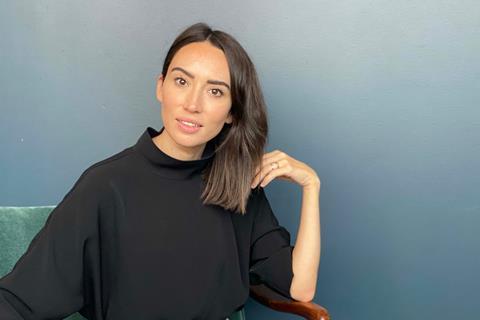 Los Angeles-based Andria Wilson Mirza is the director of ReFrame, a gender equality initiative that aims to mitigate bias during the creative decision-making and hiring process, celebrate successes, and measure progress in the film industry.
Founded by Women in Film LA and the Sundance Institute in 2017, ReFrame's key programmes include the ReFrame Stamp, which is given to productions that demonstrate gender-balanced hiring practices. Mirza was previously the executive director of Toronto LGBTQ+ festival Inside Out and the International LGBTQ Film Financing Forum.
What is your office like?
I started this role in early 2021, so have had a completely pandemic-era employment experience so far, working from home in the studio I share with my wife in Eagle Rock [north-east Los Angeles], and spending lots of Zoom time with my colleagues. We have one designated 'on-camera workspace,' which is in front of the carefully curated bookshelf with the good lighting, and otherwise I switch between working outside on the patio and a cosy corner of my living room. ReFrame has a beautiful office in the Women In Film offices; I can't wait to get in there and share real-life space with my team.
What is the first thing you do when you start work each day?
I try to give myself a set time that I sit down at the computer with my coffee, work through my emails and read all the trades.
What was your first job in the film industry?
I started in the business as an actor as a kid. I worked in theatre, I taught theatre and dance classes to other kids, I kept finding my way into projects as a producer and discovered I had an affinity for putting all the pieces together.
Who helped you most when you were first starting out?
Other women, other queer people. Mentorship is key but having a lateral support network is everything. When I worked in film festivals, I constantly reached out to my peers at other festivals, trying to build community, share knowledge and ask questions.
What was your favourite film growing up?
I was completely obsessed with films, particularly A League Of Their Own, still my go-to comfort film — I just watched it on a flight last week. We moved around a lot as kids, so films were the constant for me. They provided a lifeline to worlds that I dreamt about.
What do you like best about your job?
So many of us working to advance equality in Hollywood have had that experience of being the 'only' person of our identities in a room. So when we get to share space together, and strategise on ways we can create change together, it allows us to tap into a collective strength that feels new but is ancient and aspirational.
What are you most proud of professionally?
When I started as the executive director of the Inside Out LGBTQ+ Film Festival in Toronto, there was a pretty significant underrepresentation of queer women, and especially queer women of colour, across the LGBTQ media space. I'm so proud of the work that my team and our partners did to move the needle, and in particular to have been able to establish a fund for queer women and trans filmmakers that has since supported more than 100 recipients.
What's the biggest professional mistake you have made?
One of the big challenges for women, for queer and trans people, for people of colour, for anyone that's been historically excluded from this business, is that the threshold for failure is so low. The drive for perfection, for over-performance, to be beyond any possible reproach, is very real. I hope we can shift our working culture to be one where there is room for us to make mistakes, and learn from them, and support each other on the other side.
What is your favourite festival?
I am a festival person. I'm from Toronto, so all of the Toronto festivals — TIFF, Hot Docs, Inside Out, Reel Asian, Reelworld, Imagine­Native — have had a huge impact on me. SXSW is one of my all-time favourite events, and I love the Berlinale, especially the Panorama. The Iris Prize festival in Wales, which awards the world's largest short film prize to an LGBTQ film, is one I always recommend for filmmakers to attend. I recently got to be on the jury at Hot Springs Documentary Film Festival, which was a gem. And of course, there's nothing like Sundance.
Where do you want to be five years from now?
I want to see women, people of colour, queer and trans people, people with disabilities in leadership positions across the industry. I want our workplaces to be free from harassment, and for our on-set culture to be one of care and compassion for all workers.
What are you working on now?
We are launching The ReFrame ReSource online to provide industry professionals with the resources they need to not only achieve intersectional gender equity in their hiring processes, but also to shift culture and create safer sets. Also, we're getting ready to open nominations for the new class of ReFrame Rise, our protégé programme for mid-career directors. This year we're expanding our cohort to include mid-career women and non-binary cinematographers as well.
Who would play you in the film of your life and who would direct?
My wife, Fawzia Mirza, is an incredible filmmaker so she would get first right of refusal as a director. If she passes, my dream director-collaborators would be Lulu Wang, Olivia Wilde, Regina King or Natalie Morales.