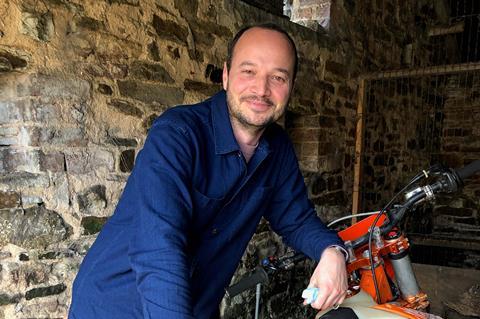 Julian Stevens developed and executive produced upcoming supernatural crime thriller The Rising for Sky Studios. He has worked on major co-productions originating from the UK, including The Tunnel: Sabotage for Sky Atlantic and Canal+, The Missing II for BBC One and Starz, and Informer for BBC One and Amazon. Before that he led the development and produced the first two seasons of Allan Cubitt's The Fall. Stevens began his career as an assistant director before taking an early role as head of development at Artists Studio, where he developed and script-edited shows including Thorne: Sleepyhead for Sky and the 13-part network series Combat Hospital for ABC and Shaw Media.
What is your office like?
That depends on whether I'm in production or not. Like a lot of freelancers, I have a desk at home that I could try to call my office, but a show can take me anywhere. I set up where I'm needed — that can be in a trailer in a random unit base car park somewhere, or on a sofa in the edit.
What was your first job in the industry?
I landed a week's work experience at the BBC on Saturday morning TV show Live & Kicking. My personal highlight was having Cyndi Lauper tell me that I had cool hair — I wish I could still pull off that bleached undercut.
Who helped you most when you were first starting out?
A producer called Eileen Quinn. She gave me work experience and later my first job on set as a runner on a TV movie with John Hurt. A couple of years later, when I realised that I wanted to work in development, she took me on as her assistant and said I could write notes on all the scripts that came in as long as I read the contracts that came with them too.
What do you like best about your job?
The teamwork. I love working with brilliantly creative people, and being alongside them to see a show through from the first conversations to final delivery.
What's the most impressive answer you've ever had in a job interview?
Seeing production designer Sami Khan's mood boards when director Jonny Campbell and I met him for Informer. It was the show laid out in front of us.
What is the biggest challenge facing the business?
At the production level it's crewing up in such a competitive market and ensuring we bring through the next generation of talent. The work is there, and everyone benefits from broadening our industry, but it requires funding. Schemes such as ScreenSkills are essential and I'm encouraged to see Netflix set up Grow Creative UK and just recently Amazon's Prime Video Pathway.
What are you most proud of professionally?
Getting The Rising made — I spotted the original Belgian series Beau Séjour when I was living in Brussels shooting The Missing. With Sky's support I secured the rights, developed the scripts and partnered with Sky Studios to make their first wholly in-house produced series. All without a proper office to work from.
What is your favourite festival?
I recently got back from the Berlinale Series where The Rising was part of the programme. It was particularly special as our original writer Charlotte Wolf was able to join us. She had to pull out of the project just at the point of us starting prep, due to long Covid. To sit in the beautiful cinema and watch the finished show with her was the perfect way to sign off the last two years.
What was your favourite TV series growing up?
Probably The A-Team. My brother or I used to shout, "They're building something!" whenever the montage of BA Baracus and the team would start with them welding sheets of armour plating to some car, complete with the iconic theme tune.
What book are you reading?
The Expectant Dad's Handbook by Dean Beaumont and The Female Gaze by Alicia Malone.
What do you do to unwind?
I play the drums and I walk. But I'm not talented enough to do both at the same time.
Where do you go to unwind?
Either a soundproof room (see above) or Wales, particularly Pembrokeshire. I made it to the top of Mynydd Carningli last summer and the view over Newport Bay is magical.